The Windows.edb is a database file of the Windows Search service, which provides content indexing, property caching, and search results for files, e-mail, and other content.
Windows.edb file

By default, Windows 11/10/8 will index your documents for faster searches. As a result, all the data relating to the indexes are stored in this Windows.edb file. In Windows Vista and Windows 7/8 and Windows 11/10, in some cases, this Windows.edb file tends to become huge or large in size. While a size of a couple of GB's can be considered normal, there have been reports of the size growing to even 100's of GBs!
Windows.

edb

file location

The Windows.edb file is a hidden file, located in the following folder:
C:\ProgramData\Microsoft\Search\Data\Applications\Windows\Windows.edb
To see it, you will have to un-hide hidden files via the Folder Options.
You may use a free Disk Space Analyzer software to take a look at its size, contents, etc.
Delete Windows.

edb

file
If your Windows.edb file has turned huge, and you are looking for a way to delete Windows.edb, you can do so as follows. See if you can terminate the SearchIndexer.exe process via the Task Manager. If you can and it stays terminated, fine, but I have found that it restarts again after a few minutes, due to Windows defaults. Do the following in that case:
Open Services.msc and navigate to Windows Search service.
Double-click on it to open its dialog box. Stop the Service.
Now visit the Windows.edb file folder and delete it.
To delete and rebuild the Index, open Control Panel and open Indexing Options. Click on Advanced and select the Rebuild Index option.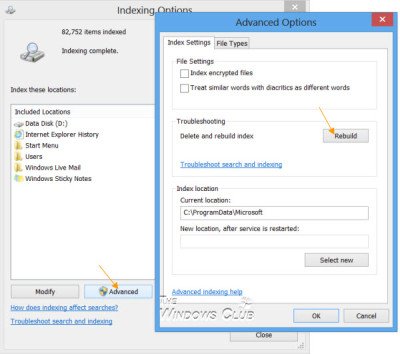 It is safe to delete the Windows.edb. But after you delete it, Windows will take a while to re-index the files and rebuild the index, so your searches may be a bit slow till this job is completed.
If you do not use Windows Search, you may via the Control Panel disable it. To do this, open Control Panel > All Control Panel Items > Programs and Features > Turn Windows features on or off and uncheck the Windows Search option.
Read: What is Search Indexing and how does it affect searching in Windows 11/10?
Change Windows.

edb

file location
Deleting the Windows.edb file could be a temporary measure, as there is always a possibility that the file could grow large again. If you are running out of disk space on your system drive but don't want to disable Windows Search – and don't want a large Windows.edb file eating up your hard disk space, you can think of moving the file to another location.
To change the location of the Windows.edb Index file, open Control Panel > Indexing Options > Advanced > Index location > Select new.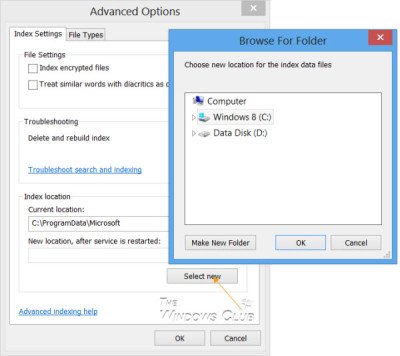 Browse to the desired folder and set it as the new location for the file's folder.
Fix Windows Indexing Service bloating the Windows.

edb

file issue
Microsoft has released an Update that fixes this issue in Windows 10/8 or Windows Server of the Windows Indexing Service bloating the Windows.edb file. If this issue occurs on your computer and the Windows.edb file grows to a very large size and consumes lots of disk space, you may install the Update, in case it has not been already installed on your computer.
I hope that helps!
Looking to learn more about other files or file types or file formats in Windows? Check these links:
NFO and DIZ files | Thumbs.db files | DLL and OCX files | Index.dat file | Swapfile.sys, Hiberfil.sys & Pagefile.sys |GLB files | Desktop.ini file.