If you have made some changes to the default white page in Microsoft Paint and you want to reset it to the default, then this article will help you to do that. You can reset Microsoft Paint resolution or size in Windows 11/10 using this tutorial. Although it won't change it to the default every time you open the app, it can get you the original resolution back.
If you use Microsoft Paint to make small changes in an image, you might have already faced this problem. Microsoft Paint opens a white background page with a resolution of 1152×648 pixels, and it is possible to resize the resolution as per your requirements. But, if you change the size, close the Microsoft Paint app and re-open it, it will show you the last resolution you used. If you want to get back the original default resolution in Microsoft Paint, this article will show you how to do it.
Please note that we are going to use Registry Editor to reset the resolution. Therefore, it is recommended to backup Registry files or create a System Restore point to be on the safe side.
Reset Microsoft Paint Position & Size to default
To reset Microsoft Paint settings to default in Windows 11/10, follow these steps-
Close Microsoft Paint on your PC.
Press Win+R to open Run prompt.
Type regedit and hit the Enter button.
Click the YES button in the UAC window.
Navigate to the \Applets\Paint\View path in Registry Editor.
Delete BMPHeight, BMPWidth, and WindowPlacement values.
Open Microsoft Paint to get the default resolution.
Let's check out these steps in detail.
If Microsoft Paint is running on your computer, you should close the app first. After that, open the Run prompt by pressing Win+R buttons together. Then, type regedit and hit the Enter button. Then you need to click the YES button in the UAC window. It will open the Registry Editor on your computer. Alternatively, you can use the Taskbar search box to search for it and open the Registry Editor.
Now, navigate to this path-
HKEY_CURRENT_USER\Software\Microsoft\Windows\CurrentVersion\Applets\Paint\View
In the View key, you can find three values called BMPHeight, BMPWidth, and WindowPlacement. You need to delete all of them.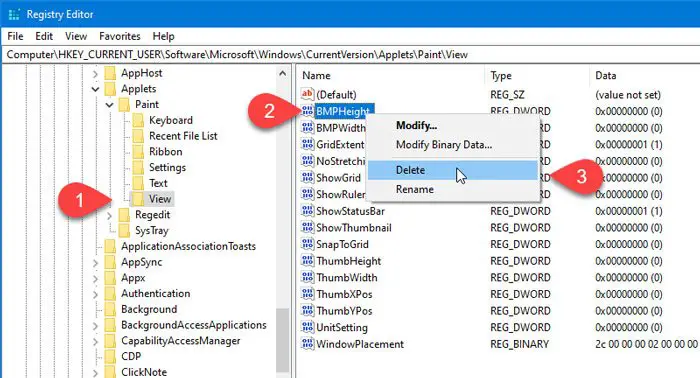 To do so, right-click on each of them, select Delete from the context menu and confirm the removal by clicking the Yes button on the popup window.
After deleting all these three values from the Registry Editor, you can re-open the Microsoft Paint on your PC. You can find the default resolution of the white page in Microsoft Paint.
Next, you could open Microsoft Paint > File > Properties.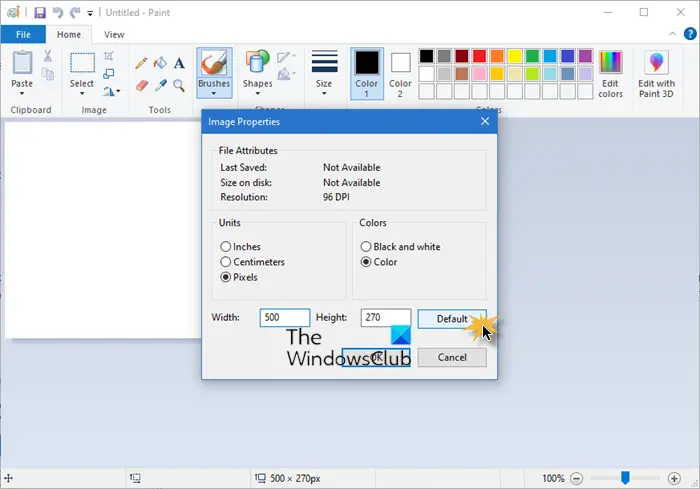 Click on the Default button, followed by OK.
These are the only setting in MS Paint that you can reset to default.
A bunch of posts on this website that will help you reset other functions or software:
Our portable freeware FixWin allows you to reset most of the following with a single click.
Reset all Local Group Policy settings | Reset Windows Search | Reset Windows Store apps | Reset Notepad | Reset Windows Store Cache | Reset Recycle Bin | Reset Keyboard settings | Reset Surface Pro devices | Reset Microsoft Edge browser settings | Reset Internet Explorer Settings | Reset Chrome browser settings | Reset Firefox settings | Reset Windows Security settings | Reset Windows Firewall settings | Reset Winsock | Reset TCP/IP |  Reset DNS cache | Reset Windows Update | Reset each Windows Update component | Reset Windows password | Reset Touchpad settings | Reset WinHTTP Proxy Settings | Rebuild Icon & Reset Thumbnail cache | Reset WMI Repository | Reset Data Usage | Reset this PC | Rebuild Font cache | Reset App Volume and Device Preferences | Reset Windows Spotlight.