In this article, we are going to list down the best free open source audio editing software available for Windows 11/10. These are basically the free audio editors whose source code is available on the web for free. Users can access, download, study, analyze, or even modify the source code of these open-source audio editors without any restriction. So, if you are looking for one such audio editing tool, you can find some of the better open-source audio editors on this list.
All these are regular audio editors that let you split, trim, merge, mix, copy, and edit audio as per requirement. You can use a multi-track timeline editor in these software to edit audio. Also, you can use some additional filters and effects to apply to your audio files. Let us now explore this list of free and open-source audio editor software.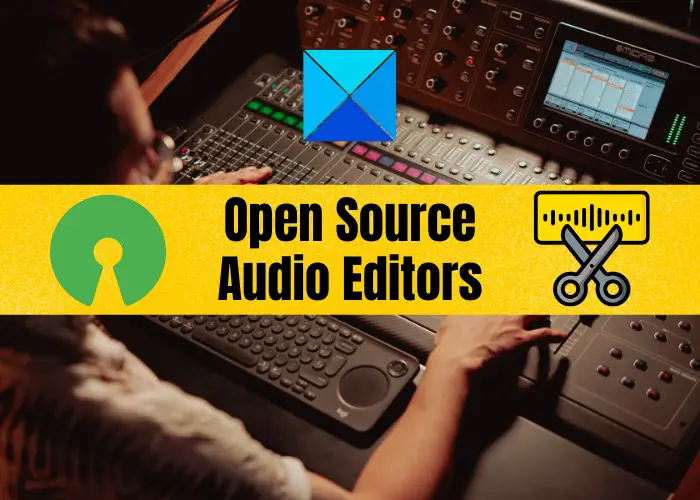 Best free Open Source Audio Editor Software for Windows PC
Here is a list of the best free open source audio editors available for Windows 11/10 PC:
Audacity
WaveShop
SoundEditor
Jokosher
Now, let us discuss the above-mentioned open source audio editors and their features in detail.
1] Audacity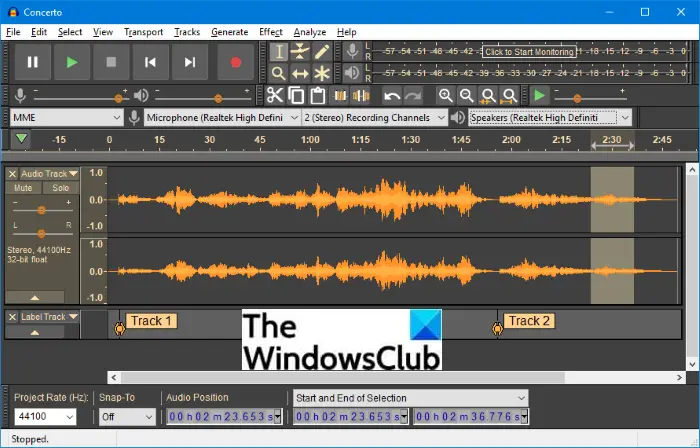 Audacity is a free and open-source audio editor for Windows 11/10 and other operating systems. It has a multi-track editing timeline that enables you to edit, record, and mix audio. It can generate output in a variety of audio formats that include MP3, WAV, OGG, FLAC, AC3, WMA, and more. If you want to edit an existing audio file, you can import the file in any of the supported formats. Plus, it also lets you add MIDI and RAW audio to your soundtrack.
You can easily trim an audio file, split audio files, and even merge multiple audio files. A lot of audio effects are available in this open-source audio editor that are Amplify, Bass and Treble, Change Speed, Phaser, Repair, Repeat, Reverb, Change Tempo, Normalize, Fade In, Fade Out, etc. Furthermore, you can also use some more audio effects like Adjustable Fade, Low Pass Filter, High Pass Filter, Clip Fix, Adjustable Fade, Low Pass Filter, High Pass Filter, Notch Filter, Vocal Remover, etc.
It lets you generate and add White Noise, Pink Noise, and Brownian Noise to your audio. It also allows you to remove background noise from an audio piece. You can listen to the edited audio in real-time. You can also enhance its feature set by adding plugins to it.
Not just editing, Audacity also enables you to analyze an audio file with the help of tools like Plot Spectrum, Average RMS Volume Differences, Find Clipping, Silence Finder, Sound Finder, and more. All in all, Audacity is a great audio editing package that is suitable for beginners as well as professionals.
Is Audacity free and open source?
Yes, Audacity is a completely free and open-source audio editor. You can use it for free and also find and download its source code from its official website. We have discussed its main features that you can check out below.
Read: Free Garageband alternative software.
2] WaveShop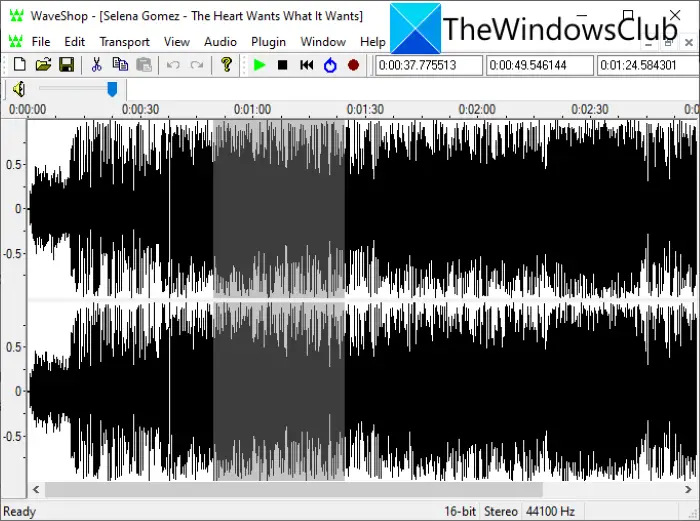 WaveShop is a great and easy-to-use free and open-source audio editor for Windows 11/10. It is available in both installer and portable packages. So, you can download which version you want to use from its official website.
This software lets you import an audio file in a supported format and then edit it using available tools. The supported input formats in this software include MP3, OGG, MPC, WAV, AIFF, AAC, and a few more. As you import an audio file, you will be able to edit it using the timeline. You can remove a particular part from the audio file or merge multiple tracks into one.
Apart from regular audio editing, you can use effects like Amplify, Invert, Resample, Reverse, Fade In/Out, Normalize, and more to apply to audio. Some additional plugins are also provided in it, e.g., Glame Bandpass Filter, Glame Highpass Filter, Glame Lowpass Filter, Fast Lookahead Limiter, DJ EQ, etc. You can also view RMS statistics and peak statistics and audio spectrum to analyze audio files.
You can edit various output options and customize your audio, like sample rate, sample size, channels, amplifier, waveform, modulation, etc. Also, you can add or edit audio metadata using this audio editor.
It is a good free and open-source audio editor for Windows 11/10. You can import multiple audio files in its multi-tab interface and edit them at a time.
See: Edit audio like a pro with Ocenaudio.
3] SoundEditor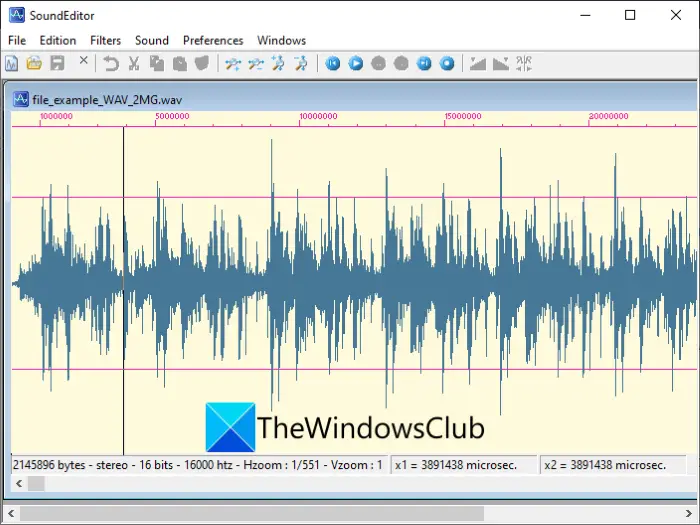 Another free open-source audio editing software on this list is SoundEditor. It is also a portable software that requires no installation and can be used on the go. This audio editor lets you edit only Wave (WAV) audio files. You can import, edit, and export WAV files in it.
Here are some of its features that we would like to mention:
You can cut or remove a selected part of an audio file. Or, you can even copy a piece of music from an audio file and paste it into multiple parts of the audio.
It also lets you add silence to an audio file for a specific duration.
You can add an echo effect to audio, insert Stereo Expander, Tremolo, Derivative (attenuation), and Brilliance filters to your audio, etc.
It also lets you apply Fade In/Out, Resample, and Reverse effects to the audio.
You can change the speed of the audio as per your requirement.
You can use its Wave Synthesizer tool in audio editing.
It also lets you record sound.
It is a nice open-source audio editor with standard audio editing features. You can download it from freesoundeditor.com.
Read: Edit MP3 audio with mp3DirectCut.
4] Jokosher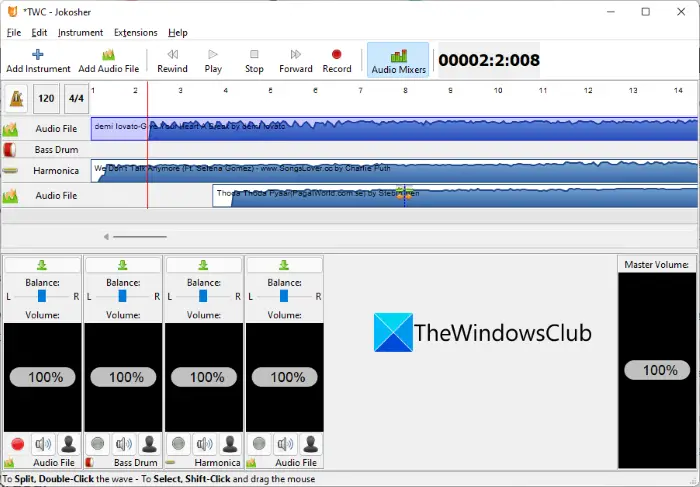 You can also try Jokosher which is a free and open-source audio editor for Windows 11/10. It lets you add audio files in MP3, OGG, WAV formats and then edit them using the available timeline. You can combine the audio files in a sequence or use overlay tracks to mix multiple audio tracks. It also allows you to split an audio file or cut/copy a part of the audio and paste it at some other point of the audio.
In it, you can also add instrument sound to your audio. Just click on its Add Instrument button and add an instrument like Bass Drum, Bass Guitar, Acoustic Guitar, Harmonica, Saxophone, Trumpet, Keyboard, and more to your audio in multiple tracks. Use its Audio Mixer to customize the volume and balance of individual tracks in the audio. Apart from that, it provides a Record feature using which you can also record audio through the mic.
Some additional features are available in its Extensions menu using which you can set the audio tempo, manage instrument type, etc. This software is appropriate for beginners to practice and learn some audio editing. You can download it from jokosher.org.
See: How to edit Audio or Video Metadata Tags in VLC media player
Where can I edit audio for free?
You can edit audio for free in a free audio editing software available for Windows and other platforms. All the listed software in this article can be used for audio editing for free. You can also use some other audio editors for free like the following ones:
Hope this article helps you find a good free open-source audio editing software to use on your Windows 11/10 PC.