Playing with audio files requires the right tools and proper skills. If you have a passion for editing audio files or creating your own mix of songs, you first need to look out for audio editing software that pitches best with your requirements. At times, Audio editing can be quite time-consuming, especially in the post-production phase. It takes a lot of to effort remove the soft noises, level volumes, and add extra sound effects. Today, we are going to review NCH Wavepad Audio Editor, one such amazingly lightweight free audio editing software that might suit your needs the best.
NCH Wavepad Audio Editor is an effective tool with a large number of features, to begin. It allows you to record or edit music, voice, or other recordings with powerful tools to create your own custom soundtrack. Let's have a brief look at its feature set.
NCH Wavepad Audio Editor
The best thing about NCH Wavepad Audio Editor is that it is exceptionally lightweight. With just around 1 MB in size, it brings along a load of features that you can expect from a pro audio editor software. Below is a rundown of what it has to offer:
Powerful audio file editing options
NCH Wavepad Audio Editor comes stuffed with several features. With an easy-to-use interface, you can edit, cut, split, copy, paste, silence, trim any audio files within minutes. It even allows batch processing of several audio files to apply effects all at once. It supports all the major audio formats and you can easily port your music file and make a ringtone out of it. Rich editing effects like amplification, normalization, equalizer, enveloping, reverb, reverse, etc. make audio editing real fun.
Good Tools for a richer experience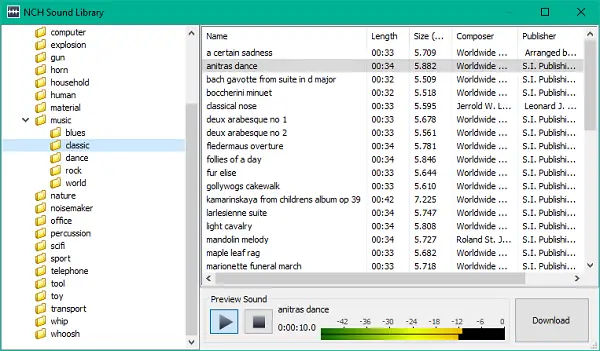 NCH Wavepad Audio Editor also provides various tools to help you edit audio files:
Create bookmarks and regions to easily find, recall and assemble segments of long audio files
Tools include spectral analysis (FFT), speech synthesis (text-to-speech), and voice changer
Audio restoration features include noise reduction and clicks pop removal
Automatic beat detection and lossless MP3 editing mode
Surround sound editing options
Vast sound library to download audio files.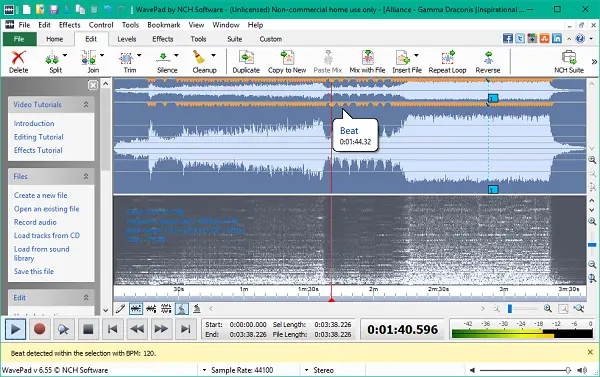 These are just a few of the decent tools to help you with your editing work.
Bottomline
Whether you are a Pro sound engineer or just want to play around with music files, NCH Wavepad Audio Editor has got it all to help you through. It works great on Windows 10 as well. A free version of WavePad audio editing software is available for non-commercial use only. It does not expire and includes most of the features of the normal version. You can download it here.
Is NCH Wavepad Audio Editor free?
Yes, it is completely free for noncommercial usage. If you are using it for editing home audio or something from which you will not make any money, you can use it without paying anything. The software works on Windows 11, Windows 10 but only on 64-bit hardware.