As the name suggests, Free Easy Audio Editor is a free audio editing and recording utility that comes packed with some great features that are very simple and easy to use. You can now start your personal audio editing studio without any knowledge about audio editing. With this free audio editor, you can just edit any type of audio file. You may start by recording your own voice or selecting any audio file from your PC's hard disk.
Free Easy Audio Editor for Windows PC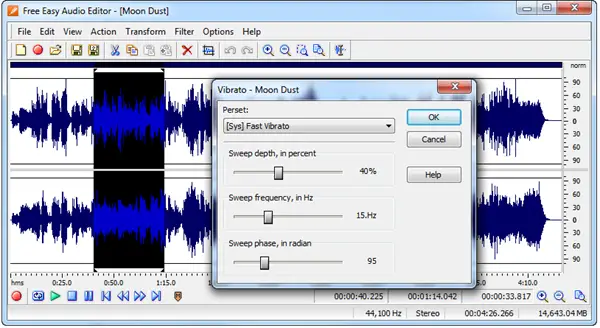 When starting a new recording you can even choose bit-depth or the sample rate. Once you have loaded a track into the software, you can do anything with it. You can add silence, remove silence and you can even add background noise. These features are really useful when you are editing a recording from a crowded or noisy area. You can even fade in or out, some parts of your audio clip so that it sounds good.
If you've got recordings that sound very low and are hardly audible then you can amplify your recording so that the audio is clear, audible and loud enough. Normalizing and balancing the audio is a cakewalk too. You can normalize your audio clips, compress or expand up your audio clip and more. The Compression and Expansion for this software are measured in DBS.
One of the great features I liked in this free music editing software, was the Reverse feature. With this option, you can reverse your audio track to get some special effects – something that is more interesting and different. Reverse audio does not suit speeches – but can be fun when used on music files.
Delay, Phaser, Flanger Reverb, Chorus of an audio track can be easily adjusted using Free Easy Audio Editor. You can also filter your audio track using the Notch Filter or the Band, Low, High pass. Peak EQ filter is also available.
Once you've completed the editing of your audio track you can save it into any popular audio format. The software supports all popular formats and different saving frequencies.
Feature snapshot:
Visually edit any sound with an easy user interface
30+ audio effects to enhance the music Configuration with parameter setting & presets
Tons of audio formats supported
Schedule recording to start at a specific time
Support multi-core CPU
Auto check the computer to make full use of it
Spectrum analysis & TTS (Text-to-Speech)
Hotkeys to start and end recording
Ultra-powerful recording/converting engine.
Easy audio editing software free download
Free easy audio editor is a free, complete and easy solution to audio editing. Click here to download Free Easy Audio Editor.