At times, owners of a Windows 11/10 computer or the Surface device may find that their mouse pointer has disappeared. If you face this issue, this post will show you how to get the cursor back on the Windows 11/10 PC, Surface device, or sometimes just when browsing with Chrome. We should point out there's no need to use a mouse on a Surface since the computer is packed with a touchscreen and supports the Surface Pen. Additionally, there's a touchpad, but most folks will tell you that using a mouse is much better than all the other options combined, especially for real work.
How to get cursor back on laptop?
The Surface, of course, has a touch screen, and you can use that to navigate. If you have a touchscreen monitor or laptop, you can keep using your Windows PC without a mouse or keyboard, making troubleshooting easier. If you do not have a touchscreen monitor or Windows PC, and your mouse and your keyboard have stopped working in Windows 11/10, it makes things a bit difficult. Before you begin, you may want to read how to use the Windows computer without a keyboard or mouse.
So go through the list first and see which of these suggestions you can follow under your given circumstances. If possible, use another working mouse/keyboard with this PC till you fix the problem.
Mouse pointer or cursor disappears on Windows 11/10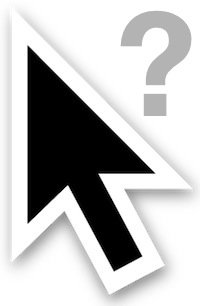 If your mouse pointer or cursor disappears or has gone missing on your Windows PC, then if you earlier enabled the Show location of pointer when I press Ctrl key option, you may press the CTRL key to make the pointer appear.
Apart from this, here are a few things you need to take a look at: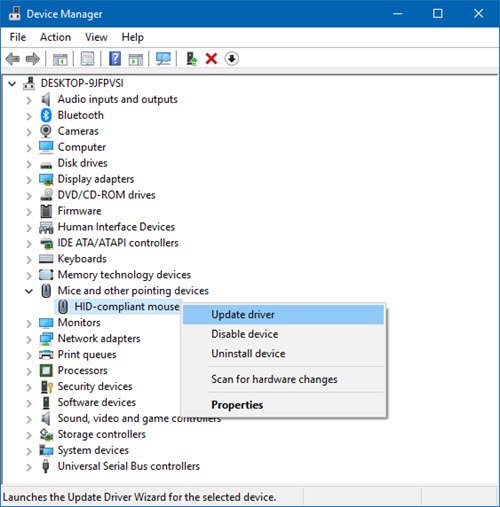 Ensure that your Mouse and other pointing devices drivers are up-to-date. If updating does not help, Rollback the mouse driver via the Devices Manager.
Ensure that the Mouse battery is OK. Disconnect it and then reconnect it and see.
Open Control Panel > Mouse > Pointer Options. Uncheck the Hide pointer while typing and see if it makes the problem go away.
Press one of these key combinations and see if te get the pointer back – Fn+F3, Fn+F5, Fn+F9, Fn+F11.
Run your antivirus software scan to rule out the possibility of some malware causing this.
Run the built-in Hardware Troubleshooter.
Boot in Clean Boot State and see if the mouse pointer appears; if it does, then you need to troubleshoot further in this state.
Cause of the mouse inability to work on Surface
Here's the thing; when the Surface Pen is connected to the computer and ready to use, the mouse pointer becomes much smaller. However, there are times when the Pen is nowhere near the display, yet the mouse pointer is still small. Worry not, there are a few ways to get around this problem, and we're going to go into them right now.
Do you have multiple Bluetooth mice paired to the Surface Pro?
Over the years, I've come across an issue where if a computer has several Bluetooth mice connected, the chances of problems arising are pretty high. Let's be honest here, Bluetooth is not reliable. Therefore, the best option is to release the ones you're not using.
Once this is done, restart your computer and check if the mouse pointer is working as it should.
Surface Pro stuck in Tablet Mode
OK, so you might have severed the Tablet Mode option, but for some reason, the computer is still lingering in this mode. The best option is to reactivate Tablet Mode, then deactivate it. If nothing changes, restart the device.
Read: Laptop touchpad not working.
Could household items be the cause?
The Surface Pro and the Surface Pen can detect each other due to an electromagnetic field. Now, within your home, there might be several tools that produce an electromagnetic field. If such is the case, then chances are these tools are the main issue behind your mouse pointer debacle.
To find out if electrical equipment in your home is causing the problem, we suggest taking the Surface Pro outside or anywhere that is not close to any form of an electromagnetic device, then give it a test run once more.
Why has the Mouse pointer disappeared on Chrome?
If the mouse pointer disappears only when browsing the internet with Google Chrome web browser, manually close all the open Google Chrome processes in your Task Manager and start Chrome again. This may help you.
You may also disable Hardware Acceleration for Chrome and check You will see this setting under Chrome Settings > Advanced Settings > System section > Disable Hardware acceleration. Having done this, restart Chrome and see.
If nothing helps, you may need to start your computer in Clean Boot State and see if the problem persists. If it does, then maybe some program is interfering with the normal functioning of the mouse. You will have to try and identify the probable cause.
How to make Mouse Pointer More Visible?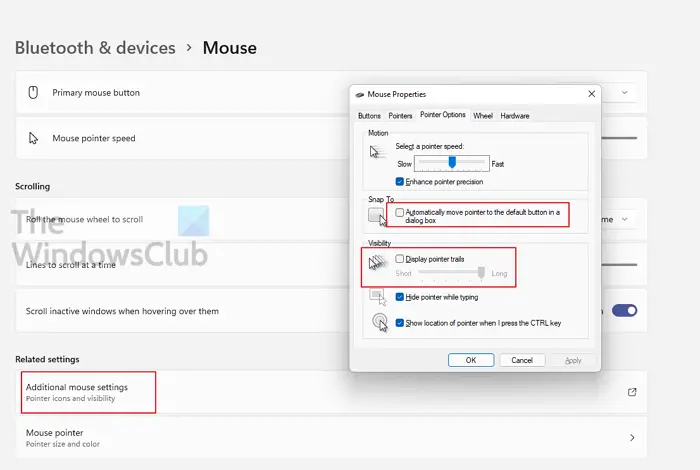 Open Control Panel and Switch to Large icons view
Click on the Mouse icon to open its properties
Switch to Pointer options
Check the box Display Pointer Trails
Choose between short and long.
Apply and exit.
When you move your mouse, the trail will help you easily find your mouse pointer, which mixes with the background. Be aware that this may be a little disorienting, so make sure to choose the right amount of trails.
If you want to change the mouse pointer, switch to the Pointers tab, select the default mouse cursor, and click on the Browser button. Select a pointer that feels more prominent and apply the changes.
How to fix unexpected mouse pointer Jumps?
If your mouse pointer keeps moving in certain scenarios, like automatically appearing on the Ok button or the text box, you need to disable the smart selection in Mouse Properties.
Go to Settings > Bluetooth & devices >  Mouse > Additional Mouse Settings
Switch to Pointer options
Uncheck the box next to Automatically move the pointer to the default button on a dialog box.
See this post if Mouse Pointer disappears & gets replaced with Arrow keys.