We all are very well aware of the fact that Windows 11/10 can be used on touch as well as non-touch devices. So the registry database of this operating system contains the configuration for touch operations for Windows as well. Consider the scenario; you're using a touch-operated Windows 10/8 system. After you log in, the mouse pointer disappears, and it practically behaves like arrow keys.
It is worth noticing that this appears to be occurring on touchpads, while the external mouse connected to the system works fine. If you too are facing trouble with this, you might have observed that it is like the very opposite of mouse keys, that is, you can control arrow keys using the touchpad. Now let us try to inspect what happens to cause this, as I said before the issue is only with the touchpad, so we should check out the touch operation configuration entries in the registry.
Mouse pointer disappears & gets replaced with Arrow key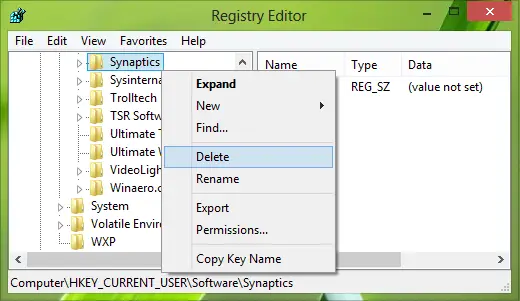 1. Press Windows Key + R combination, type put Regedt32.exe in the Run dialog box and hit Enter to open the Registry Editor.
2. Navigate to the following location:
HKEY_CURRENT_USER\Software\Synaptics
3. In the above-mentioned location, right-click on Synaptics key and select Delete. Now in order to activate the changes you've made to the HKEY CURRENT USER registry branch, reboot the system.
After restarting the system, the touchpad would work as it should be.
Go here if your cursor jumps or moves randomly while typing and here if your Mouse pointer disappears on Windows 11/10.
Also read: Mouse cursor disappears when playing games in full-screen mode
Need more Mouse tips? Read this post on Mouse Tricks For Windows.