The Tablet Mode in Windows 10 makes the operating system more suited for working on a tablet or touch device. It is the Continuum feature allows Windows 10 to switch between the Desktop and tablet mode seamlessly. Windows 10 when in the Tablet Mode, is optimized for use with for tablet and touch devices.
Tablet Mode in Windows 10
To activate the Tablet Mode, click on the Notification icon in the taskbar and select Tablet Mode. Windows 10 will instantly switch from the Desktop to Tablet Mode.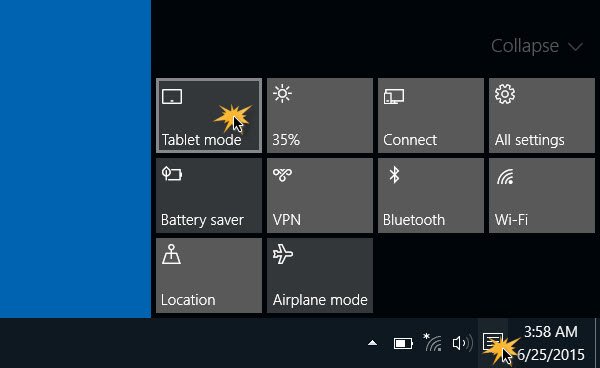 Once this happens, you will immediately notice a few things:
Your active application will go full-screen.
You will see a change in the Taskbar. Open apps will no longer rest on the taskbar.
You will see only a Back button, a Search icon and the Task View button.
To see the open apps, you will have to click on the Task View button, or cycle through them using Alt+Tab keyboard shortcut.
You will notice that the Windows 10 Start Screen is now enabled.
You can launch new apps and desktop software via the Start Screen.
TIP: Read about the Tablet mode in Windows 11.
Automatically switch to Tablet Mode in Windows 10
To change the Tablet Mode settings, you will have to open the Settings app > System > Tablet Mode.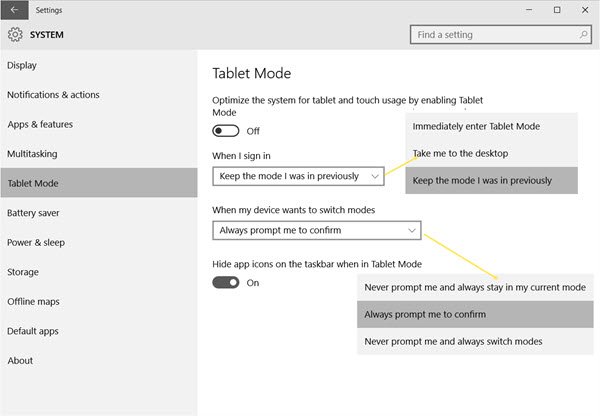 Here you will see the following settings:
On or Off the Tablet mode: On a desktop computer, the default will be Off, whereas, on a Tablet, it will be set to On.
When I sign in: You can set your computer to – Immediately enter Tablet Mode, Take me to the desktop or Keep the mode I was in previously.
When my device wants to switch modes: You can select – Never prompt me and always stay in my current mode, Always prompt me to confirm, or Never prompt me and always switch modes.
Hide app icons on the taskbar when in Tablet Mode: You may notice that Windows 10 hides the taskbar icons when in Tablet Mode, but if you wish you can disable this setting. Otherwise, you have to use the Task View button to see open icons.
Let us know how you like using the Tablet Mode in Windows 10, and if you feel it is awesome or lacks someplace.
Related reads: