Microsoft Word is a popular word processing software that lets you create and edit documents. However, some users are not able to use it because a black flickering bar or black flashing boxes appear anywhere on its interface. These black bars and boxes cover the interface of Microsoft Word and make it unusable. They tried restarting Microsoft Word and their Windows computer but it did not help. If you are experiencing such an issue, the solutions provided in this article may help you.
How to fix the Black Flickering or Flashing Bar in Word
The solutions provided below will help you fix the problem. But before you begin, it will be better if you check for Windows updates and update Office manually. Installing timely updates is recommended as it fixes bugs and errors. If after updating Windows and Office Suite, the problem persists, try the solutions provided below.
Update or reinstall your graphics card driver
Disable Hardware Graphics Acceleration
Turn off High Contrast Mode
Repair Office
All these fixes are explained below in detail.
1] Update or reinstall your graphics card driver
You are experiencing a black flashing bar or boxes in Word. Such types of problems are associated with display and usually occur due to the corrupted or outdated graphics card driver. If any update for your graphics card driver is available, it will be shown on the Optional Updates page in Windows 11/10 Settings. To check this, follow the instructions given below:
Open Windows 11 Settings and go to "Windows Update > Advanced options > Optional updates."
Open WIndows 10 Settings and go to "Update & security > Windows update > View all optional updates."
If an update is available, install it and restart your computer. If an update is not available, install the driver from the manufacturer's website. The instructions for this are provided below:
Download the latest version of your graphics card driver from the manufacturer's website.
Open the Device Manager.
Expand the Display adapters node.
Right-click on your graphics card driver and select Uninstall device.
Now, go to the location where you have downloaded the driver. Run the installer file to install the graphics card driver manually.
2] Disable Hardware Graphics Acceleration
Another potential fix is to disable the Hardware Graphics Acceleration in Microsoft Word. This solution has fixed the issue of many users. Hence, you should also try this. Check if the Hardware Graphics Acceleration is enabled in Microsoft Word or not. If yes, disable it. The following steps will help you check and disable Hardware Graphics Acceleration in Word.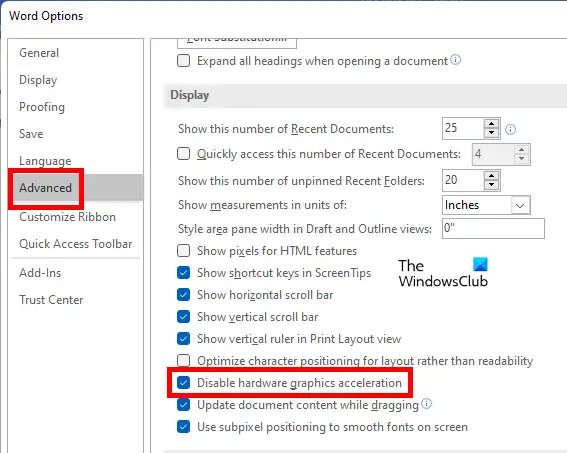 Open Microsoft Word and create a new blank document in it.
Go to "File > Options > Advanced."
Scroll down and locate the Display section.
If the Disable hardware graphics acceleration checkbox is unchecked, the hardware graphics acceleration feature is enabled in Word. Select this checkbox to disable this feature.
Click OK to save the changes.
3] Turn off High Contrast Mode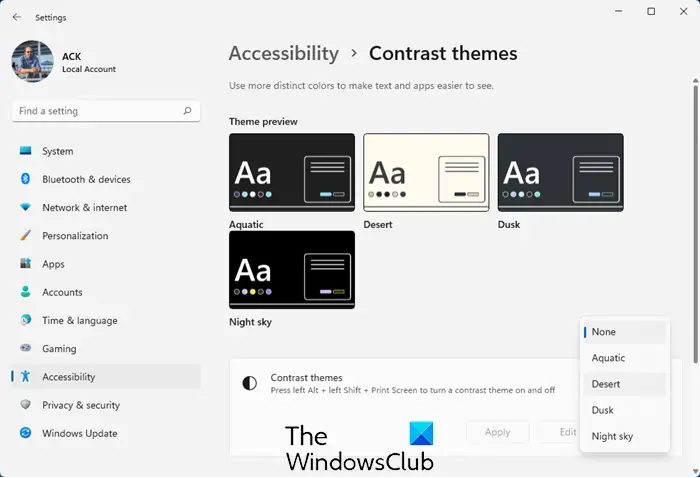 If the issue persists, check if High Contrast Mode is activated on your system. If yes, turn it off. Some users have found this solution helpful. Due to a different UI, the steps to turn off High Contrast Mode are different in Windows 11 and Windows 10.
4] Repair Office
Sometimes, issues occur in Microsoft Office applications due to corrupted Office files. Such a problem can be fixed by repairing the Office suite. First, run Quick Repair, If this does not fix the problem, run an Online Repair. The Online Repair will take more time than Quick Repair.
Read: Microsoft Word has stopped working on Windows computer.
How do I get rid of the black bar in Word?
If a black bar is appearing on the interface of Microsoft Word, disabling the Hardware Graphics Acceleration can help. If this does not help, the issue might be associated with your graphics card. In this case, updating or reinstalling the graphics card driver will fix the problem.
Why is my Word flashing black?
If Word is flashing black, your display driver might be corrupted. In this case, you should update your display driver or reinstall it by downloading it from the manufacturer's website. Sometimes, the Hardware Graphics Acceleration causes issues in Office applications. Check if this feature is enabled. If yes, disable it.
Why is my Word document flashing Orange?
A damaged or corrupted Word installation or a Graphics driver glitch can make your Word document flash orange. Follow the suggestions in this post to resolve the issue once and for all.
Hope this helps.
Read next: Microsoft Word keeps crashing on Windows 11/10.