High Contrast Themes in Windows are useful for those computer users who have an eye-sight disability, since they heighten the color contrast of text, windows borders, and images on your screen, to make them more visible and easier to read and identify.
Windows 11/10/8.1/8 maintain a 14:1 high-contrast ratio between foreground and background. In earlier Windows versions, the high-contrast mode was limited to themes running under Classic themes, which were not visually styled. But in Windows 8, Windows Server 2012 and later, the Classic mode has been removed and replaced with visually styled high-contrast themes.
The UI components that get changed in high-contrast themes are:
Windows background color
Text color
Hyperlinks color
Disabled text
Selected text foreground and background colors
Active window title foreground and background colors
Inactive window title foreground and background colors
Button foreground and background colors.
High Contrast Themes in Windows 11/10
If you wish to temporarily turn on high contrast themes, press Left Alt, Left Shift, and PrtScr keyboard buttons. You will be asked – Do you want to turn on high contrast.
Click Yes, and your display will be changed to grayscale high contrast one. High Contrast improves the readability of the display by applying a special system color scheme.
To revert display to the normal theme, press Left Alt, Left Shift, and PrtScr again. Your screen will flicker for a moment, and then you will see your regular theme again. This keyboard shortcut allows you to toggle a high-contrast theme on or off.
To activate or deactivate this keyboard shortcut, you can visit Control Panel > All Control Panel Items > Ease of Access Center > Make the computer easier to see, to change the settings.
If you wish to permanently use a high contrast theme, right-click on the desktop, select Personalize. Scroll down to see the default high contrast themes.
Select the desired theme and apply it.
In Windows 11, you will see the settings here: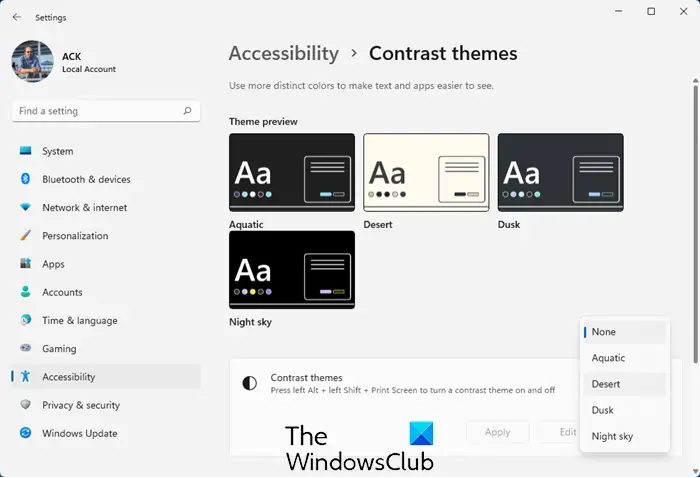 Open Windows 11 Settings > Accessibility > Contrast themes.
In Windows 10, if you wish to customize your high contrast theme, you can open Windows 10 Settings > Ease on Access > High Contrast.
From the drop-down, select the theme format and then customize the colors.
Your computer screen will now display a high contrast theme which will make it a lot easier for you to read the text.
Some applications and browsers also have support for the high-contrast mode on Windows. For instance, here is a screenshot of notification from Chrome, automatically offering to install a high contrast extension and theme, once you switch your Windows to high contrast mode.

There are also several high contrast themes for various applications and software, available as free downloads on the Internet.
If you are visually impaired, you can also change the Windows Cursor Thickness & Blinking Rate to make it more visible.