In this post, we will show you how to edit M4A files on your Windows 11/10 PC. Audio files in M4A format can be opened in Windows Media Player, VLC, and other popular audio players. If you use iTunes, you can play your M4A files in it as well.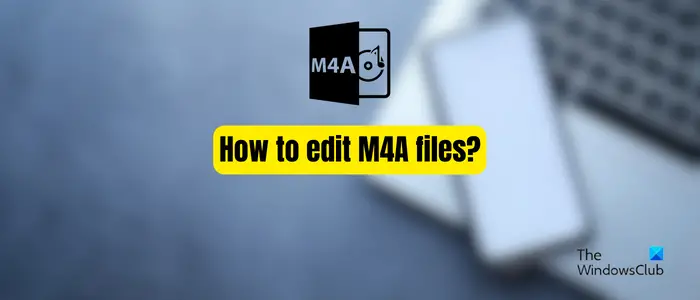 What is an M4A file?
M4A, which stands for MPEG-4 Audio, is an audio file format by Apple that stores songs, audiobooks,  podcasts, and other audio content. Audio files with .m4a file extension are encoded using Advanced Audio Coding (AAC) lossy compression or Apple Lossless Audio Codec (ALAC).
There are several advantages of M4A audio format over other audio formats like MP3. This audio provides a better sound quality when compared to MP3 and other formats. Also, M4A files can be smaller because of more efficient compression.
What audio editing software edits M4A files?
You can edit M4A audio files in WavePad. Other software that you can use to edit M4A audio are AVS Audio Editor and DJ Audio Editor.
How to edit M4A files on Windows 11/10
Here are the methods using which you can edit a M4A audio file on your Windows PC:
Edit M4A files using Audacity.
Use WavePad to edit M4A files.
Convert M4A to MP3 or WAV and then edit it in an audio editor.
1] Edit M4A files using Audacity
Audacity lets you edit M4A files. It is a dedicated audio editor using which you can open your M4A files in Audacity and edit them. But, you must install FFmpeg libraries to open and edit M4A files in Audacity. Let us check out how.
How to edit M4A files in Audacity?
Here are the main steps to edit M4A files in Audacity:
Download and Install Audacity.
Download FFmpeg (shared version).
Unzip the downloaded folder.
Launch Audacity.
Open Preferences.
Configure the FFmpeg library with Audacity.
Restart Audacity.
Open and edit the M4A file.
To edit M4A files in Audacity, ensure you have the software installed on your computer. Download it from its official website and then install it.
Next, you need to download FFmpeg libraries on your computer. The latest FFmpeg builds for different operating systems are available on GitHub. You need to download the shared version of FFmpeg. Once downloaded, extract the ZIP folder and unzip it.
Next, open Audacity and click on the Edit > Preferences option. Then, move to the Libraries tab from the left-side pane.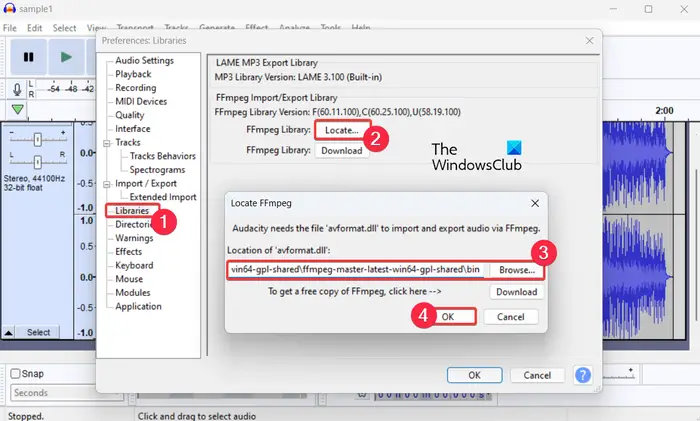 Now, click on the Locate button present next to the FFmpeg Library option.
After that, provide the location of the avformat.dll file present inside the FFmpeg folder that you downloaded and unzipped above. Now, press the OK > OK button.
Once you have configured the FFmpeg library with Audacity, restart the software and click on its File > Open option to browse and select the source M4A files.
You can now edit the M4A file using the available audio editing tools. You can split an M4A audio into multiple parts or join multiple M4A files in one audio. It also provides several audio effects that you can apply to M4A files. You can amplify audio, change the speed of an M4A audio file, add a reverb effect, adjust Bass and Treble, change the tempo of audio, use Low Pass Filter or High Pass Filter, remove vocals from audio files, etc.
Furthermore, you can add or remove noise to/from M4A audio files. There are a lot more nice and handy audio editing features in Audacity that you can explore while using it.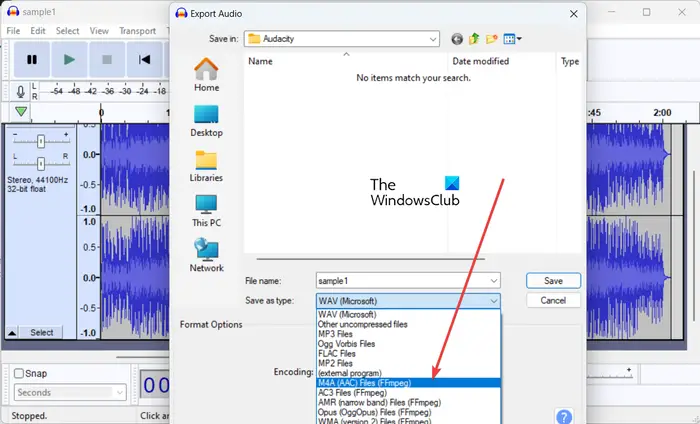 When you are done editing the audio file, you can save the edited audio in its original audio format i.e., M4A. Or, you can convert and save it in another audio format. For that, you can go to the File > Export option and select the desired output audio format like M4A, MP2, MP3, WAV, AMR, Opus, OGG, FLAC, AC3, WMA, etc.
2] Use WavePad to edit M4A files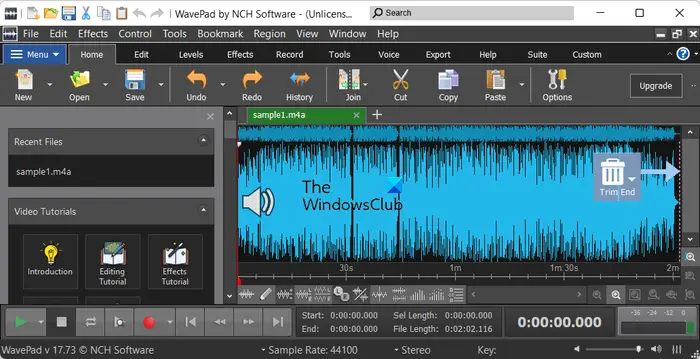 WavePad is a free audio editor that lets you edit M4A and various other audio files. You can open your M4A files and edit them using various audio editing tools like Join, Cut, Copy, Split, Trim, Silence, Remove Noise, etc. It also offers multiple effects like Reverb, Echo, Speed, and some more.
The final edited M4A audio can be saved in its native format or another audio format like MP3, WMA, OGG, FLAC, AIFF, etc.
3] Convert M4A to MP3 or WAV and then edit it in an audio editor
Another method to edit an M4A file is to convert an M4A file to a popular audio file and then edit it using a third-party audio editor. You can convert M4A files to MP3 or WAV format these audio formats are supported by most audio editors.
To convert your M4A files to MP3 format, you can use a free desktop application or online tool. For example, VSDC Free Audio Converter, Switch Sound File Converter (Microsoft Store app), Convertio, CloudConvert, and FreeConvert are some free apps and tools that you can use to convert M4A to MP3, WAV, and other audio formats.
Once you have converted M4A files, you can open and edit them using a free audio editor like:
How do I trim an M4A file for free?
You can trim M4A files for free using an online tool. For example, you can use the Aconvert.com website to split or trim an M4A file. Open its website, go to the Audio section, move to the Cut tab, and upload the source M4A file. After that, enter the start position from where you want to cut the input audio and the total duration of the trimmed audio. Finally, press the Submit button, and it will trim the input M4A audio. You can download the resultant audio file.
Now read: Best free Open Source Audio Editor Software for Windows.