If you are searching for the best M4A to MP3 converters for PC, read this article. The M4A or MPEG4 audio file format is an advanced file format that was meant to succeed in the MP3 format. The sound quality is significantly better and files size smaller than MP3. It is popular with users of Apple products since it has been adopted for the iTunes Music Store.
How to convert M4A to MP3
While M4A format is better than the MP3 format, most Windows users have preferred stick to the older version, and many media players don't support the M4A format. Thus, users prefer to convert M4A files to MP3 files. We have covered the best M4A to MP3 converters for PC as follows:
File Conversion Tools
VSD Free Audio Converter
Switch Audio Converter Free
Convertio
All Converter Pro.
1] File Conversion Tools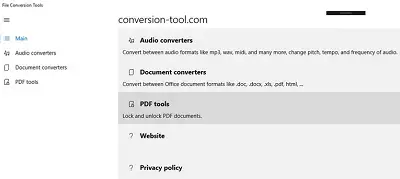 This app offers links to online tools that let you convert files formats. You can convert various files including audio and video formats. This app specializes in audio file features. You can change the pitch and even the speed of audio files. You can switch between frequencies. Download the app from the official Microsoft Store. This app supports literally every kind of file format you might be using.
2] VSDC Free Audio Converter
You can convert both, local and online audio files from M4A to MP3 with this tool. You can edit the file info. You can get the app here. Pay attention while going through with the procedure. It is simple, you need no guide to use it. Uncheck the suggestions for other apps, and you are good to go. This software offers a range of bitrate and unlimited conversion. It has a clean user-interface. It is worth it.
3] Switch Audio Converter Free
The Switch Audio Converter is a free app by NCH Software. It supports more than 40 kinds of file formats. It gives you the option to listen to a file before you convert it. It also helps save disk space by compressing the converted files. Download the free app from the Microsoft Store. The app normalizes the audio while converting if that's what you want. You can easily keep your music tags and make batch conversions.
4] Convertio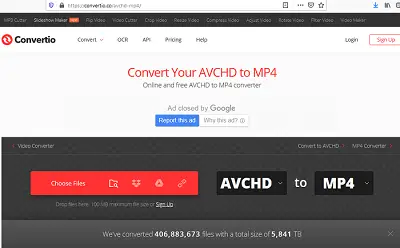 Convertio is not just a file converter. It will allow you to edit the files the way you want them. You can convert to and from any format including MP3, WAV, and M4A.  You can choose the sound quality of your converted audio files. You can navigate folders easily. Download the app here. You can use the trim and convert features as well. You can also share files to social media via this app. This app is indeed the master of everything.
5] All Converter Pro
This app has some premium features but the free part covers the basic needs. You can convert a limitless number of files. You can merge audio and video files or extract audio from video. You can compress the files without deteriorating the quality. Get the app here at the Microsoft Store. Try this app if you have high-quality audio files to store in limited disk space.
These 5 apps are popular and reliable. You can check them all out and pick the one that you find most handy. They are all free and compatible with Windows 10.
TIP: File Blender is a portable free file converter software that you would like to check out.
Other converter tools that may interest you:
Convert FLAC to MP3 |Convert WMA to MP3 | Convert AVCHD to MP4 | MP4 to MP3 converter | AVI to MP4 converter | FLV to MP4 converter | WMV to MP4 converters | AVI to MP4 converters | Convert any file to different file format | Convert MOV to MP4 | MKV to MP4 converter.