If you are searching for the best AVCHD to MP4 converters for PC, check the list in this article. The AVCHD is an excellent file format that was introduced in the mid-2000s primarily for HD videos recorded through camcorders. Now video filming is way more advanced, but people still retain videos recorded in the AVCHD format.
Best AVCHD to MP4 converters for PC
The AVCHD format isn't supported by all media players, especially on mobile platforms. Thus, users prefer to convert AVCHD to MP4. You have the following options – some software and some online.
SuperSimple Video Converter
Convertio
Any Player
Movavi
Video Converter-Free.
The list of the best AVCHD to MP4 converters for PC is as follows:
1] SuperSimple Video Converter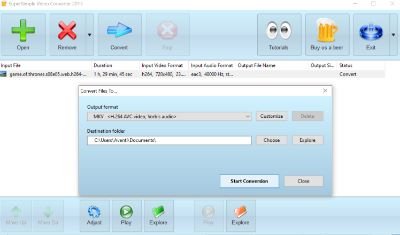 This is arguably the best free AVCHD to MP4 converter out there. The range of file formats this software supports is amazing. It can convert large files in a short time. There is no distortion in audio synchronization. Download this gem right here from gromada.com and enjoy a smooth interface. There is no spyware or adware associated with this link.
2] Convertio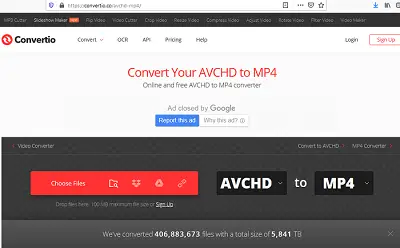 You don't even need to download this software. You can convert any video here. The quality will not deteriorate one bit. The files need to be lighter than 100MB though. This software is free for small files only but that is the only shortcoming of this software. You can easily drag and drop your AVCHD files and click the convert button.
You can choose from 37 file formats to convert to. You can perform batch conversions and change the settings according to your requirements before converting. Other than this, you can save the converted file on your device or in Dropbox or Drive.
3] Any Player
This app was developed by Any DVD and Office App in December 2018. It supports 11 languages including English, French, Spanish, Italian, and Dutch. The app is on the heavier side. It will take up approximately 250MB of the device storage. But it is very convenient to use. You can directly play the videos that need converting. This app is free. Download it directly from the Microsoft Store. You can adjust settings according to your video playing necessities.
4] Movavi
Movavi is one of the most popular video editing & converting software available online. They claim that their video format converter converts AVCHD format files to MP4 format files without any distortion in the video quality and most users agree to it. Check more about this product here.
5] Video Converter-Free
You can use this Free Video Converter limitlessly. This app helps convert video files of any format and any resolution to high-quality MP4. You can choose the video quality for the output. Download this V3TApps production from the Microsoft Store.
These are all free and high-performance AVCHD to MP4 converting software. Take your pick.
More converter tools that may interest you:
Batch convert Word to JPG | MP4 to MP3 converter | AVI to MP4 converter | FLV to MP4 converter | WMV to MP4 converters | AVI to MP4 converters | Convert EPUB to MOBI | Convert JPG, PNG to PDF | HEIC to JPG, PNG converter | PowerPoint to Flash converter | Convert PDF to PPT | Convert BAT to EXE | Convert VBS to EXE | Convert PNG to JPG | Convert .reg file to .bat, .vbs, .au3 | Convert PPT to MP4, WMV | Convert Images to OCR | Convert Mac Pages file to Word | Convert Apple Numbers file to Excel | Convert any file to different file format | Convert JPG and PNG to PDF | Convert NSF into PST | Convert MOV to MP4 | Microsoft Office files to Google Docs | Word to PDF Converter | MKV to MP4 converter.