There may come a time when you feel the need to convert your Word documents to PDF. This can be done with Microsoft Word quite easily, but what happens when you want to convert several Word documents at once? In such a situation, you'll need a tool that is designed for batch converts, which is why we're going to talk about a few Batch Word to PDF Converter freeware & online tools for Windows 11/10/8/7. They can convert all of your Word documents to PDF one after the other – and merge different documents into a single PDF file.
Free Word to PDF Converter software & tools
Today we're going to talk about several PDF converter tools, namely:
PDF Online
Doro PDF
Bolt PDF Creator
Batch Word to PDF Converter.
From what we can tell, each of them works quite well, and much better than we first anticipated. Not to mention, the ease of use took us by surprise, and unlike other tools, the first 3 do not force users to live with a big logo on the finished product.
Batch convert Word documents to PDF files
1] PDF Online
When it comes down to converting Microsoft Word documents to PDF, users need to visit PDF Online then click on the "Word to PDF" button. From there, search for the file that needs conversion and wait for the task to process.
Remember that if your document is overrun with images, the conversion will take a while longer to complete, so keep that in mind. Furthermore, we cannot promise a secure environment when using this service, so please do not upload important documents for conversion.
OK, so after the conversion is done, it's now time to download the file to your computer. Folks can see what the file will look like as a PDF by simply selecting View PDF at the very top of the page. If you're pleased with the end product, return and click the download button.
Better yet, right-click within the space and select Save as PDF if you're using the Opera web browser. Other browsers should have a similar feature, so try it for yourself and tell us the outcome of your experiment.
Overall, we like what this online tool has to offer. It's not a looker by any means, but that is not a problem on our end because it works, and works quite well. Additionally, conversion is snappy, so in just a few seconds your Word document will be converted and ready for download. But as stated above, speed depends on the size of the document and the amount of image inside.
2] Doro PDF
Doro PDF is another tool we need to look at, and that's because it's capable in more ways than one. It's called Doro PDF Writer, and we highly recommend giving it a chance since you're out seeking the best program for converting Word to PDF.
It should be noted that once the app is installed, it will act as a virtual printer on your computer system. You see, that means the user can create a PDF file from any software that comes with a printing function.
When it comes down to encryption, this is also possible with the software's built-in 128-bit encryption ability. That's pretty slick from our point of view because not every free PDF tool comes with this option.
Now, in terms of converting files, users will be happy to know how easy it is to accomplish this task. Simply fire up any program that can print like Microsoft Word, or just use Word itself. Go to the printing section and be sure to select Doro as the virtual printer of choice.
Doing this should convert your Word document to PDF in quick succession, but slower if images are part of the equation. Download the tool directly from the official website for free.
3] Bolt PDF Creator
Converting a Microsoft Word document to PDF with the use of Bolt is just as easy as the others we've mentioned here. The task is straight to the point, and will take just a few seconds to get the job done, but that all boils down to the size of the document.
We've come to enjoy using Bolt because the files can be read via any PDF viewer, so that's great. If you've used other tools before and for some reason, the finished product has a compatibility issue, then give Bolt a test run.
Now, to convert a document to PDF, simply follow the same steps of Doro PDF. Fire up Microsoft Word and load the document you wish to convert. Venture off to the print section and select Bolt PDF Printer to get things done. Download the tool from the official website for free.
4] Batch Word to PDF Converter
We like the fact that you can easily install it on your computer, or even run it from a USB drive if you're working on a friend's PC. Additionally, we should point out that Batch Word to PDF is only capable of converting Word, Excel and PowerPoint files to PDF.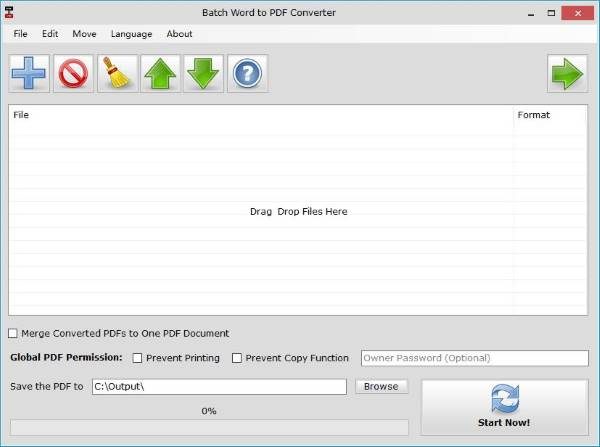 After downloading and installing the software, you'll notice that there's a simple user interface. It's easy to understand. Therefore, even the lords of novices should have little obstacles in their way.
Not only is it easy to use and understand, but it also comes with a Wizard guide designed to help you through the entire product. At the top, you'll see a toolbar along with a menu bar, and at the same time, you should also come across printing options among others.
When it comes down to converting Microsoft Word documents, just drag and drop the file to the white opened space, click on Start Now, and voila, a brand new PDF document is born.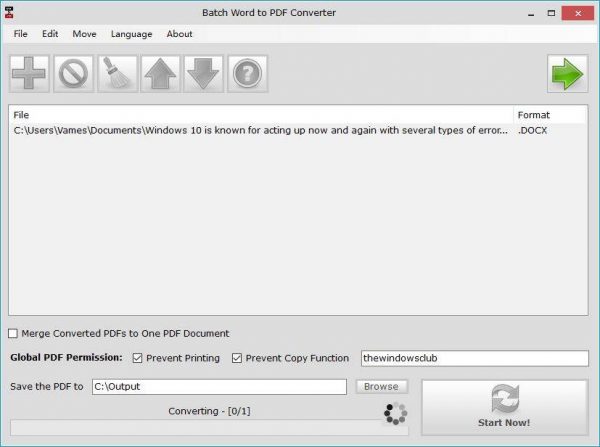 It's possible to secure your document during the conversion process. If you want your PDF file to be password protected, then this is possible directly from Batch Word to PDF Converter. Users can even prevent printing and prevent anyone from copying content from your PDF.
Overall, there's nothing much to talk about in terms of features and functionality. It's a simple tool with limited options, and you know what? We do not care. The idea is to convert Word documents to PDF, and it does that well.
There's nothing else for it to do, and we hope many developers decide to go down this route instead of overstuffing their software with unneeded functions. Download the file right here from the official website. Comments indicate that it could leave a watermark behind, and that is disappointing!
Related reads:
Other posts that may interest you:
Convert BAT to EXE | Convert VBS to EXE | Convert PDF to PPT | Convert PNG to JPG | Convert .reg file to .bat, .vbs, .au3 | Convert PPT to MP4, WMV | Convert Images to OCR | Convert Mac Pages file to Word | Convert Apple Numbers file to Excel | Convert any file to different file format.