Microsoft has several high-standard and time-conserving tools for its consumers, and PowerPoint is one of them. Although you have to purchase Microsoft Office, it is worth the money. PowerPoint makes it easier to make a stunning presentation within a few moments without any graphic designing knowledge. Having said that, if you have created a PPT file and want to convert a PowerPoint presentation to a video, do follow this article.
PowerPoint saves the presentation in the PPT or PPTX format. But, not all people have PowerPoint on their computers. Consequently, if you want to share a PowerPoint presentation with someone who does not have PowerPoint software, you can just convert that presentation to video. Here are two different methods to convert PowerPoint presentation to video. One will be done using the PowerPoint software itself, and another one will be done using another third-party freeware.
Convert PowerPoint presentation to video natively
Before you begin, save a PPT copy of your presentation to your computer in case anything goes wrong.
Now click on File and select Save As. Now, choose a location where you want to save and enter a name. After that, choose either MPEG-4 Video (.mp4) or Windows Media Video (.WMV) from the drop-down list that appears after clicking on the Save as type box.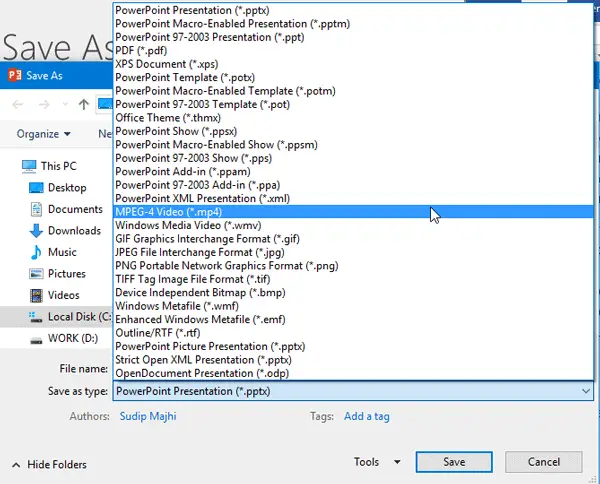 MP4 is a standard video format, and almost all devices support this format. Therefore, you can opt for it. It will take a few moments depending on the presentation size. If you have two simple slides, it will take around 15 seconds to complete the conversion.
It is so simple!
Convert PPT to video using PowerDVDPoint Lite
PowerDVDPoint Lite is free software, which comes with a couple of features to convert PPT presentations to a standard DVD or video file. It is much more useful when you have multiple PowerPoint presentations to convert to video files as it does support bulk conversion. You do not need to worry about the animations that you added to your slides since all things will be kept even after the conversion.
Download, install, and open PowerDVDPoint Lite tool. You will see this screen: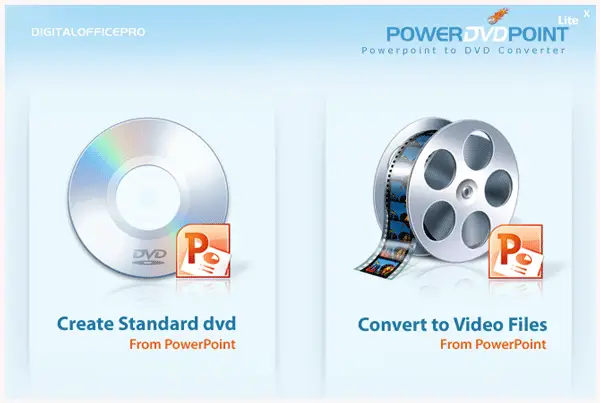 Click on "Convert to Video Files" option. Now, click on Add presentation, select the presentation, and hit the Next button. On the next screen, you have to choose a location where you want to save your converted file. After that, you can select the video format. Depending upon the format, it is also possible to select video resolution, audio mode, etc.
Finally, hit the Start Conversion button. Now, it will take few moments to convert that file to video. Again, you need to wait for some time, and it depends on the PPT file size.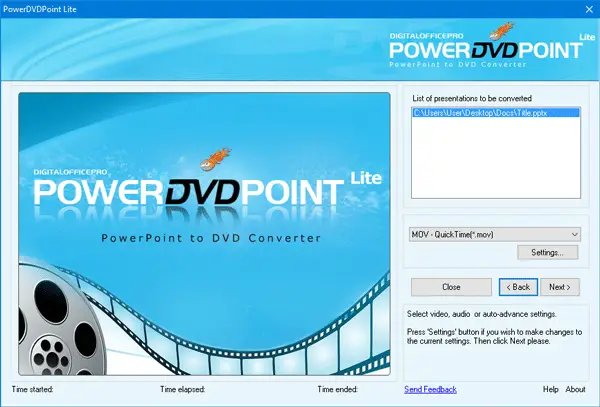 If you need this tool, it is available here.
Read next: How to convert PDF to PPT.