If you have a PDF file and you want to convert PDF to PowerPoint (PPT) file, here are some free online tools and a Windows freeware which will do the job pretty well. You can open the PPT file in Microsoft PowerPoint as well as any other PPT opener after converting it from PDF.
Convert PDF to PPT online
1] Free PDF Converter

This is a free PDF to PPT converter that allows you convert any size of PDF file without any problem. Feature-wise, there is no flaw in this tool. However, the conversion might get delayed if you try to convert multiple files at a time. According to them, you can get rid of this delay by creating an account, which is free of cost. To use this tool, head over to their website, select your files and let it be converted. Finally, you will get the option to download it.
2] SmallPDF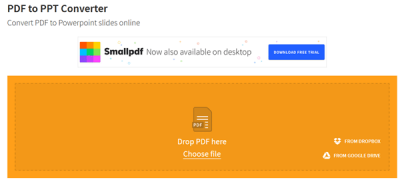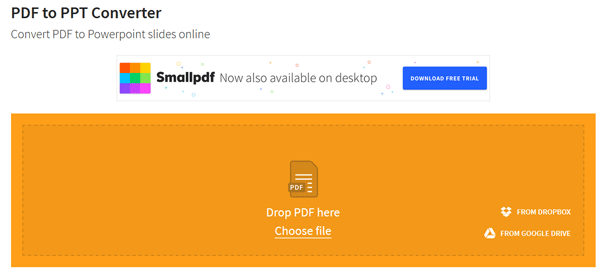 It does the job without any issue but it felt slower than the first tool. The best part is that it is possible to save the converted file to Dropbox as well as Google Drive. Also, it optimizes the converted file pretty well and better than other tools. Simply go to the official website and upload your file.
3] Nitro PDF to PPT Converter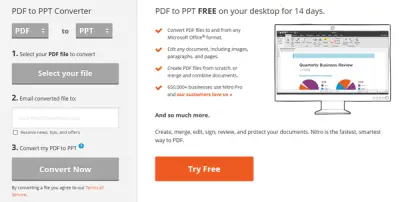 This is yet another free PDF to PPT converter, which is fast, convenient, and very easy to use. The only drawback is you cannot download the converted PPT file from the official website. During the file selection process, you need to enter an email ID, where you would get the download link to the converted file. Open their website and click on Select your file button to upload your file. Following that, enter your email ID and click on Convert Now button. You should get an email within few moments that will contain the download link.
4] Online2PDF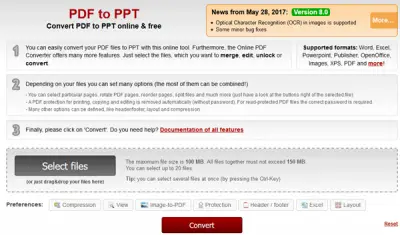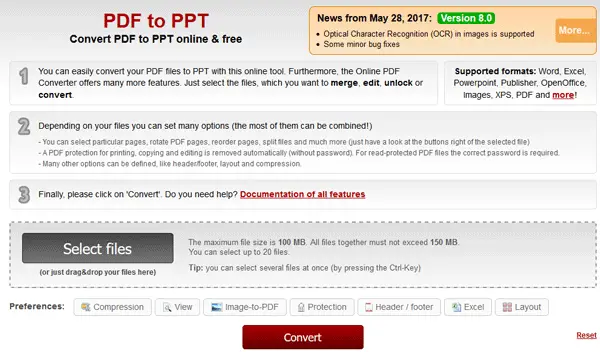 This tool can convert PDF to PPTX, which is compatible with PowerPoint 2007-2016. You can also choose PPT if you are using a very old version of Microsoft PowerPoint. The advantage of this tool is you can convert multiple PDF files to PPT or PPTX at once. However, the maximum file size should be lower than 150MB and single file should not be more than 100MB. To use this tool, visit the official website, upload your file, select which format you want (based on your MS PowerPoint version) and hit the Convert button.
Free software to convert PDF to PPT
5] Boxoft Free PDF to PPT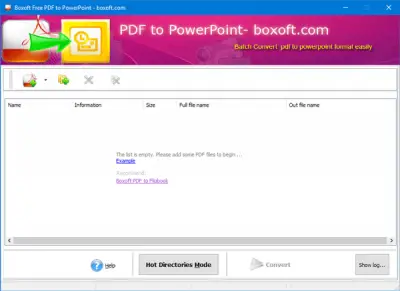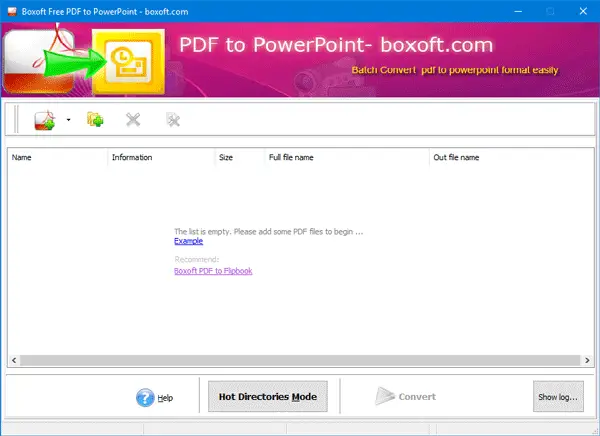 This is a free Windows software that lets you convert PDF to PPT within moments. It is possible to convert multiple files at once. Not only that but also you can choose a directory from a server or anywhere else. It can also work like a Command Line tool. In that case, you need to use the option to do that. Otherwise, you can go with the Batch Convert Mode. For that, you can select the file/s, save path, etc and finally click on Convert button to make that happen. You can download it from here.
These are some of the best tools to convert PDF to PPT online and offline.
Similar posts that may interest you:
Convert BAT to EXE | Convert VBS to EXE | Convert PNG to JPG | Convert .reg file to .bat, .vbs, .au3 | Convert PPT to MP4, WMV | Convert Images to OCR | Convert Mac Pages file to Word | Convert Apple Numbers file to Excel | Convert any file to different file format | Convert JPEG and PNG to PDF.