You are on the right page of you are searching for the best free FLV to MP4 video converters for PC. For some reason, FLV is the most favored video file format for any files downloaded through video downloading software websites or saved directly to the system.
FLV to MP4 converter for Windows 11/10
However, most media players do not support the FLV codec. Only a few media players like the VLC media player can play such file. Many users don't prefer to install such media players since it could impact the warranty of they systems. Thus, users prefer to convert FLV video format files to MP4 video format files.
VideoSoft Converter
Any Video Converter Free
Free HD Video Converter Factory
Handbrake
Freemake Video Converter
Here is a list of best free FLV to MP4 converters for PC for Windows 10 that are meant for convenient no-nonsense video conversion.
1] VideoSoft Converter
The VideoSoft video converter is free and fast. You will face no performance lag or problematic bugs just because the software is free. You can also perform batch conversions. The clear interface of this software makes it usable for anybody. Download the software here or convert it online. If convenience is what you are looking for, this is it.
2] Any Video Converter Free
Any Video Converter is a very simple and self-explanatory name for a software. It is a very useful one. The creators of this software believe in simplicity. It is fast to download and use. It can convert any video online to any format. Download the software here for your Windows PC. Give it a couple of minutes to install. You can use this software to convert any kind of video file or any device. The list of options it offers is endless.
3] Free HD Video Converter Factory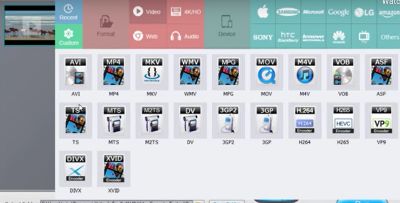 This freeware comes with inbuilt tools for video editing. It is compatible with all working versions of Windows. It is smoothest on Windows 10. You don't need any tutorial on how to use it. The UI is clean and simple. Download the software here and check it out for yourself. You will not find a more convenient software for video conversion. The software is very intuitive. You can use a manual selection or a tailored profile depending on the variations in your requirement.
4] Handbrake
Handbrake makes it to almost every list of best video converters. It is indeed one of the best. You will find advanced features that give you complete control over the videos in concern. You can setup quick pre-set options. The design of this software is candid. This software supports all kinds of file formats commonly used. It also supports all major operating systems. Download it for your Windows 10 PC from here. Enjoy the fun user-interface and edit and convert as many videos as you want, every day.
5] Freemake Video Converter
Freemake Video Converter offers a wide range of video formats to convert from and to. It offers all the essential features of a video editor and converter. It will cost you nothing but a few minutes of installation time and very little space on your device. Download it here for Windows 10. Convert files from your device hard drive or from the internet.
You will enjoy using all these apps because they are very user-friendly. You don't have to be tech-savvy to figure your way around these software products. Download them now and convert all the videos sitting on your convert list.
How do I open FLV files on Windows 11/10?
You can use the native Clipchamp Video Editor app to open or play FLV files on Windows 11/10. You can also use some free third-party party media players to play FLV files. VLC Media Player, Free FLC Player, Moyea FLV Player, etc., are some good media player options you can use. If you want, you can also first convert the FLV media file to another format and then open it with a supported player.
Why is Windows Media Player not playing FLV?
FLV file format is not supported by the Windows Media Player Legacy. In fact, the new Media Player app of Windows 11 also doesn't support FLV media files. You need to install FLV codec first if you need to play FLV files using Windows Media Player Legacy. For that, you can use CCCP codec, K-Lite Codec Pack, etc. Alternatively, you can use free FLV media player tools for playing an FLV file.
More converter tools that may interest you:
MP4 to MP3 converter | AVI to MP4 converters | WMV to MP4 converters | AVI to MP4 converters | Convert EPUB to MOBI | Convert JPG, PNG to PDF | HEIC to JPG, PNG converter | PowerPoint to Flash converter | Convert PDF to PPT | Convert BAT to EXE | Convert VBS to EXE | Convert PNG to JPG | Convert .reg file to .bat, .vbs, .au3 | Convert PPT to MP4, WMV | Convert Images to OCR | Convert Mac Pages file to Word | Convert Apple Numbers file to Excel | Convert any file to different file format | Convert JPG and PNG to PDF | Convert NSF into PST | Convert MOV to MP4 | Microsoft Office files to Google Docs | Word to PDF Converter.