Converting videos is an easy task if you know which apps to use and the best online platform to take advantage of. You see, the MP4 video format is the most popular and widely used, so is it possible to convert MOV to this platform? The answer is Yes. There are several tools available for converting videos from MOV to MP4 where Windows 10 is concerned. Where's going to talk about some of these tools, then we'll discuss the best online tools for doing the same task.
Convert MOV to MP4
Now, bear in mind that native Windows 10 apps will always be much better than online tools. However, if you're not interested in learning how to use any specific software, and if you're not planning to use your video for professional purposes, then an online converter is quite fine.
The first two are freeware whereas the last two are free online tools to concert convert MOV to MP4:
HD Free Converter Factory
Any Video Converter
Online video converter
Online converter.
1] HD Free Converter Factory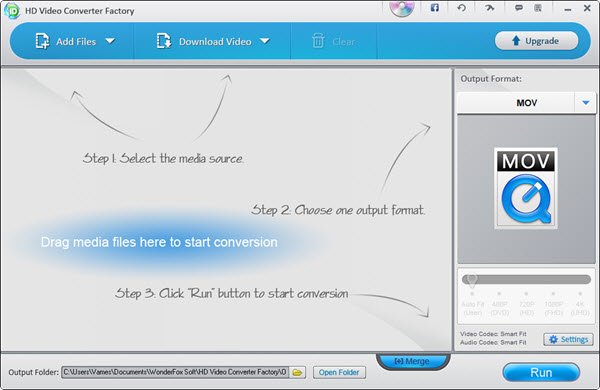 The first tool we want to talk about today is no other than HD Video Converter Factory. It's one of the best tools available on the web right now that is capable of converting MOV videos to MP4, and from our limited use, it's safe to say that it works as intended.
We like the user interface very much, along with all the tools it brings to the table. Not only can folks convert video, but if they so wish, the option is there to download videos from YouTube and more.
OK, so to convert a MOV video to MP4, you must first launch the tool, as expected, then click on the button that says Add Files. Seek out the MOV video file you'll like to convert into MP4, then select the output format from the right.
Finally, click the button at the right-bottom that says Run and just have a cup of tea while HD Free Converter Factory performs a bit of magic.
Download the free version of the software from the official website.
2] Any Video Converter
What we have here is one of the most popular video converter tools available for Windows 10. It's been around for a number of years, and we can safely say it's worth using. It's even great for downloading YouTube videos if that's your thing.
Now, we should point out that Any Video Converter is much more powerful than Wondershare, so if you're looking to do more than just convert videos, then this is your jam right here.
To convert MOV videos, you must first download the installation file, run it, and wait for the full program to be downloaded and installed to your Windows 10 system. After everything has been completed, It's time to get things done.
To convert a video, drag and drop the file into the box, or click on the blue button, and add it the traditional way. Make sure you choose the MP4 file format as the output file, then finally, hit the button that says Convert Now.
Download the file from the official website.
3] Online Video Converter
Visit the website, and right away you'll see several options; be sure to choose the one in the middle that says Convert a Video File. Click on the yellow button to add a file, or drag and drop the file in the space to convert.
Bear in mind if you have your adblocker turned on, it won't work so please turn it off for a short while then get things going until you're done. Visit onlinevideoconverter.com.
4] Online Converter
This online service is also quite easy to use, and what's interesting about it is the fact that it's not just a video converter but a jack of all trades. OK, so to convert a video, please navigate to the Video Converter option, then select the output format from the drop-down menu (MP4), then select Go.
You'll now be brought to a new page with the option to drag and drop the video or ad via the traditional method. What's great about this online service when compared to the other, is the fact that users can set a preset, change the audio quality, disable the audio completely, adjust the resolution among other things.
It's a smart tool and the best of the online converters we've come across so far. Visit the free online converter website by clicking here.
PS: You can also convert MOV to MP4 using VLC media player.
Other posts that may interest you:
Convert JPEG & PNG to PDF | Convert BAT to EXE | Convert VBS to EXE | Convert PDF to PPT | Convert PNG to JPG | Convert .reg file to .bat, .vbs, .au3 | Convert PPT to MP4, WMV | Convert Images to OCR | Convert Mac Pages file to Word | Convert Apple Numbers file to Excel | Convert any file to the different file format.