NSF or Notes Storage Facility is a database used by IBM Lotus Notes and Domino servers. The .NSF files stores information like emails, contacts, user data, and more. If you are moving to Outlook, you would like to carry all this with you and read all your previous emails. The tough part is that to convert NSF files into PST, that too for free, is a little tricky. It can be done, but there can be hiccups. In this post, we will show you how to convert from NSF to PST for free.
Convert NSF to PST free
There are two ways of doing it. We will suggest trying both and then figuring out which works best for you.
Using CSV or Tab Separated Values  Method
Using Free NSD to PST converter tool.
Make sure to create a separate profile on Outlook to verify if everything works as expected, and then move to actual profile.
1] Using CSV or Tab Separated Values  Method
The process is straightforward. You need to export the Lotus Notes Mail files, and then import the exported mail file in Outlook.
Export from Lotus
Open Lotus Notes, and then click on the Mail tab.
Go to File > Export, click on it.
The export wizard will give you two options— Tabular Text and Structured Text. Since both are CSV and Outlook supports it, feel free to choose any of them.
Click on continue, save it with a name and location you can remember.
Import the CSV file in Outlook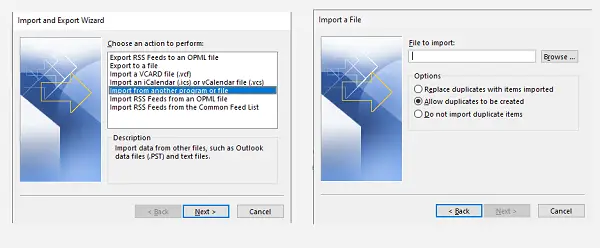 Open Microsoft Outlook
Click on File > Open & Export > Import/Export
In the Wizard that opens, choose Import from another program or file, and then click on next.
Select Comma Separated Values, and click on next again.
Now you can choose to browse, and select the file, and then decide if you want duplicates to be created or skip them.
Next, select the Outlook folder where you want to save your exported data and click Next.
Post this; you will have to match the Lotus Fields with Outlook fields, so the data is imported in the current Outlook profile. It is the tricky part so map everything correctly, and that's the primary reason I was asking to try it out somewhere, and then import it.
2] Free NSD to PST tool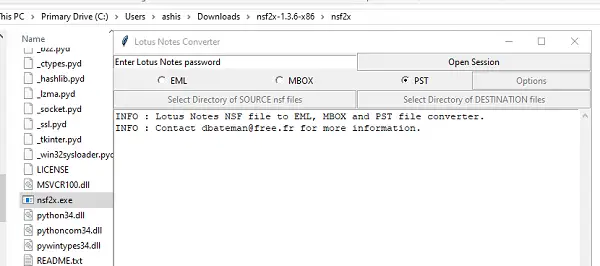 Github Tool NSF2X is a free NSD to PST converter tool to convert NSD to PST for free. It can export EML, MBOX, and PST formats. Here is the list of supported features:
Exports the mail from Lotus Notes NSF files in MIME format. It will keep the layout and attachments intact.
Can read encrypted emails in the NSF files, removing the Lotus encryption and re-encrypting with the users Exchange Certificate in RC2, 3DES, AES128 or AES256 formats
Supports both Full and Click To Run (AKA Office 365) versions of Outlook (Office 365 beta support)
Supports mixed 32 and 64-bit installations of Lotus Notes and Outlook
Supports Unicode filenames (i.e., Accents in the NSF and PST filenames)
The only restriction is that it needs Lotus running. So you will need to perform this on the computer which has Lotus.
Here is how to use it:
Download the converter from here, and then follow the steps:
Launch Lotus Notes, and then copy the NSF files to a temporary location. Optionally, but recommended launch Outlook.
Launch "nsf2x.exe", and enter the Lotus Notes password
Press the "Open Session" button to open the connection to Notes
Select the output type as PST
Modify the conversion options as wanted, enter the source path of NSF-files, and enter the destination path to contain the converted files.
Press the "Convert" button to launch the conversion
If you get an exception, you need to manage it manually, i.e., missing emails. You need to export it as an EML file, and then manually open it and import it directly.
Posts that may interest you:
Convert MOV to MP4 | Convert BAT to EXE | Convert VBS to EXE | Convert PDF to PPT | Convert PNG to JPG | Convert .reg file to .bat, .vbs, .au3 | Convert PPT to MP4, WMV | Convert Images to OCR | Convert Mac Pages file to Word | Convert Apple Numbers file to Excel | Convert any file to different file format. | JPG & PNG to PDF | Microsoft Office files to Google Docs.