We have different kinds of files on our PC. If it's a Word document, we can open it on Word, Google Docs, or some other program. We open video files in media players that can play this kind of video without any issues. Likewise, there are music players that can help you create playlists, update tags, and play music and audio without any issue, irrespective of the format. In this guide, we list a few best music players for Windows 11/10 you can download and use for free.
Best free Music Players for Windows 11/10 PC
If you are looking for the best Music Players or Audio Players for your Windows 11/10 PC, the following list can help you.
Media Player app
Foobar2000
MusicBee
MediaMonkey
Dopamine
AIMP
iTunes
VLC Media Player
PotPlayer
Winamp
Let's get into the details of each music player.
1] Media Player app
Media Player is now revamped and redesigned with better capabilities than the previous versions. It can play almost all kinds of audio formats. It has a clean UI that can help you to use it without any issues. You can organize audio files, see visualizations while playing music, etc. You don't need to install it separately as it comes installed by default on Windows.
Read: Where is classic Windows Media Player in Windows 11?
2] Foobar2000
If you have audio files of different formats, Foobar2000 is the best choice to play those audio files and music on Windows. You can enhance the audio and tweak a few settings to make the music or audio sound better. You can also edit tags of music files easily. Foobar2000 offers a lot of customization options that you can use to make the music player work at its best in playing music. It comes with a built-in converter which is an additional advantage. You can download Foobar2000 from Microsoft Store onto your PC.
3] MusicBee
MusicBee is one of the finest music players available to download and install. It can play all formats of audio or music files. You can finetune the sound with the 10 or 15-band sound effects and DSP effects. It has a gapless playback feature using which you can play music continuously without delay. You can even mix stereo to 5.1 sound or resample the audio track to lower bitrate, normalize the volume, etc. It is even available on Android phones to sync with Windows. MusicBee is available to install from the Microsoft Store.
4] MediaMonkey
MediaMonkey is a high-performance media player as well as a media manager that can manage thousands of music tracks and videos without any issue. You can use it to play music, audiobooks, Podcasts, or even Movies. It also has abilities to make your music sound even better by finetuning it via a 10-band equalizer, DSP effect add-ons, and volume leveling. If your music tracks are missing audio tags, MediaMonkey can download them and auto-tag your music files. This software can even play online streams from radio, YouTube, etc. There are a lot of interesting features which other players lack mostly.
Read: aTunes is a free Audio Player, Music Manager and Radio for Windows PC
5] Dopamine
Dopamine is another best music player you can use to play different kinds of audio formats without any issue. It is an open-source audio player. Dopamine has easy to use interface and customizable features. It also has the feature of auto-tag audio files by downloading the metadata from online sources.
6] AIMP
AIMP music player is a top-rated player with all the capabilities to be the best. The software has a good interface where you can organize the music library, create playlists, rip CDs, manage metadata, change skins, etc. It also has a built-in equalizer feature. It can play all formats of audio without issues. Along with audio playing capabilities, AIMP has a built-in audio converter, alarm clock feature, and sleep timer for PC. The only flipside of AIMP is its UI which many people don't like.
7] iTunes
iTunes requires no separate introduction. It is developed by Apple and is one of the best music players available. It can play music files stored locally as well as you can use an Apple Music subscription. You can organize the library, create playlists, etc. iTunes can play MP3, WAV, AIFF, Apple Lossless, and AAC formats.
8] VLC Media Player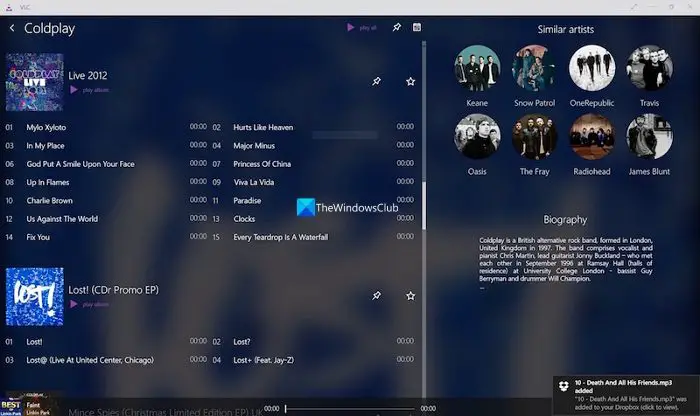 We already know what a VLC media player is capable of while playing videos. It also has the best capabilities to play music too in different audio formats. You can play both audio and video using a VLC media player. One of the good media players available on the internet today, the VLC media player is available to download from Microsoft Store. It is available even for Android mobiles. The VLC media player is an open-source program developed as a donationware.
Read: VLC not working in Windows 11
9] PotPlayer
PotPlayer is definitely one of the best media players available for Windows 11/10. Though it is mainly used to play videos on PCs, it can play music in different formats. OpenCodec is installed by default when you install PotPlayer on your PC, which gives it extra capabilities to read and play different formats.
10] Winamp
Winamp was one of the finest music players available. It has gone out of focus for a few years due to a change in the developers' team. It is now making a comeback with that same vintage feel to play the music. Though Winamp is a great player, the new versions are coming with a lot of bugs that are neglected even in further updates. Nevertheless, it is a good music player to try on your Windows 11/10 PC.
Read: Best Free Music Player with Lyrics Downloader for Windows
Does Windows 11 have a music player?
Yes, Windows 11 has a music player in the form of Windows Media Player. It is the new and updated version of good old Windows Media Player with a clean UI. You can use it to play music, videos, and organize libraries. If you cannot find Windows Media Player on your Windows 11, you can download it from Microsoft Store.
Read: Best Free Media Players for Windows PC
Which music player is best for Windows 11?
It depends on the kind of music or audio formats you play. If you play simple audio files like MP3, AAC, WAV, etc, Windows Media Player is the best. If you use your music player to play hi-res audio formats, you need third-party music players like MediaMonkey, MusicBee, Foobar2000, etc.
Related read: Best FLAC Players to listen to FLAC music files on Windows.