Are you tired of your Windows Media Player and looking for some alternative? If so, you should definitely try AIMP audio player. AIMP is more than an audio player: it supports numerous audio formats, including OGG, MP3, WMA, WAV, OGG, etc, it includes an audio converter, an audio ripper, an audio recorder, a tag editor, and lots of other features.
AIMP Audio Player for Windows 10 PC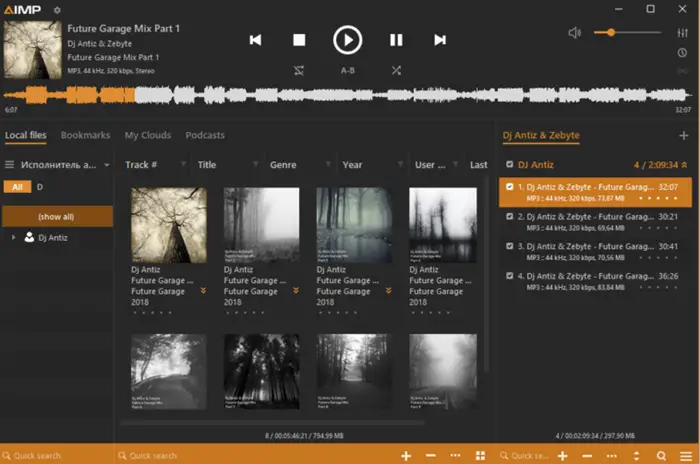 The main difference between Windows Media Player and AIMP audio player is that AIMP also includes an audio converter as well as an Audi Recorder, a tag editor is also included.
The best part of the AIMP audio player is that it has got an easy user interface, is small in size, and also makes minimal use of your system resources.
Features of AIMP Audio Player:

Crystal-clear sound, the technology of reproduction essentially differs from Winamp and WMP.
Sensitive equalizer.
A maximum of functionality from a minimum of resources.
The minimal consumption of system resources.
Adjustment of global and local hot keys (patterns from WinAmp and WMP).
Flexible options of the program and various covers will allow you to make A.I.M.P. completely individual.
Support of plug-ins with which help it is possible to expand opportunities of the program.
The audio converter codes music from the most different formats in wma, mp3, wav, ogg.
AudioGrab allows overtaking AudioCD in Mp3, OGG, WAV or WM.
The sound recording will allow you to write down a sound from any audio of the device in the system.
The built-in editor of tags, supports WMA, MP3, OGG.
AIMP also allows you to play your songs in different modes, i.e. speed, tempo, pitch, flanger, echo, and reverse. You can even change the properties of songs, directly copy a song to your clipboard, integrate lyrics, and much more.
Download it from its home page.