Apple issued a statement some time ago that it would update and release the new version of iTunes before the end of November. The company did as promised! After a little postponing, Apple has released iTunes for Windows 11/10 and Mac OSX.
The 11th iteration of the popular audio and video service now boasts a completely new interface that lay emphasis much on photos and album art rather than just listing music and the library. It keeps your favorite iTunes content at the forefront. We take a look at the new views and features!
iTunes for Windows PC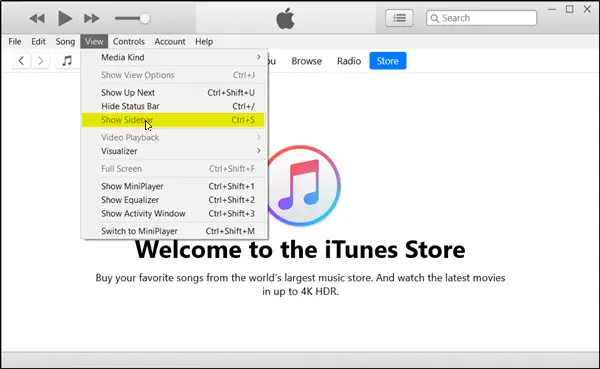 Sidebar Disappears
First and foremost, iTunes uses Helvetica now instead of OS X's system font, Lucida Grande. The side bar no more appears in your view but if you would like to get it back simply go to 'View'> 'Show Sidebar'. As shown in the screen-shot below, across the top of the main window, You find five choices – songs, albums, artists, Radio and so on. It's where all your items are neatly arranged.
Categories organized
Simply hover over any individual category, and it quickly brings up a little arrow; click on it, and you get several other options. For instance, click on any album, and it expands to provide a better picture of the album, showing all the tracks listed under it.
That apart, iTunes is smart enough to analyze the color of the album artwork and quickly create a colored background for each album, while you are planning to play your next favorite song.
Playlist too has a dedicated pane towards the right where you can manipulate tracks without having to leave the program.
In the Store
Adjacent to the "Songs" button is an "In the Store" button. It opens up the store in the same window and displays to you all of the artist's songs that are available via iTunes.
Up Next
There's a new feature called Up Next. It is the queue of upcoming tunes. Using this feature you can go and find your favorite artist in the iTunes store. Just click the Up Next icon in the center display, and you can reorder, add, or skip songs whenever you like.
The Search feature
The search feature too has been improved thoroughly. Just type in what you are looking for, and you will observe the Search feature searching it across your entire library, including movies and TV shows. Select any result and iTunes takes you right to it!
Play purchases from iCloud
All the items you've purchased from the iTunes such as music, movie, and TV show purchases now appear with a cloud icon on the corner of their artwork, indicating cloud integration.
The iCloud integration automatically puts all of your purchases into your library on your Mac or PC, regardless of which device you use to buy them. Simply sign-in with your Apple ID to watch them. If you want, you can either download or stream them. Streaming takes a while due to buffering, but downloads are quick. There's even a Download button dedicated to the toolbar that opens the downloads window. Yes, I mean a window, not popover. The best part of the cloud integration is that it remembers where you last left off in your favorite movies or TV shows, no matter which device you're using.
The Mini Player
The MiniPlayer makes it easy to control your music with a small toolbar. It allows you to do a lot more in very little space. You can skip to the next song or search for something new to play without having to open your library. The only area where the revamped iTunes falls short has a music streaming service.
iTunes lack streaming radio feature like Pandora or Spotify. Though iCloud gives users the ability to download tracks locally, it does not allow streaming them. There is no subscription service in iTunes available at the moment that could compete with the likes of Spotify, Rdio, and Xbox Music.
So, I would love to see this shortcoming being removed. If done, users may find themselves struggling to get away from the new audio and video player. You can download it from Apple.com. Also, read about the iTunes app from Microsoft Store on Windows 11/10.