FLAC or Free Lossless Audio Codec is the most widely used lossless audio format. Unlike MP3, audio can be compressed in FLAC without any loss in quality. This is what lossless in FLAC stands for. The format has been intelligently engineered for audio files and is now being used by a lot of services to compress audio. Most of the devices and players also support it and, in this post, we will cover eight such FLAC media players, that can be used to play FLAC files. You can get FLAC music or audio files from anywhere on the internet. Usually, FLAC files are used for high-resolution music and have the best audio quality.
What is the best FLAC player for Windows PC?
1. Windows Media Player app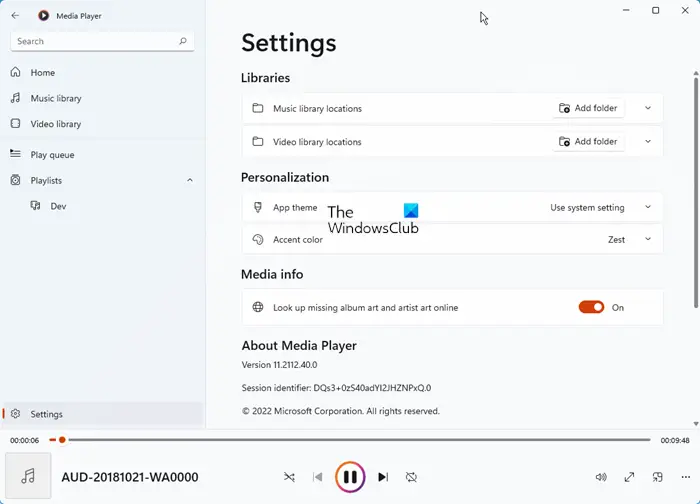 You don't need to look anywhere when the inbuilt Media Player app supports FLAC files. It comes pre-installed with Windows 11/10 and can play FLAC files. The support was recently added, and now the player supports many lossless formats, including FLAC. The Media Player app, earlier called Groove Music app, is a great media player and a great music organizer.
2. VLC Media Player
VLC is one of the most popular and most widely used media players, and it supports FLAC out of the box. You do not need to install any extra codecs for FLAC files. Both VLC Windows App and VLC Store App support FLAC formats and work flawlessly with them. Apart from that VLC offers a variety of customizations and has a good open source community. VLC is completely open-source and available for free to download.
3. Foobar2000
Foobar2000 is also one of the most popular media players for years. It comes with support for most of the formats including FLAC, AIFF, Musepack, etc. The program features a rich, customizable interface and open component architecture allowing third-party developers to extend the functionality of the player. Other features include Gapless Playback and ReplayGain support. Click here to know more about Foobar2000.
4. 5KPlayer
5KPlayer is a modern media player with a lot of new features. Apart from playing FLAC tracks, it lets you wirelessly stream audio and video from AirPlay & DLNA with no quality loss. Also, it comes with an inbuilt downloader that lets you download videos and audio from popular services like YouTube, Vimeo, Facebook, etc. The player also has a unique hardware acceleration feature which lets you play 4K 8K HDR videos without any glitches and stutters.
5. GOM Player
Another well-known name among media players, GOM Player is a feature-filled modern media player. It supports a wide variety of video and audio formats. Apart from that, it comes with some unique features such as 360o VR Playback and support for high-resolution 4K videos. The tool is offered in both free and premium variants where the premium variant is free from ads and comes with extra features.
6. Pot Player
Pot Player is again a relatively new addition and is a great media player. It supports most of the formats and supports OpenCodec which means you can add codecs for whatever format you like. Pot Player features a light-weight minimal UI and offers a lot of customization. It is a hardware-accelerated player that will let you use the best of whatever hardware you have. Something unique to this player is its 3D capabilities. Pot Player can play all 3D video files and supports various types of 3D glasses.
7. KMPlayer
KMPlayer is another popular media player that shows great language support. It is currently being used in 150 countries and shows support for 24 languages. KMPlayer can play most of the formats and also supports high-resolution 4K and 3D videos. It offers a simple and minimal UI that is easy to use. Click here to know more about KMPlayer.
8. MediaMonkey
MediaMonkey is yet another media player for music enthusiasts. It lets you record CDs, download music, movies, and podcasts. The player features a unique Auto-DJ and a party mode that lets you autoplay your playlists. Also, the program comes with automatic synchronization with Android and iOS devices. MediaMonkey is full of features and is a complete package.
These were some of the media players available for Windows 10 that will let you play FLAC or any other popular audio and video format.
Can Windows Media Player play FLAC files?
Yes, you can play FLAC files on Windows Media Player. To do so, you have to convert it to a Windows Media Player supported format or install a FLAC codec on your PC to add FLAC support in Windows Media Player.
Is FLAC better than MP3?
FLAC is the most popular lossless format, making it a good choice if you want to store your music in lossless. This means the audio quality is still the same as the original source and can have the same boost in audio quality. On the other hand, MP3 is the most common lossy format around. This means parts of the music files may be reduced in size to a more compact level. It may not be the most efficient format, but it's definitely the most well-supported.