If you are searching for the best WAV to MP3 converters, please read through this article. The WAV or Waveform Audio File Format store data in segments and is much larger than regular file types. Audio files in WAV format are of one of the best quality since the files are not compressed. These are usually the files obtained immediately after professional audio recording.
How to convert WAV to MP3 on Windows 10
WAV audio files could be as large as 4GB and even smaller files need a lot of space. While WAV format files are of excellent quality, all users cannot afford to store them in their devices. Furthermore, these files aren't supported by all media players. Thus WAV to MP3 conversion is useful for many users.
It should be noted that converting WAV files to MP3 format significantly deteriorates the quality of the audio. However, the quality is still good enough for regular listening. Let's take a look at the top 5 WAV to MP3 converters available for Windows.
VideoSoft Audio Converter
Freemake Audio Converter
AV Converter
Online Convert
MP3 Video Converter Master.
1] VideoSoft Audio Converter
We know the VideoSoft Converter for its range of supported file formats. It supports tens of audio file formats. You will find them all here. Apart from offering an array of file formats to convert to and from, this software comes with a host of features. Download the app here and enjoy them all for free. You get to save audios and export presets. You can delete parts of the files. This is the most stable audio converter app among the fast ones.
2] Freemake Audio Converter
This one is the easiest to install and use. It is a no-nonsense app for file format conversion. Freemake Audio Converter for Windows 10 has several useful features. Batch conversion, Cloud support, and bitrate editing are just some of them. This app is a free one dedicated to Windows. You can find it here. This converter is one of the most popular options available in the market, particularly because it accepts download URLs from most websites.
3] AV Converter
This a pretty simple WAV to MP3 converter. It takes very little disk space and does exactly what it's needed to. You can find the app at the Microsoft Store. AVConverter's amazing background display is simply an addition to the amazing features it offers. Your basic needs are covered in the free version itself. So don't worry, install the app and enjoy its smooth user-interface.
4] Online Convert
This is as convenient as it gets. You don't even have to download this software and use it for converting WAV files to MP3 files. Of course, you will need an active internet connection to use it. Here is the link to the very useful website. You can get started right away. It is compatible with files on the Cloud. You can trim the audio files at ease. You can also change the audio levels and bitrate.
5] Zamzar WAV to MP3 converter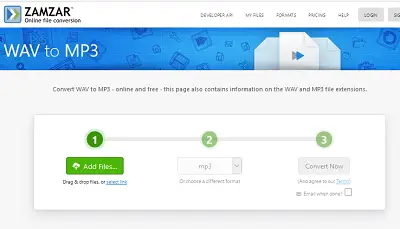 Zamzar is the most popular audio converter available online, though it has a limitation that it has separate interfaces for each audio input format. To convert WAV to MP3 files, simply open this webpage on your browser and upload the file you wish to convert. Select MP3 as the destination format and hit the Convert Now button.  The Zamzar converter is free of cost, fast, light, and free of advertisements.
All these apps are perfect for Windows 10. You can rely on the stability and performance of these ads. Download the one you like best, or download them all and take them for a test conversion.
Other converter tools that may interest you:
Convert AVCHD to MP4 | Batch convert Word to JPG | MP4 to MP3 converter | AVI to MP4 converter | FLV to MP4 converter | WMV to MP4 converters | AVI to MP4 converters | Convert EPUB to MOBI | Convert JPG, PNG to PDF | HEIC to JPG, PNG converter | PowerPoint to Flash converter | Convert PDF to PPT | Convert BAT to EXE | Convert VBS to EXE | Convert PNG to JPG | Convert .reg file to .bat, .vbs, .au3 | Convert PPT to MP4, WMV | Convert Images to OCR | Convert Mac Pages file to Word | Convert Apple Numbers file to Excel | Convert any file to different file format | Convert JPG and PNG to PDF | Convert NSF into PST | Convert MOV to MP4 | Microsoft Office files to Google Docs | Word to PDF Converter | MKV to MP4 converter.