We all know the importance of USB flash drives, right? These are tiny but very useful. USB flash drives give us the freedom to access our essential files from any system. We take them for granted, but unfortunately, they also sometimes fail! If you face Unrecognized USB or corrupted USB drive issues, it's time to use USB Repair Tools. USB repair tools usually fix any USB error and recover your essential data. Here in this post, we will suggest a few free USB repair tools to help you successfully fix your USB corruption and other relevant issues.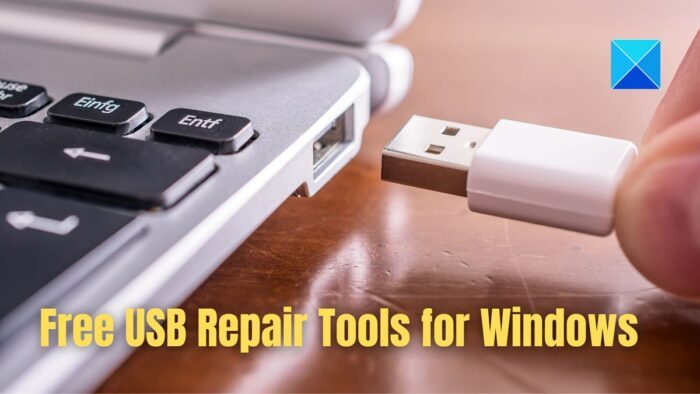 How to tell if your USB drive needs repairing
Are you getting the error message like Please Insert Disk into Removal Disk, USB Device Not recognized or Malfunctioned? Do you need to format the disk before using it? If yes, it indicates that your USB drive is corrupted or controlled by a corrupted drive software. Some users also get notifications as the drive got infected and files corrupted, clearly saying the problem is with the NAND memory. If your USB drive is relatively new, it is because of low-quality NAND chips.
Now the question is, what causes the USB drive corruption? The answer is simple! Though there may be several reasons behind USB corruption, usually, it happens because of
NAND Memory Wear
USB Driver Issues
Program Crashes
Sudden Power Loss
Failure to Follow Proper Disconnect Procedures
Operating System Crashes
Quick fixes to help users repair USB Storage
Before we go ahead and use the preparation tools, it's best to perform some basic troubleshooting. Sometimes we think the USB is not working, but it can be a minor issue. Follow these suggestions:
Try another USB port
Reinstall the USB drive
Change Drive Letter
You will need an admin account to execute some of these.
1] Try another USB port
It is the most common and very first fix; you should always try to define whether your USB storage is working correctly or not! For example, sometimes your USB drive is not corrupted, but the system USB port is damaged. In such cases, you need to try on other USB ports to cross-verify whether your USB drive is working or not.  
2] Reinstall the USB drive
If you are facing a USB is not recognized error, then you can reinstall the USB drive. Sometimes your PC cannot detect the USB if the driver gets corrupted. In such cases, reinstalling the USB driver will work wonders. Follow the steps below to perform the whole process.
Right-click on the Windows Start Menu and choose Device Manager.
Find Disk drives and double-click on it. Now choose the drive that you are facing the USB drive corruption error. Then, right-click on it and choose to uninstall the device.
To reinstall the drive, go to the Action bar and click on Scan for hardware changes. Now, wait for a few minutes. The system will automatically detect the uninstalled disk and reinstall the drive again.
Now restart your PC and check whether you are facing the same error or not.
3] Change Drive Letter
Some user face unwanted errors like their USB is detected but not showing in Windows explorer, and due to this error, they can't even open their files stored on the USB. In such a situation, changing the drive letter fix works amazingly. Here is a detailed guide on this process.
You can open disk management in Windows by right-clicking the Windows Start menu and selecting Disk management.
You must select the required partition in Disk Management to change the drive letter. Now right-click it and choose Change drive letter and path.
Now click on Add to add a new drive letter and click OK. You can easily use this process to add drive letters for all required partitions.
After adding the new drive letter, you can check if the USB drive is regular or shows the same error again.
Read: USB 3.0 External Hard Drive not recognized
Free USB Repair Tools for Windows 11/10 PC
Sometimes basic fixes will not work for your USB error, and in such a situation, we recommend you go for some of the reliable third-party tools to repair or fix your USB drive. Here we will recommend you such top-rated, highly trusted six different tools that can repair your USB drive without damaging your data.
Error Checking Tool in Windows
Run the Hardware and Device Troubleshooter
The command-line CHKDSK Tool
Format USB Drive
Use Resolute
Use Transcend Repair Tool
The suggested built-in tools of Windows may need admin permission in some cases.
1] Error Checking Tool in Windows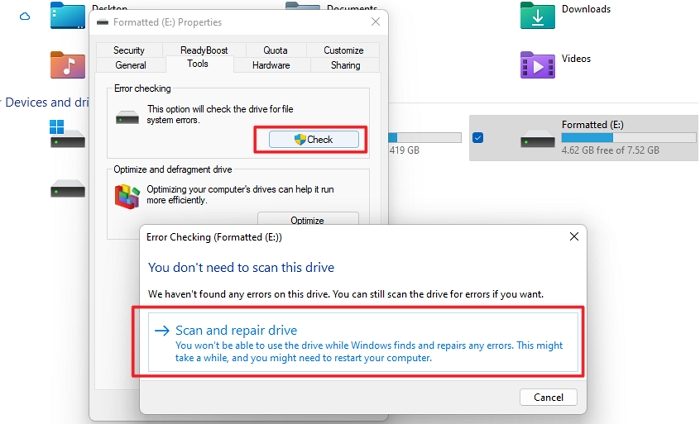 It is a built-in tool that comes with the Windows operating system. This tool can quickly check for any driver error. In addition, this tool can automatically fix file system errors. The scan for and attempt recovery of bad sectors feature of this inbuilt tool also performs a complete scan of drive which may bed damaged or unusable.
Fix: Unknown USB Device, Port Reset Failed error
2] Run the Hardware and Device Troubleshooter
Run the Hardware and Device Troubleshooter and check if it helps. The automated tools check the hardware/USB connected to the computer for any known issues and fix them automatically.
3] The command-line CHKDSK Tool
Before going for any third-party tool, we will always recommend you check whether your USB drive can be detected by your Windows PC or not. CHKDSK utility tool within the command prompt is another built-in tool on Windows that can quickly detect USB drive errors. This tool can easily detect the bad sectors and fix casual disk errors. Follow our detailed guide on how to use this ChkDsk tool.
Open File Explorer and go to This PC. Note the driver letter for the USB Drive.
Open Windows Terminal or Command Prompt with Admin permission
Type the following command and let the process complete
chkdsk <usb-drive-letter> /f /r
The options /f and / r will scan the integrity of the file system and file system metadata. It will also fix any logical file system errors on the USB drive.
Once done, eject the USB drive, and reinsert it to check if the issue is resolved.
4] Format USB Drive
There can be two scenarios. First, you can view your USB drive, but no data is inside; second, the USB drive is missing but visible in Device Manager or can be seen through Disk Partition tools.
5] Resolute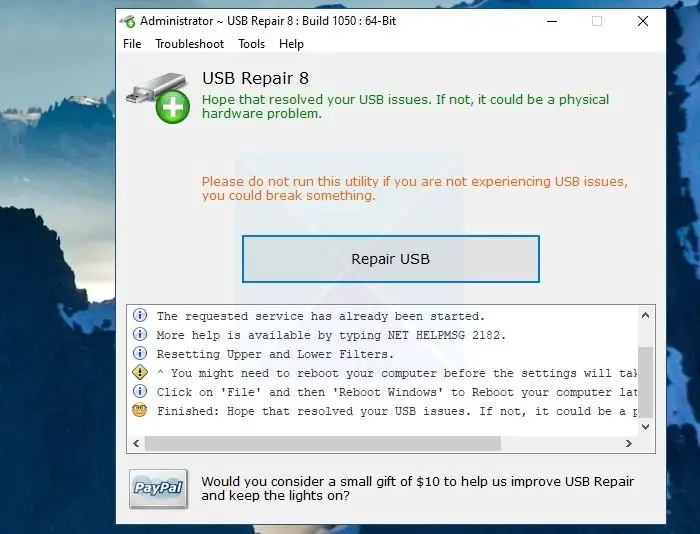 Resolute is an open-source USB repair tool that supports 32-bit and 64-bit Windows. This advanced tool can easily fix USB device errors without damaging your data. This tool comes with a simple and one-click action interface. There is no need to edit registry keys or any complicated technical stuff to fix the USB error. Make sure to download this tool from its official website for safety purposes.
6] Transcend Repair Tool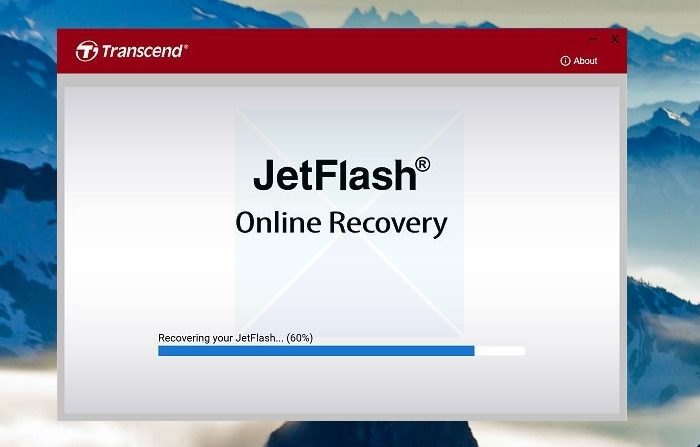 Reputed memory manufacturer brand Transcend comes with its free-to-use JetFlash Online Recovery tool, which can easily repair errors and undetected USB drives on your system. This tool can easily restore your flash drive to its factory settings and fix all the USB issues. It has a user-friendly interface, and anyone can quickly repair their USB drive with the help of this most effective open-source USB repair tool. It only works with Transcend JetFlash USB flash drives.
Conclusion
If you were ever facing a USB error or corruption issue, you should initially try the quick fixes given above. However, if you still have issues, we recommend using the five best free USB repair tools above to resolve all your USB drive-related issues.     
No doubt corrupt USB drive can be terrifying, but if you have complete knowledge of how to fix USB drive corruption and relevant issues, it will help you a lot! That's why we will provide some frequently asked questions; make sure to read those.
How do I know if my USB is corrupted?
When your USB drive is corrupted, you will get error messages like the USB drive is not recognized or malfunctioned. You can check by connecting to another PC or USB Port or even to a smartphone by using an appropriate converter. If the device or the data inside it is not visible anywhere, it means the device is corrupt, and you need to look for a replacement.
Read: External Hard Drive not showing up
How to fix a USB storage that is not recognized?
You can easily fix a USB storage not recognized by uninstalling and updating the USB drivers. You can also fix the error with the windows error checking tool quickly. You can use the Device manager to uninstall and then update the driver once you plug it back in. Some of the unique USB devices need drivers of their own. If that is the case, you must download the driver from the OEM website and install it.
How to fix a corrupted USB drive without formatting?
You can easily fix a corrupted USB drive without formatting it with the help of the CHKDSK utility within the Command Prompt. The tool will check and fix any minor issues, such as header corruption, and will rebuild it. However, if the repair is beyond that, you will have to look for professional software to help you retrieve data from devices that don't work.
You might also want to check out these freeware for your USB: