Wouldn't it be useful and convenient, if you can add a shortcut to your USB drive on Windows Desktop so that you can easily and quickly open the drive? We have already covered Desk Drive on The Windows Club, which allows you to do so. Desktop Media is another interesting application you should look out for.
Add, remove desktop shortcut to USB drive
The freeware program automatically adds drive icons to your desktop. It detects USB drives, fixed drives (i.e., your hard drives), CD/DVD drives, network drives, and even RAM disk drives. Whenever you insert a USB drive, external drive, or a CD / DVD into the drive, it pops up a desktop icon shortcut to that drive. When you remove the drive, the icon disappears.
The developer of the application came up with this utility after he observed a .NET application called Desk Drive that served the same purpose, i.e., add a shortcut to a USB drive. Desktop Media is a similar version of Desk Drive, but distinct from it for the reason that, it possesses a smaller memory footprint and includes more features.
It allows users to select which drives shortcut they want to be displayed on their computer screen.  One can even select drives to ignore, so the software does not create a shortcut for the ignored drives on his Windows Desktop. Any settings, to be changed can be easily accessed via the system tray icon of the program.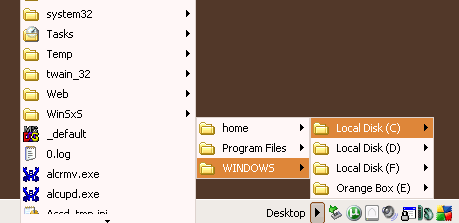 Desktop Media Features:
Ability to ignore user-specified drive letters
Option to save the position of the icons
Ability to create soft links (shortcuts) or hard links (symbolic links)
Ability to automatically detect new or existing media and add icons to your desktop
Supports removable, fixed, network, CD/DVD and RAM disk drives.
Desktop Media is light in weight, weighing 1.6 MB only, and is available as a free download for Windows only. It is a good program that adds better functionality to your Windows Desktop.
Download Desktop Media from here.
More freeware to create desktop shortcuts to removable media here.