To remove a USB drive from our computer system, we have to move our mouse to the Safely Remove Hardware icon, disconnect the USB and then physically remove the external media. Sometimes Windows simply doesn't let you remove a device if some file in a USB drive is open. In this case, the 'Safely Remove Hardware' will prevent disconnecting the device. You have to wait for the operation to complete or close down the open file or folder. If you frequently connect and disconnect USBs and are looking for a quick way to eject your USBs, there is nothing like having a keyboard shortcut do the job for you.
Eject USB Disk with a keyboard shortcut
USB Disk Ejector can do this for you. It is a tool that helps you remove the USB device with a quick keyboard shortcut. With USB Disk Ejector the process of "Safely remove hardware" is shortened to a single Hotkey or a single mouse click. The tool is portable and you can store it on a removable drive to use on other computers also. You don't need any installation or administration right to run the program.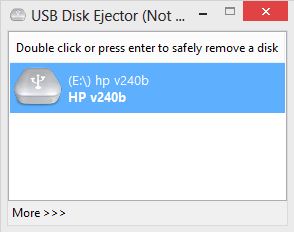 USB-Disk-Ejector is a simple utility that closes all running programs from USB and then ejects the drive for safe removal. It does exactly what it says. The tool ensures that your USB drive is safely removed from the PC and the programs are completely close before you remove the drive physically. Please note this tool closes only applications launched from the disk and not that have opened a file on the disk.
The program comes in a zipped file and its size is less than 1MB. The tool has a minimal interface that shows the connected USB drives as soon as you download and run the program. Just pressing 'Enter' button or a double click will disconnect the drive from your PC and you can safely remove it. The program offers different settings for configuring the positioning and ejection for USB and card readers.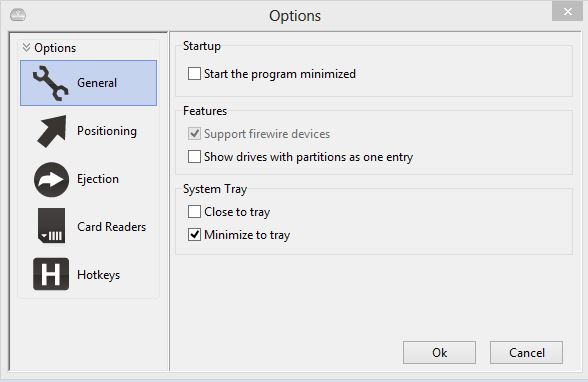 USB Disk Ejector supports Hotkey feature which helps you disconnecting the USB drive with a single click. You can configure the Hotkeys for- bring the app to the front, eject a drive-by drive label, by drive letter, by mount-point, and by drive name.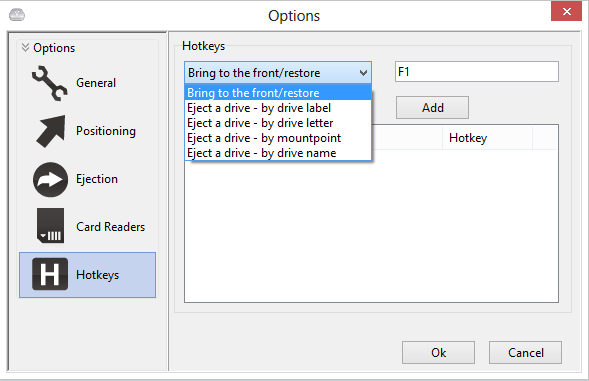 Overall USB Disk Ejector is a quick, flexible, portable utility that safely dismounts the USB drives from the PC by closing running applications from the drive. It can eject USB disks, memory cards, flash drives, and Firewire disks.
USB Disk Ejector free download
The program works on all versions of Windows, including Windows 10. Click here to download USB-Disk-Ejector.
TIP: Desktop Media, Desk Drive, DriveShortcut will automatically create desktop shortcuts to removable media and drives when you connect the USB, DVD, etc to PC.