Whenever you connect a USB drive, external drive or a DVD to your computer and then you have to open This PC or Computer folder, find the drive icon and click on it.. In case you close the explorer window, and if you feel the need to re-open it, you have to again follow the same procedure. A convenient way to open the removable drives would be to open it, with a ready-to-use desktop shortcut.
Create shortcuts to removable media or drive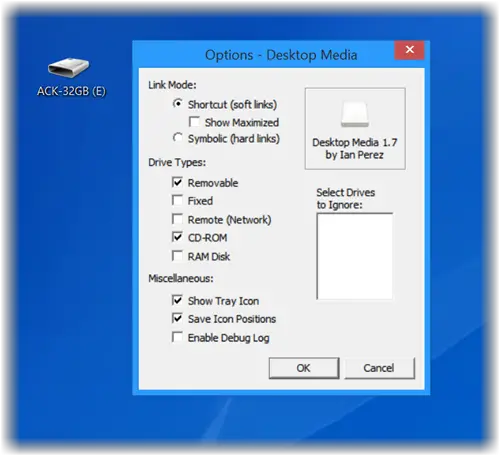 Desktop Media, Desk Drive and DriveShortcut are three freeware that will automatically create desktop shortcuts to removable media, when you connect the USB, DVD, etc to your Windows computer, and remove the icon, when you unplug the media.
Desktop Media is a small application for Windows that automatically adds drive icons to your desktop. It detect USB drives, external hard drives, CD/DVD drives, network drives, and even RAM disk drives, and create shortcuts. Incase of removable media, it will create the drive shortcut to your desktop, only if it is present. You can check out Desktop Media here.
Desk Drive adds a desktop icon pointing to the drive automatically. Remove the media and the shortcut goes away. This tool sits quietly in the system tray. Configuration is just a click away and this allows you to specify which types of media to monitor. Once you have Desk Drive up and running, as soon as you insert an external drive, a shortcut to the drive is automatically created on the Desktop. You can then easily open the drive anytime through the shortcut. You can get more details on Desk Drive here. Take care, this one will try to install a 3rd-party offer, so make sure you opt out of it.
DriveShortcut will again, sit in the tray area and automatically create or delete removable drive or DVD icon from the desktop, every time you plug an external hard disk into your computer. This icon will be automatically removed when the drive is unplugged – but on my Windows 8.1, the icon did not get deleted automatically, after I had removed the USB Drive. It is available here.
Let us know which one of these you prefer to use.