Windows operating system has a neat feature of checking the disk for bad sectors and other disk faults. But sometimes this feature becomes painful as it gets stuck. This makes the Windows 11/10 PC take a long time to boot or it could simply get stuck. If you see your screen stuck on a Scanning and Repairing Drive message, then this post will help you get out of the situation.
Scanning and repairing drive stuck in Windows 11/10
The best suggestion I have to give is to hang on and let it run. It may take a couple of hours, but given time; it is known to complete in most cases. If need be, leave it overnight and let it run its course.
If it does not help, then you can try our following suggestions and see if they help you:
Cancel the CHKDSK operation.
Schedule Error Checking via Drive Properties.
Use Repair-Volume for Windows PowerShell.
1] Cancel the CHKDSK operation
During Windows startup, you will be given a couple of seconds, during which you can press any key to abort the scheduled Disk checking. Once you have stopped ChkDsk from running, you may follow this procedure to cancel CHKDSK.
If you cannot boot to the desktop, you may boot into Advanced Startup Options and use the command prompt. If you cannot boot into Advanced Options, then use your Windows installation media, select Repair your computer > Troubleshoot > Advanced options menu > Select Command Prompt and follow the procedure to cancel CHKDSK mentioned above.
2] Schedule Error Checking via Drive Properties
Now that you have canceled CHKDSK, you may reschedule a new one. You should get your hard drive examined for errors.
You can use the GUI based Error Checking utility. To run ChkDsk, open This PC. Right click on your Operating System Partition for Windows or any partition that you need to fix errors for, and select Properties. Navigate to the tab labeled as Tools. Under the section for Error Checking, click on Check.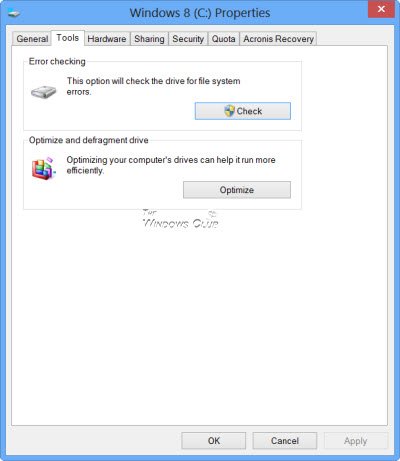 A new window will now pop up. Click on Scan drive.
Let it scan your disk drive partition. If it asks for a reboot, reboot your PC.
3] Use Repair-Volume for Windows Powershell
This method will only work if your computer boots into the operating system normally after leaving your computer on for a significant amount of time.

To run the Repair-Volume cmdlet, you need to open Windows PowerShell as Administrator
Now, type in the following command to run Repair-Volume and then hit Enter.
repair-volume -driveletter <DRIVE LETTER>
Let the process complete and check if the issue is fixed or not.
There are more suggestions here: ChkDsk stuck at particular % or hangs at some Stage.
Have a look at these posts too: