When you try to install the Microsoft Edge browser on your Windows 11 or Windows 10 computer and get the Installer error 80, this post is intended to help you with the most applicable solutions to resolve the issue on your system.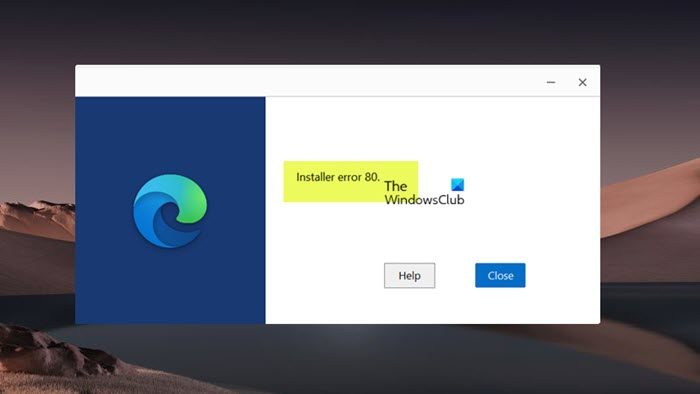 Fix Edge Installer error 80
If you're having problems downloading, installing, or updating Edge browser on your Windows 11/10 PC and you see the Installer error 80, then our recommended solutions as presented below in no particular order should help you fix this error on your device which happens to be one of the numerous Microsoft Edge Installation & Update error codes you may encounter.
Initial checklist
Download and install Edge from another source
Repair or Reset Microsoft Edge
Reset, In-place Upgrade Repair, or Clean Install Windows 11/10
Let's see in brief detail how these fixes can be applied.
1] Initial checklist
Before you dive into the solutions properly, first run the SFC/DISM scan and if the result for the scans indicates no issues (or was repaired) with the system files or Windows image, you can try installing Edge again on your device and see if the error reappears. If so, see if any of the general suggestions in the guide Cannot install or uninstall programs helps you, as corrupted operating system files or configuration or interference by third-party software could cause the error at hand.
Read: Fix Error 1625, This installation is forbidden by system policy
2] Download and install Edge from another source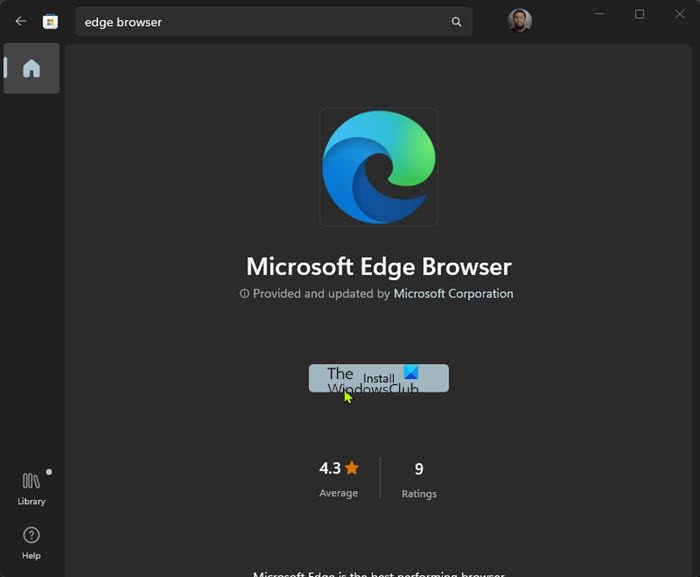 If you try installing Edge via the official website and get the Installer error 80, you can try downloading Edge from the Microsoft Store and see if the browser installs successfully on your device.
3] Repair or Reset Microsoft Edge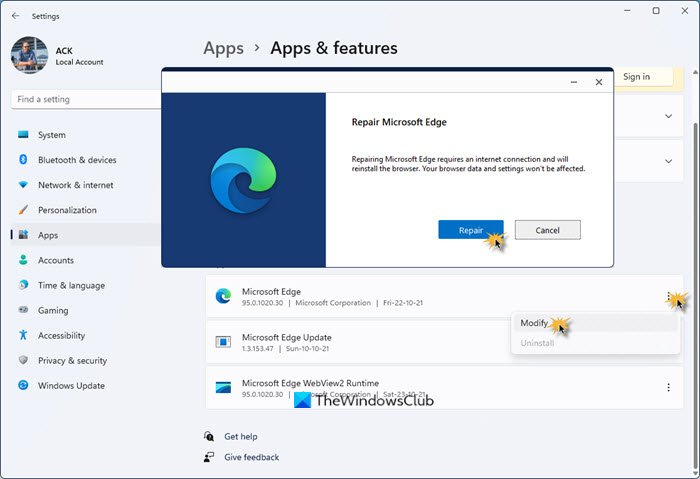 By default, Edge is already installed on Windows 11/10 PCs. This could be why you may be getting the error in view.
You can confirm the browser is installed on your PC by navigating to Settings > Apps > Apps & features page to view all installed apps, including the default apps, apps installed from Microsoft Store, and classic desktop programs.
Once you have confirmed Edge is installed, you can simply repair or reset Edge.
When you repair Edge, Windows will essentially reinstall the browser — any of the browser's broken, damaged, or missing files in its program folder and Windows registry will be replaced, and this could potentially get it to start working again.
If repairing Edge doesn't work, you may reset the browser and you will get a fresh interface just like after a clean install.
After resetting Edge, manually update it and see or else; download Edge and install it.
4] Reset, In-place Upgrade Repair or Clean Install Windows 11/10
If nothing else works to resolve the issue you're currently facing, you'll need to do any of the following:
Any of the tasks above should restore the Edge browser which is now bundled into Windows 11/10. Essentially, the reset, in-place upgrade repair, or clean install operation will revert the OS to factory settings which will also restore all native/default apps that ship with the OS that was missing or corrupted to a pristine state.
Read next: Windows Installer Error applying transforms
How do I update Microsoft Edge to a higher version?
By default, the Microsoft Edge browser will be automatically updated to the latest version once the browser is launched and in use. However, for one reason or another, you can manually update the Edge browser on your Windows 11/10 PC by following these steps:
While Edge is open, click the Menu button in the top-right corner of the screen.
Hover over the Help and Feedback menu item.
Click About Microsoft Edge.
Edge will automatically check for updates. Edge is now up to date.
Should I remove Edge from Windows 10?
There isn't any need to uninstall Edge, as the browser is now integrated into Windows, and you may run into issues if you uninstall it. Many auxiliary bits of the Windows experience that use Edge (and the WebView2 Runtime) will not work properly – you may not notice this until suddenly you find something not working.
Read: Fix msedgewebview2.exe has stopped working on Windows 11.