Windows 11/10 users have reported seeing Microsoft Edge WebView2 Runtime item in the list of programs in the Control Panel or in the list of applications in Settings, as well as in Task Manager under Processes. In this post, we demystify what is Microsoft Edge WebView2 Runtime in Windows.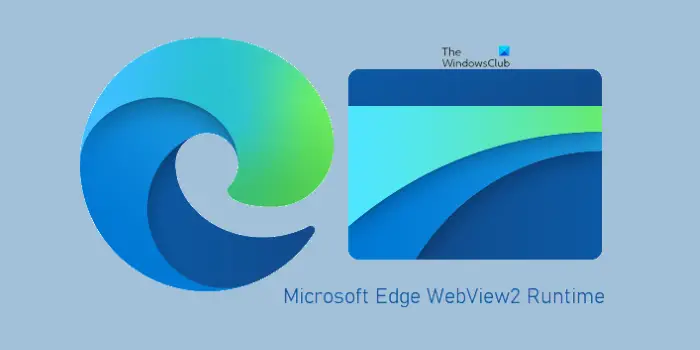 What is Microsoft Edge WebView2 Runtime
Microsoft Edge WebView2 is a Runtime installation used to provide web-based features in Microsoft 365 desktop applications that Microsoft began installing on Windows devices earlier this year. WebView2 uses Microsoft Edge as a rendering engine.
In Windows 11, the component is installed on the system by default. In earlier versions of Windows, it is installed automatically for users with modern versions of Microsoft Office for the specific purpose of running Office applications and the components embedded in the apps, built on the basis of web frameworks.
For PC users looking to benefit from the new or improved Office features or add-ins that rely on WebView2, no user action/input is required – as soon as WebView2 is available on the device, the component will automatically be installed. As for updates, WebView2 Runtime uses its own automatic update process, separate from the update channel used by Microsoft 365 Apps, to keep WebView2 updated with the latest security and reliability updates.
Prevent the automatic installation of WebView2 Runtime
Organizations that want to prevent the automatic installation of WebView2 Runtime on devices can do so, but the caveat is that Office features that rely on WebView2 won't be available on those devices. Organizations can prevent the automatic installation of WebView2 Runtime, by doing the following:
Sign in to the Microsoft 365 Apps admin center with an admin account
Navigate to Customization > Device Configuration > Modern Apps Settings
Select Microsoft Edge WebView2
Uncheck the Enable automatic installation of WebView2 Runtime option.
Lastly, If for some reason Windows does not install the component automatically on your device, or organizations that want to deploy WebView2 Runtime to devices on own schedule, the environment installation file can be downloaded from the developer.microsoft.com official page using either the Evergreen Bootstrapper or the Evergreen Standalone Installer, depending on deployment needs.
Is Microsoft Edge WebView2 Runtime needed?
Basically, WebView2 requires that Microsoft Edge WebView2 Runtime be installed on the Windows 11/10 device running Microsoft Office. Otherwise, if WebView2 Runtime isn't installed on the device, users won't be able to make use of the Office features that rely on WebView2.
How do I close Microsoft Edge WebView2?
Using Task Manager, you have to kill all Microsoft Edge processes one by one. Other than that, there is no way to close Edge WebView2 Runtime except if you log off from Windows or uninstall the component altogether.
Is it okay to uninstall Microsoft Edge WebView2 Runtime?
Webview2 Runtime is needed when WebView2 app is being installed on a Windows 11/10 system, which provides users with Office features that look and feel the same across device platforms. For example, with WebView2, the Room Finder feature will look the same when using Outlook on a Windows device and when using Outlook on the web. Office Add-ins will also start relying on WebView2. While you may see the entry in your Control Panel or Settings, you will not see the option to uninstall it; you will be able to only Repair or Modify it.
The Microsoft Edge Webview2 runtime installer failed to start
To resolve this issue, ensure that your system meets the minimum requirements for the WebView2 runtime installer, and then right-click on the installer file and select Run as administrator. This should help.
Couldn't find Edge installation on Windows 11
If you see this error when trying to open Microsoft Edge on Windows 11, then you need to go to Microsoft Store and download and install WebView2.