Microsoft has rolled out the new Microsoft Edge Chromium for Windows. If you are having problems downloading, installing, or updating the new Microsoft Edge, follow these troubleshooting tips for installing and updating Microsoft Edge. I am sure many of you are pro users, but keeping in mind not everyone is, we have created the guide for basic users as well.
Cannot Download, Install or Update Edge browser
While Microsoft Edge should not have any issues when it comes to downloading, installing an update the Microsoft Edge to the new version. But then we all know things go wrong. So if you are having issues, follow these tips.
Check OS Support
Check Network Connectivity
Add to Trusted Sites
Restart your computer
Reinstall Edge
Troubleshoot Microsoft Edge Error Codes.
Note: If you are not able to find your extension after Migration, then its probably because the extension is not available for the new Edge, which is based on Chromium. You can download it from Chrome Store or use Edge Legacy to keep using the older version.
If you cannot download or install Edge using the installer, use Windows Updates and see if it helps. If not you may proceed.
1]  Check your operating system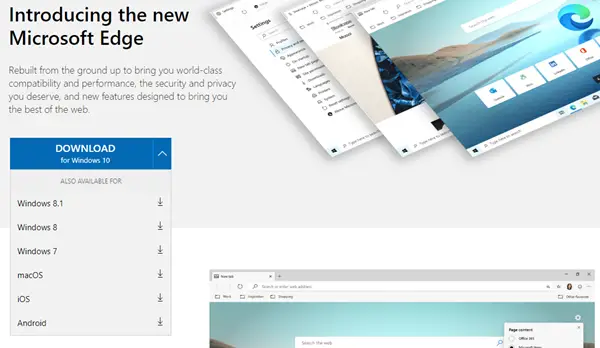 Microsoft Edge is currently available for both Windows and macOS. If you are using Windows 11/10 you can install it.  It's also available on macOS 10.12 Sierra or higher. So make sure you have the right version of Windows or macOS.
If it's not working because it is not supported on your version of Windows, then we suggest you upgrade to the least supported version of Windows 10 it is supported using Rufus.
2] Check network connectivity
If you are having issues with downloading Microsoft Edge, then there can be two reasons behind it. First is network connection issues in Windows 11/10, and second is the VPN.
Follow our detailed guide on how you can fix Network connection issues in Windows 11/10.
If you are using a VPN, and you receive a 403 error, then the VPN is blocking Microsoft Edge download. We would recommend you to disconnect VPN to download the installer. Once the download and installation are complete, you can reconnect.
We will also suggest temporarily disabling any third-party security software.
3] Add to trusted sites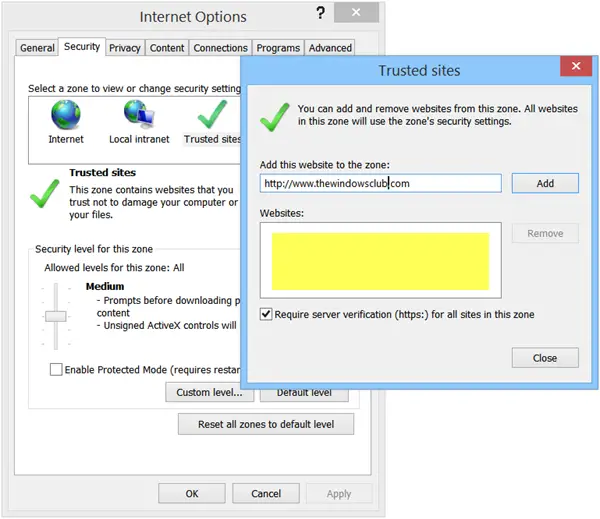 Microsoft recommends adding delivery.mp.microsoft.com and officeapps.live.com to your browser's list of trusted sites. If you are using Internet Explorer to download Microsoft Edge, follow the steps:
Open Internet options.
Select the Security tab, then select Trusted sites > Sites.
Under Add this website to the zone, type the URLs we mentioned above, select Add and then select Close.
Try downloading again.
4] Restart your computer
Some users have reported that new Edge keeps closing right after it opens or importing favorites is not working. In that case, we highly recommend you to restart your computer to iron out the problem. To restart your computer, select Start  > Power  > Restart.
Read: Microsoft Edge not updating in Windows 11
5] Try reinstalling Microsoft Edge
If Edge is not working after installation, and a computer restart is of no help, it is best to reinstall it again. It is important that you choose the right version, especially if you are selecting one for Business computers. You can select channel, platform, and then download the installed.
If language is a problem, then the new Microsoft Edge is available in 90 languages. Open a new tab in Edge, and go to the edge://settings/languages and change the language.
6] Microsoft Edge Error Codes
If you receive error codes during installing updating new Microsoft Edge, then follow our exhaustive guide which covers all these error codes for Microsoft Edge.
Error 3 or 0x80040154
Error 3 or 0x80080005
Error 7 or 0x8020006F
Error 403
Errors 1603 or 0x00000643
Error 0x80070070
HTTP Error 500 or Error 0x8004xxxx or 0x8007xxxx
Error 0x8020006E or 0x80200059
Error 0x80200070 (Published)
Error 0x80200068 or 0x80200065 or 0x80200067
The updater is currently running. Refresh in a minute to check again
Lastly, if nothing works and you are still having trouble, contact the Microsoft Support team.