If you own and operate a Windows-powered Dell computer, chances are you may encounter the DellInstrumentation.sys failed SYSTEM_SERVICE_EXCEPTION Blue Screen of Death error when you boot your PC, or it crashes while using the system. This post is intended to help affected PC users with the most suitable applicable solutions to resolve this issue on their Windows 11 or Windows 10 systems.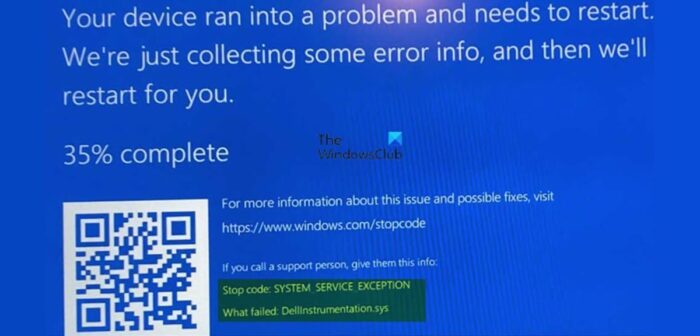 What is DellInstrumentation.sys?
The DellInstrumentation.sys driver file may have been installed on your Dell Windows operating system when you used firmware update utility packages, Dell Command Update, Dell Update, Alienware Update, Dell System Inventory Agent, or Dell Platform Tags, including when using any Dell notification solution to update drivers, BIOS, or firmware for your system. This file references the Dell OpenManage client instrumentation application, which is used by companies to centrally manage machines.
Affected users reported the issue started after the recent installation of the latest Windows updates for most Dell, Alienware, or other related brand users. But investigations revealed that the problem was primarily due to Dell releasing an incompatible update for their SupportAssist software. This prompted the related software and drivers' malfunction, resulting in constant DellInstrumentation.sys BSOD crashes. Some users said that they couldn't even load into their computer properly, without the system crashing straight away.
Fix DellInstrumentation.sys failed Blue Screen error
If you get the DellInstrumentation.sys failed BSOD error when you boot your Windows 11/10 Dell PC or the system crashes during normal use, then our recommended suggestions as presented below are intended to help you resolve this issue on your device.
Run the Blue Screen Online Troubleshooter
Uninstall or Update Dell SupportAssist software
Manually delete the DellInstrumentation.sys file
Uninstall DellInstrumentation in Device Manager
Disable all Dell services and SupportAssist scheduled task
Contact Dell Support
Let's look at the description of the process as it relates to each of the listed solutions. If you can log in normally, good; else you will have to boot into Safe Mode, enter the Advanced Startup options screen, or use the Installation Media to boot to be able to carry out these instructions.
1] Run the Blue Screen Online Troubleshooter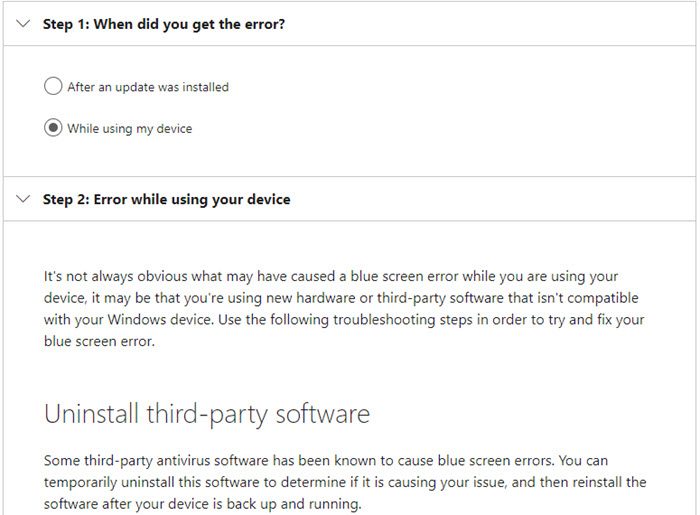 Some possible causes of BSOD error on Dell machines as well as other Windows PC include hardware issues, software issues, and user errors. Regardless, for the novice or not-so-tech-savvy PC users, the Blue Screen Online Troubleshooter for Blue Screen issues from Microsoft is an automated wizard designed to help you troubleshoot and resolve BSOD by making recommendations on possible solutions you can apply based on the question on how you encountered the error. This is an easy troubleshooting step as far as BSOD errors go, and in some cases, will get your system back to normal working condition.
Read: Purple, Brown, Yellow, Orange, Red Screen of Death explained
2] Uninstall or Update Dell SupportAssist software
Affected users that encountered the DellInstrumentation.sys failed BSOD error on their Windows 11/10 PC reported the issue started with the update to Dell SupportAssist version 3.11. In this case, what worked was to uninstall the software version 3.11 via Apps & features in the Settings app or (you can preferably, use any third-party Uninstaller Software for a clean uninstall), and then download and install version 3.10.4 or earlier.
Alternatively, you may simply use the PC without the SupportAssist software, or you can check if there's a higher version than 3.11, which will likely have addressed the issue. Dell SupportAssist protection, updates, etc. is a must-have, to keep PCs healthy.
Read: USBIEUpdate stopped working on Windows 11/10
3] Manually delete the DellInstrumentation.sys file
This is a simple solution that requires you to manually delete the DellInstrumentation.sys file on your PC. You can use DriverStore Explorer to search for and delete the file. You may also check the following directory via File Explorer:
C:\Users\<username>\AppData\Local\Temp
C:\Windows\Temp
At the location, if the file is present, simply right-click the file and select Delete from the context menu, or just click to select and then tap the DELETE key on your keyboard.
Read: PnPUtil Failed to delete the driver package
4] Uninstall DellInstrumentation in Device Manager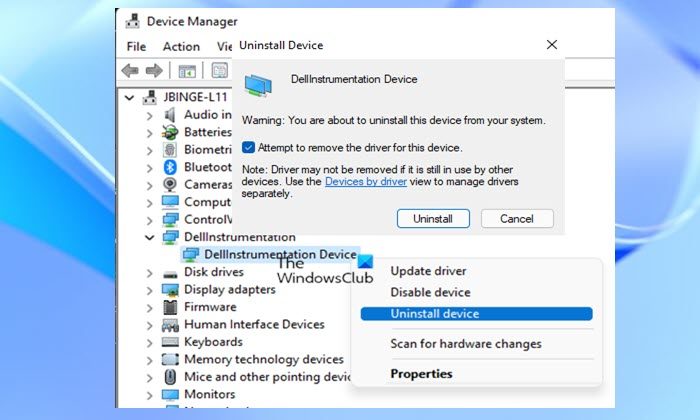 Dellinstrumentation is a Dell feature that allows system administrators to manage devices on a deep level. It can be used to change BIOS configuration, remote shutdown, and more settings.
This solution requires you to uninstall DellInstrumentation in Device Manager. To perform this task, follow these steps:
Press the Windows key + X to open the Power User Menu.
Tap the M key on the keyboard to open Device Manager.
In Device Manager, scroll down through the list of installed devices and expand the Dellinstrumentation section.
Next, right-click on the Dellinstrumentation device and choose Uninstall device from the context menu.
On the prompt that appears, checkmark the Attempt to remove the device driver option.
Click OK to confirm.
If this doesn't resolve the issue, you can disable all drivers for Biometric devices in Device Manager as well. This worked for some affected Dell PC users.
Read: How to uninstall driver using Command Prompt in Windows 11/10
5] Disable all Dell services and SupportAssist scheduled task
This solution requires you to disable all Dell-related services including the following, as well as Windows Biometric Service which uses the Dell SupportAssist tool to perform different tasks that can trigger the DellInstrumentation.sys Blue Screen.
Dell SupportAssistance
Dell SupportAssistance Remediation
Dell Power Manager Service
Dell Data Vault Collector
In addition, you need to disable SupportAssist scheduled task in Task Scheduler. Here's how:
Press the Windows key + R to invoke the Run dialog.
In the Run dialog box, type taskschd.msc and hit Enter to open Task Scheduler.
Under Task Scheduler Library, find DellSupportAssistAgentAutoUpdate in the middle pane.
Click the task once and then click Disable in the right pane.
Read: Which Windows Services are safe to disable?
6] Contact Dell Support
If the issue you're currently facing persists, you may reset your Dell Windows PC with the option to keep personal files. If you decide to go this route, you may first contact Dell Support and see if they can provide any assistance that doesn't require a PC reset.
If you still have the SupportAssist software installed on your system, you can run a DISM scan in elevated Command Prompt to execute the following command one after the other:
DISM.exe /Online /Cleanup-image /CheckHealth
DISM.exe /Online /Cleanup-image /ScanHealth
DISM.exe /Online /Cleanup-image /RestoreHealth
After the scan completes, you can run the SFC scan and if you get a clean bill of health but the issue in view reoccurs, you can go ahead and contact Dell Support and send the BSOD Minidump and SupportAssist logs. To generate the SupportAssist log, do the following:
Open File Explorer.
Navigate to the directory below:
C:\Program Files\Dell\SupportAssistAgent\Tools\
At the location, run the SupportAssistDebugger.ps1 CollectLogs script.
Once the logs collection script is completed, the logs will be collected under the current user's Desktop under a folder named SupportAssistLogs – you will need to zip this folder.
I hope this post helps you!
Related post: SYSTEM_SERVICE_EXCEPTION (ks.sys) BSOD error
Why does my Dell keep blue screening?
Blue Screen errors occur due to the following reasons:
Windows detects an error that it cannot recover from without losing data.
Windows detects that critical operating system data has become corrupted.
Windows detects that hardware has failed in an unrecoverable fashion.
How do I fix the blue screen on my Dell laptop in Windows 11/10?
If you get the Blue Screen error on your Dell laptop running Windows 11 or Windows 10, you need to find the faulty driver first. Following that, you need to remove the driver or the corresponding hardware to get rid of this problem. That being said, the process to fix BSOD on a Dell or any other laptop is exactly the same.