Are you a Firefox user? If yes, you might have come across an instance where the browser suddenly freezes or hangs and closes down unexpectedly or collapses into a not responding mode.
Freezing or Hanging is a process where a program stops responding to a user's input. A hang or a freeze is different from a crash. A Crash ends the program, and the windows automatically shut down. The reasons can be many. It could include the installation of incompatible themes, extensions, or programming errors in plugins. I am suggesting some troubleshooting steps which you could follow in case you find that your Firefox is giving you problems in Windows.
Why is Firefox freezing?
There can be many reasons why Firefox keeps freezing on Windows PCs. One of the most common causes is insufficient resources. For example, if your system has less RAM, you cannot open more tabs in Firefox. Moreover, you will also experience speed issues with Firefox. To resolve this issue, upgrade your hardware. Other causes for Firefox freezing issues include corrupted cookies and cache, bad extensions, etc.
Firefox Freezes, Hangs or Unresponsive on Windows 11/10
1] Clear Firefox Browser Cache, History & Download History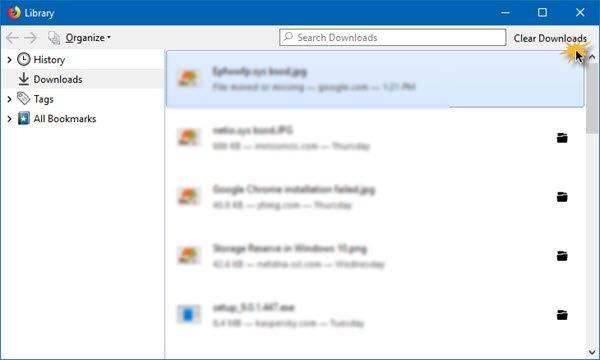 Files take longer to download as the download history builds up. To fix up this freeze, click on the Downloads icon or press Ctrl+J. , go to the Firefox menu, then 'Downloads' and click on 'Clear Downloads' to clear the Download History List.
Also, if the folder where Firefox is attempting to save the file is not accessible, it can freeze.
Try resetting the browser.download.lastDir preference in about:config. You can also try changing the Download folder location in your Firefox settings.Open Settings > Options > General tab. Here, under Downloads browse to the Desktop or the desired folder and select it.
At times Browsing History interferes with the browser start-up and therefore can hang Firefox for indefinite periods.
Clear the History to avoid this instance. Open Firefox Options > Privacy & Security and clear the History, etc., here.
You could also consider using CCleaner to clear up your entire Firefox Cache, etc.
2] Bad Firefox Add-on
My next suggestion would be for you to open Firefox to Safe Mode and check out if you have any bad add-ons installed. If the Firefox browser freezes without any warning when you type something or click on a button link, close all the tabs and start Firefox in Safe mode.
To do this, open the Firefox browser, click on the Settings button in the top right corner. Next click on the small blue circular question mark sign. Next, select Restart with Add-ons disabled.
 Now, if Firefox runs without freezing, it suggests a bad add-on – either an extension or toolbar – some extensions are prone to memory leaks.
Next, open Firefox Menu and select Add-ons (Or press Ctrl+Shift+A). Here you can disable or manage Firefox add-ons. Disable each one, one after the other, and try to find out the culprit. If you can identify the offending add-on or extension or toolbar, uninstall it.
3] Update Adobe Flash version
If you are facing freezing or experiencing a  delay while starting Firefox, you might want to check out if your Adobe Flash, Java plugins are up-to-date. Some versions did cause Firefox to freeze or crash. This page will tell you which version of Adobe Flash, you have installed.
For more info, visit Adobe Flash Player Download Center.
4] Check Windows shell extensions
Some Windows shell extensions can also cause problems with your Firefox browser, causing it to freeze or crash. You can use ShellExView to see all the explorer shell extensions and then try to selectively disable extensions which you suspect could be the cause of your problems.
5] Extensions of 3rd party software
Extensions of your antivirus, security suite, site advisors, password manager, download managers could also be a possible cause. Again, disable each one selectively and see if you can identify the offending issue.
6] Create a new Profile
The Firefox User Profile Manager allows you to create an additional profile. Create a new profile in Firefox and transfer all your settings and other data to the new profile, and see if it helps.
7] Reduce Firefox memory usage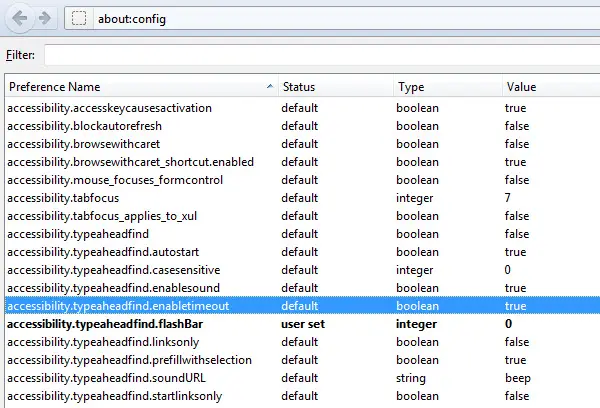 You may also want to consider reducing memory usage of Firefox by changing the about:config preferences. You may especially want to tweak these settings:
browser.cache.memory.capacity,
browser.cache.memory.enable
browser.sessionhistory.max_total_viewers settings.
Do so only if you know what you are doing. Reducing memory usage by carrying out just tweaks, removing themes, Personas, and reducing add-ons or plugins can also help you resolve your problem.
Is Firefox compatible with Windows 11?
Yes, Firefox is compatible with Windows 11. You can download its latest version from the official website of Mozilla. It works fine on all Windows 11 computers. However, in some cases, you may experience issues with Firefox on Windows 11. But that does not mean that it is incompatible with Windows 11. The issues can occur due to many reasons, like problematic extensions, a conflicting program, corrupted cookies and cache, etc.
Also read: Firefox crashing on Windows | Firefox keeps slowing down on Windows.
If it doesn't, you may want to Refresh Firefox. You can also Tune-up and Refresh Mozilla Firefox browser online.
We hope that something here helps you resolve your problem. If you have any more tips to share for the benefit of others, please do so in the comments below.

Fix Freezes or Crashes with these resources from TheWindowsClub:
Windows freezes | Windows Explorer crashes | Microsoft Edge browser hangs, freezes, crashes | Google Chrome Browser crashes | Computer hardware freezes.