Firefox is a popular alternate browser for the Windows operating system. But users of the Mozilla Firefox web browser are well aware that it slows down with time. With the passage of time, the browser starts becoming sluggish and unresponsive at times.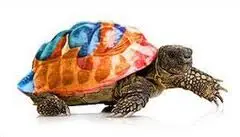 You may find that Firefox is crashing, hanging, or freezing at times. Here are a few tips which may help you keep you Firefox running fast – just the way it did after a fresh install.
Firefox keeps slowing down on Windows PC
1) Update Firefox
First of all, make sure you have the latest version of Firefox installed. Mozilla has been introducing several speed improvements to its browser, and you want to take advantage of them.
2) Clear Firefox cache regularly
Regularly clean up your Firefox Browser Cache, History, recent History, Download History, etc. You may use CCleaner, or you can do it natively in Firefox itself. Open Firefox and press Ctrl+Shift+Del to open the Clear Recent History box.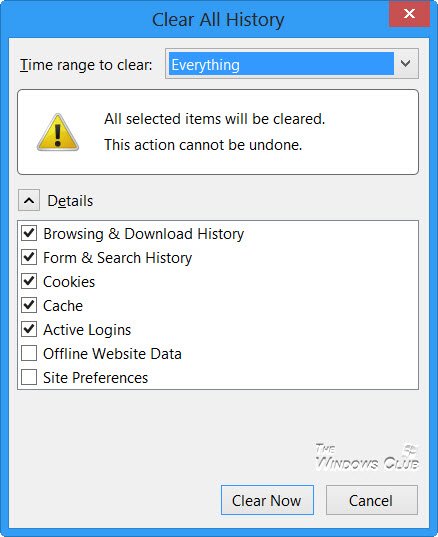 Check the desired options and click on Clear Now. This post on Firefox Freezes or Crashes will give you a few more ideas.
3) Keep plugins updated
Keep Plugins updated at all times, especially Adobe Flash and Java. Go here to check if you have the latest versions of your plugins installed.
Read: Mozilla Firefox seems slow to start.
4) Don't use the Session Restore feature
If you set Firefox to use the Session Restore feature to show your windows and tabs from last time, Firefox can take a long time to start if you had lots of websites open the last time you used Firefox.
Ensure that the default setting of Don't load tabs until selected, is checked. In this case, only the last selected tab is loaded at startup.
5) Uninstall or Disable Add-ons & Plugins
Uninstall or Disable Add-ons, Plugins, or 3rd-party extensions you don't need. To do so, via File Menu, click on Manage Addons. Here you can manage your add-ons, plugins, and extensions too. Also, remove Userscripts if any.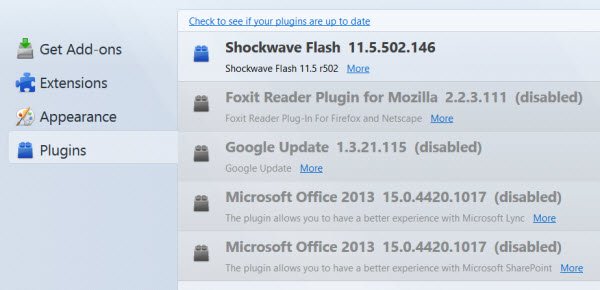 You might actually find your Firefox running much faster even if you disable slow-performing add-ons and plugins.
6) Avoid Themes
Avoid using themes. Switch to the default theme if you are using one.
7) Reset Firefox
When you find that your Firefox keeps slowing down and becoming sluggish in spite of doing everything, Reset it. The Refresh Firefox feature can fix many issues by restoring Firefox to its default state. The reset feature works by creating a new profile folder for you while saving your essential information. It will save some of your personal information like Bookmarks, Browsing history, Passwords, Cookies, and Web form auto-fill information. But it will not save installed Extensions, themes, tab groups, personal preferences, customizations, etc.
8)  Reinstall Firefox
If you find nothing working, reinstalling Firefox, after backing up your Bookmarks and Settings, using freeware MailBrowserBackup or FavBackUp might be a good idea.
Do share if you have any additional tips to prevent Firefox from slowing down and keep it running fast at all times!
Go here if you are looking for some free tools to Speed Up Firefox.