We have seen how to save all open tabs as Browser Bookmarks in Windows PC. Now let us see how you can copy and save all the URLs of the open Tabs to your clipboard so that you can paste them in say, Notepad. We will take a look at some extensions that help you do it in Chrome and Firefox.
Imagine a situation where you are doing online shopping. You are interested in buying a product but want it at a very competitive price. The normal exercise that follows hereafter is to compare the price of the product on different websites. You open the homepage of different shopping websites. However, while doing so, you are slowing down your browser's speed. To fix this, you are required to close the browser and start afresh but you also lose any of the websites opened earlier.
Copy URLs of all open Tabs in Firefox browser
Manually copying the addresses in the browser's address bar again can be quite time-consuming. So, the hunt for a solution begins. While there are dozens of extensions available for the purpose, a simple setting in the Firefox browser allows you to copy the location from all open tabs, instead of having to open every tab and copy/paste URLs into a text document.
Launch Firefox browser and open a few tabs. Now, to copy all URLs at once, do the following:
Click the hamburger icon to expand Firefox's menu. From the menu pane, select 'Options'.
Next, choose the 'General' setting and under its 'Startup' section, note down the 'Home Page' value. This is essential since its value has to be restored after doing the trick. If you do not find any entry here, ignore and proceed further.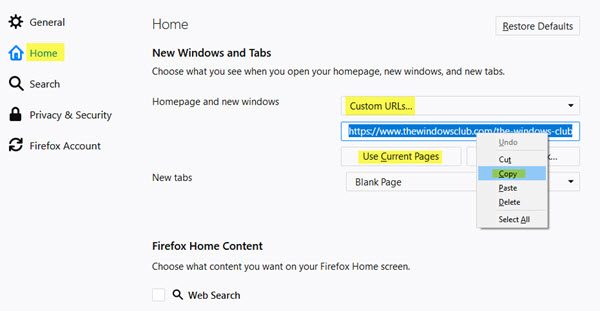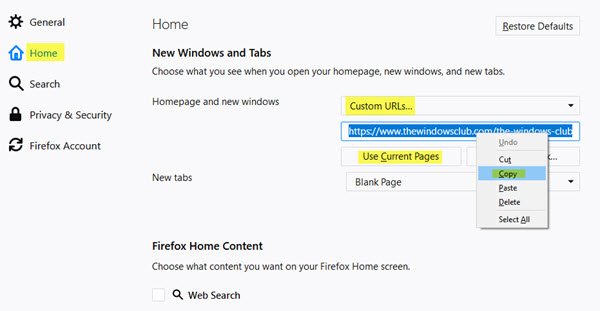 Click "Use Current Pages" button. All URLs of opened tabs will be moved to the "Home Page" field. If required, you can copy them from there by selecting them all using Ctrl+A keys as a shortcut and then copying them with another command – Ctrl+C!
That's all there is to it.
When you attempt to copy URLs from the "Home Page" field, you'll notice that they are separated by the "|" character. You can replace this character with a new line, to get a clean list of URLs each on a separate line. All you need to do to make this trick possible is to have applications like Notepad++ or any other editor app installed on your system that supports escape sequences.
If you are looking for Firefox extension, then SendTab URLs which will allow you to send the URLs of all open tabs to your default email client, so you can easily email them to someone. FoxyTab and tabs2txt are other Firefox add-ons you can take a look at.
Copy URLs of all open Tabs in Chrome browser
If you are a Chrome lover and looking for an extension to copy all opened tabs URL into the clipboard, try these two extensions.
Get opened tabs URLs –  This extension works as intended. It copies the address of an opened website to a clipboard instantly. Simply add the extension to the browser, hit its icon and select 'Copy to Clipboard' option.

Copy All URLs –  This little extension too, adds the missing feature in the browser. It allows you to copy and open multiple URLs using the paste function. Formats available: Text, HTML, JSON, and custom format.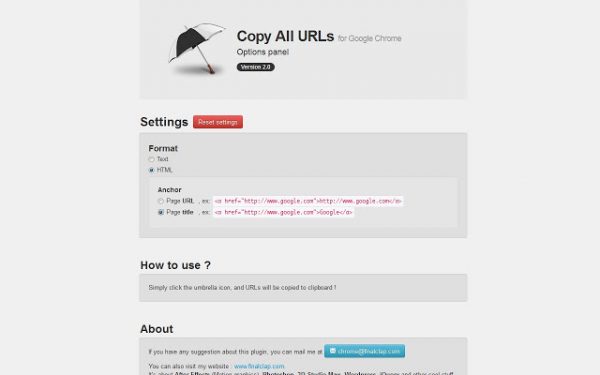 TabCopy and CopyURLs are other Chrome extensions that may interest you.
Know of any more such extensions? Do share!