Want to bookmark All Tabs in Chrome, Firefox, or Edge? Most of us like to save a web page or two as our Favorites when browsing the Internet with our web browser. But there may be times when you may want to save all the open tabs as Bookmarks.
How to save all open Tabs or Pages as Bookmarks
So let us, in this post, see how to save All Open Tabs or Pages as Bookmarks or Favorites in Chrome, Firefox, or Edge browser on your Windows 11/10 PC.
Bookmark All Open Tabs in Chrome
Save All Open Tabs as Bookmarks in Firefox
Add all Tabs to Favorites in Microsoft Edge
Add all tabs to Favorites in Internet Explorer
If you are using multiple browsers, make sure to try each of them.
1] Bookmark All Open Tabs in Chrome
This is very easy, and the most exciting thing is that you do not need any extension. However, you cannot bookmark pages that are opened in a different window of the browser. For instance, you have opened two separate windows. Following these steps, you can bookmark all open tabs in that window. No opened tab would be included in that list.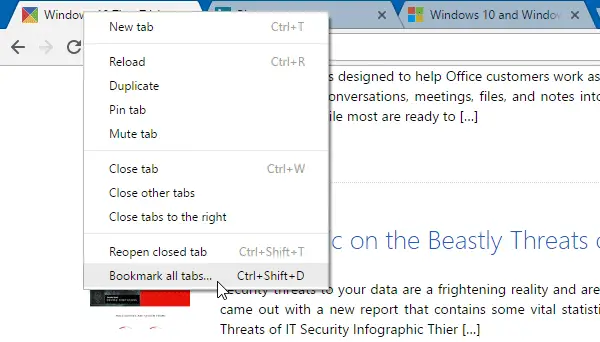 First, ensure you have only those pages you want to bookmark.
Next, either press Ctrl+Shift+D or right-click on any tab and select the Bookmark all tabs option.
As there are multiple pages, Chrome will allow you to create a separate folder for those tabs.
You will see a popup window where you can enter a folder name that will be visible on the Bookmarks bar.
Read Chrome Tip & Tricks for better browsing.
2] Save All Open Tabs as Bookmarks in Firefox
The method is quite similar. Like Chrome, you can also bookmark all pages in Firefox.
Open all the pages you want to bookmark—Right-click on the tab and select Bookmark All Tabs. Alternatively, you can press the Ctrl+Shift+D buttons together.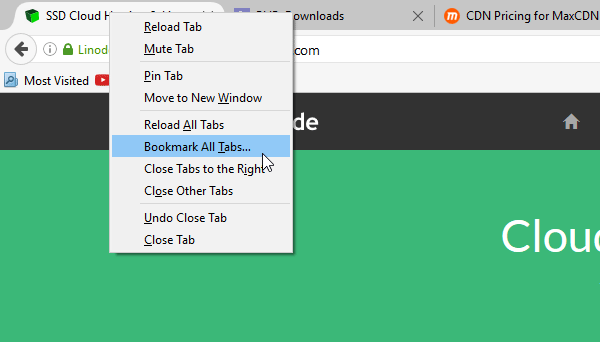 A popup window will appear where you can enter your new bookmark folder or group name. You can also choose an existing folder and location where you want to save the pages. Select everything correctly and hit the Add Bookmarks button.
3] Add all Tabs to Favorites in Microsoft Edge
If you are an Edge user and want to save all tabs or pages as Favorites, here are the steps you need to follow:
Launch Edge browser
Open the tabs that you want to save as Favorites
Right-click on any Tab and select Add all tabs to favorites
Alternatively, click Ctrl+Shift+D
Click on Save, and that's it.
4] Add all tabs to Favorites in Internet Explorer
Although the steps are pretty similar, you have to show the "Favorites" bar so that you can access your saved pages quickly in the future. For that, there are two methods. The first one is temporary that can be enabled by pressing the Alt button—Right-click on the space above the URL bar to show it permanently and select Menu Bar.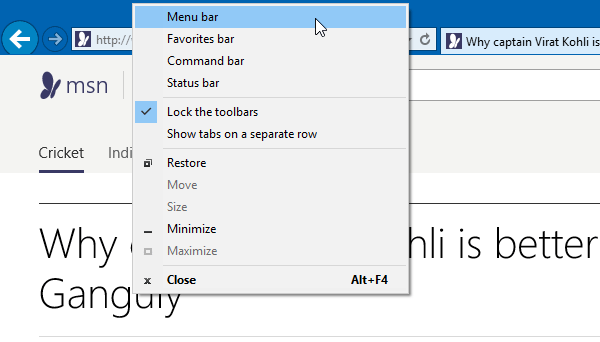 Once your Menu Bar appears, ensure that only the web pages you want to store as Favorites are open, and close the other tabs. Then click on
Then click on Favorites and select Add current tabs to favorites.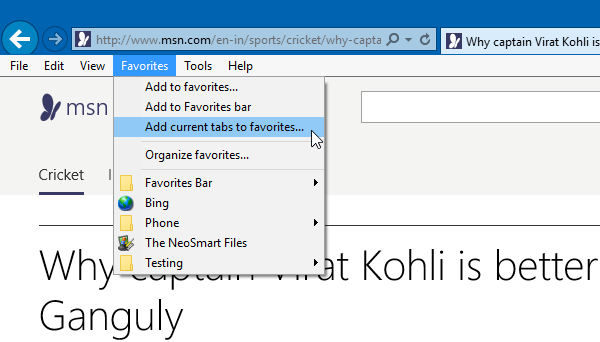 Enter the folder name, path, etc., and save when asked.
The same feature can be found in other browsers too. But unfortunately, it is not available in Microsoft Edge currently.
Now read: How to copy URLs of all open Tabs in Firefox and Chrome.
Conclusion
Adding all open tabs to favorites comes in handy when you have many open tabs and want to save them all at once. I hope the post was easy to follow, and you can now save all open Tabs or Pages as Bookmarks.
Do too many bookmarks slow down the computer?
Bookarms are a combination of text files linked to the browser. So even if you have thousands of bookmarks, it will not slow down the PC or the browser. However, when you scroll through the bookmarks, it may slow down a bit, but the impact should be negligible. Lastly, opening hundreds of bookmarked pages together will take a lot of resources from your PC, resulting in a slowdown.
Does clearing the cache, clear bookmarks?
Clearing out a web browser's cache is a safe and helpful process that does not impact any of the information stored in a browser, such as bookmarks, website logins, or even your homepage. Instead, it simply causes the web browser to think that you have not yet visited a page. It can help to protect your privacy, as cached data can contain information that one can use to track your internet activity and serve advertisements.