If your Mozilla Firefox browser is frequently crashing on Windows 11/10/8/7, maybe on startup, or if the tab crash a lot, then in this guide, we will help you resolve most of the Firefox crash issues.
Firefox keeps crashing on Windows 11/10 PC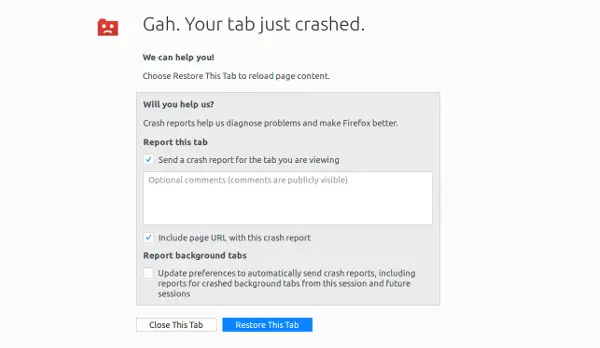 In this guide we are covering these scenarios:
Firefox won't start

No Error messages
With Error messages.

Firefox keeps crashing at startup
Firefox won't start
If the Firefox windows don't open, or you get an error message when trying to start Firefox, here is how you can fix it.
No Error Message:
Restart your computer once.
If your internet security software includes a "Virtual Browsing"  feature, make sure to disable that feature, and clear the virtual cache.
If it stopped working after installing an add-on, then you need to use Safe Mode. Hold down Shift-key and then double click on Firefox shortcut.
Lastly, try creating a new Firefox Profile and then launch it.
With Error Messages
1] Mozilla Crash Reporter
If you see this window after you Start Firefox, then check out our guide – Common solutions to diagnose and fix problems in Firefox.
2] Firefox is already running but is not responding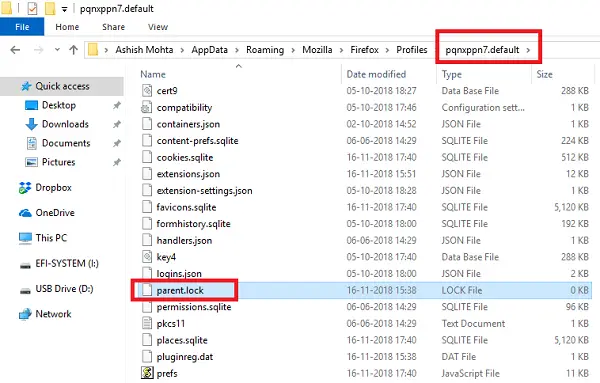 If Firefox is already running but is not responding, then the problem is that your profile in Firefox cannot let go of the Profile Lock. In simple words, If a process puts a lock on certain files so nobody else can use it. Whenever an application is closed, it quits access to files it uses. In our case, Firefox may have shut down abnormally, leaving the lock in place.
3] Your Firefox profile cannot be loaded. It may be missing or inaccessible
This happens when some files in Cache may get corrupted or damaged in your profile. You can easily fix this by deleting the profiles.ini file.
4] Failed to read the configuration file
When there is a problem with the Firefox core program files, you get this error. The only way to resolve this is by reinstalling Firefox. Make sure to delete the Firefox installation directory, found in one of these locations by default:
C:\Program Files\Mozilla Firefox
C:\Program Files (x86)\Mozilla Firefox
5] XULRunner – Error
"XULRunner – Error: Platform version <x.x.x.x> is not compatible with minVersion <x.x.x.x>""
Here "<x.x.x.x>" depends on version number.
If you see this message after a software update, use another browser to download the Firefox installer from the Firefox download page. Delete the Firefox Profile, and then reinstall it.
6] Error opening file for writing…
If you receive "Error opening file for writing…" as an error message, you will need an administrator to fix it. You can right-click on Firefox shortcut and run it as administrator or ask your admin to run this as Administrator for you. 
7] Disable Antivirus & Internet security solutions.
Many a time these solutions block applications. It is possible that Firefox has been blocked by antivirus & Internet security solutions you are using on the computer. Disable, and try to start Firefox. If it works, you need to make sure to whitelist Firefox in their list.
8] Firefox keeps crashing at startup
Not much you can do here is except to reinstall Firefox. You can try starting in Safe Mode, but that doesn't help much to figure out the issue.
One thing you can do is check any software compatibility issue with the latest version of Firefox from their release notes.
9] Update Processor Microcode
Since we do see it, most of us forget that even processor comes with a set of programming, and they can also have bugs. For example, modern x86 processors contain internal code that implements support for the x86 instruction set. These codes are called microcode, and if there is an issue in there.
The only to fix this is by updating BIOS or UEFI. Do make sure to check with your OEM about hardware level upgrade.
10] Ask for Help
Lastly, make sure to keep sending a crash report. Every time Firefox crashes, Mozilla Crash Reporter dialog box appears. It lets you send a crash report. Make sure to do as it will help to resolve the issue for you.
When you ask for help in the community, you can attach the crash report.
Since Firefox is not starting for you, you can go to %APPDATA%\Mozilla\Firefox\Crash Reports\submitted\ and upload files from there as well. Use the View menu to arrange the files by date and note the newest file.
PS: Freezing or Hanging is a process where a program stops responding to a user's input. A hang or a freeze is different from a crash. A Crash ends the program, and the windows automatically shut down. This post will help you if Mozilla Firefox Freezes on Windows computer.