You might have noticed that when you access the Options page of Firefox, there is a notice that shows Your browser is being managed by your organization. This happens because some policy or setting is enabled on your Mozilla Firefox browser.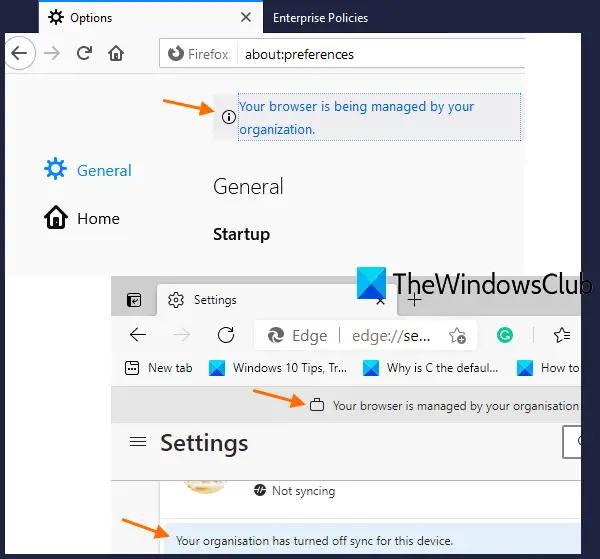 If you are a part of some organization, then your administrator can apply various settings/policies which is OK. However, when you are not a part of any organization and see such a message on your personal computer, it might irritate you. But there is nothing to worry about. Thankfully, there is a built-in feature in Windows 11/10 that can help you get rid of this message for the Firefox browser.
Your browser is managed by your organization says Firefox
If you see Your browser is managed by your organization message on the Mozilla Firefox browser, then this post can help you remove such message.
Such a type of message may appear because some Registry keys and their values related to applied policies are present in the Registry Editor of Windows 11/10. So, you just need to first view the list of applied policies and then access Registry keys and values related to those policies and remove them.
Before you proceed further, you should create a system restore point or backup Registry so that you can undo the changes if something wrong happens.
Let's check how to do this for both browsers separately.
Remove Your browser is managed by your organization message on Firefox
Open Firefox browser
Open Enterprise Policies page
Launch Registry Editor
Access Firefox Registry key
Delete sub-registry keys or values
Restart PC or File Explorer.
At first, open the Firefox browser and click on that message. It will open the Enterprise Policies page where you will see a list of active policies along with policy name, policy value, etc.
Alternatively, you can also type about:policies in the address bar of Firefox and press the Enter key to access the Enterprise policies page and see the active policies.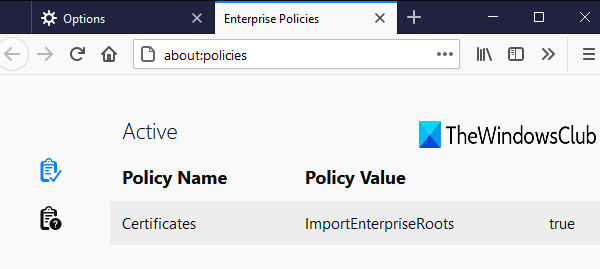 Now open Registry Editor and go to this path:
HKEY_LOCAL_MACHINE\SOFTWARE\Policies\Mozilla\Firefox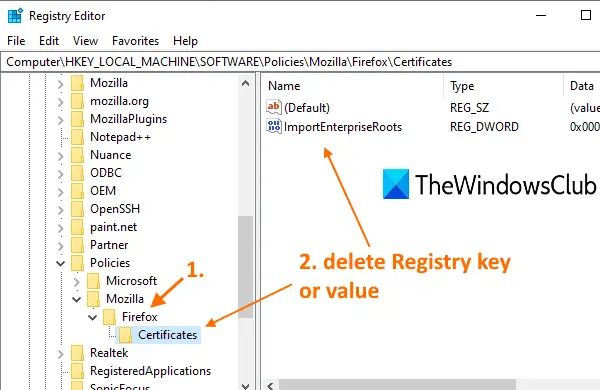 Now you need to check what type of Registry entry is present for the policy that you want to remove.
For example, if there is a Certificates name policy active on your Firefox browser, you will see a Certificates name Registry key under the Firefox Registry key. Under that key, an ImportEnterpriseRoots DWORD value will be presented. So, to disable such type of policy, simply delete that Registry key or its value.
Restart File Explorer or PC and that message will be gone from the Firefox browser.
In case, you want to remove all the active policies from Firefox, then simply delete the Firefox name Registry key and restart PC/FileExplorer.
If you want to remove all policies and completely disappear managed by your organization message, then simply delete the Edge Registry key. After that, restart File Explorer or PC to apply the changes.
Similar posts:
Hope this will help you.