Caching in Windows and other operating systems is used to enhance the performance of applications. It enables apps to load faster. However, on a few occasions, the Cache may get corrupted or damaged. When this occurs in the Firefox browser, you see 'Your Firefox profile cannot be loaded, It may be missing or inaccessible' message. Also, it happens when Firefox can't find or access the profile folder. Fortunately, there exists an easy way to repair or fix this corrupted Firefox Profile issue. Here's how!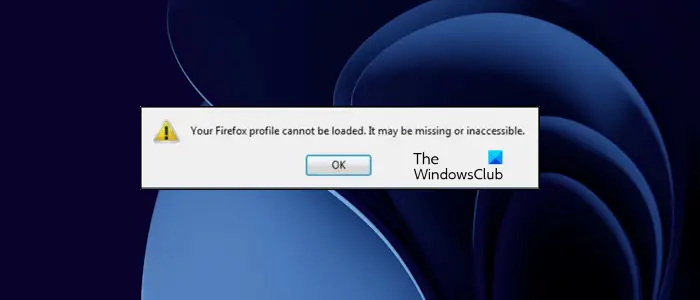 Your Firefox profile cannot be loaded, It may be missing or inaccessible
If you are not aware, Firefox, by default, stores your user data and settings in a special profile folder. The browser pulls information from this folder every time you choose to launch it. The default Firefox profile folder location is under the %APPDATA%\Mozilla\Firefox\Profiles folder.
Repair the error by deleting the profiles.ini file
If you are experiencing issues while accessing the Profile Manager, you can choose to create a new default Firefox profile by deleting the profiles.ini file. Do the following,
Click on the Windows Start button or press the Windows key to open the Start Menu.
Type %appdata% and press the 'Enter' key. When done, the hidden AppData\Roaming folder should become visible to you.
Open the folder by double-clicking the Mozilla folder, followed by a double-click on the Firefox folder.
Now, simply delete the profiles.ini file. Take care not to delete the Profiles folder, which should have a file folder icon.
It is important to mention here that the .ini file extension is identified as the file featuring a 'Gear' icon alongside it, something like "Configuration settings" or "Application settings."
When you start Firefox, a new profile will be created.
Secondly, if you know where your profile exists, try one of the following methods to help Firefox find it.
Move the profile folder back to its original location. (It is self-explanatory and requires no elaborate discussion).
Restore the profile's original name if you've changed it.
Create a new profile using the Profile Manager. Assign it a suitable name, click on the Choose Folder button, and then select the profile folder you moved or renamed before you finish the Create a new profile wizard.
The Firefox User Profile Manager lets you create & manage Multiple User Profiles.
If the above fix did not help you, completely uninstall Firefox from your computer and then reinstall it. To remove Firefox completely, you can use third-party software, like Revo Uninstaller.
How do I enable profiles in Firefox?
When you install Firefox, a default profile folder is created automatically at the default installation location. This profile folder stores all your Firefox data. The default profile always remains enabled in Firefox. However, if you want, you can create more than one profile in Firefox by using the Firefox User Profile Manager.
How do I restore Firefox after reset?
The new Firefox has a feature called Firefox Accounts. You should create a Firefox account. The Firefox account saves all your bookmarks and extensions. You can get all your bookmarks and extensions in Firefox by signing in to your Firefox account on any computer. After resetting Firefox, you can restore Firefox by signing in to your Firefox account.
That's it. I hope this helps.
Read next: Firefox not installing on Windows 11/10.