Like most browsers, Mozilla's Firefox saves personal information of its users such as bookmarks, passwords, and preferences in a set of files called Your Profile. This profile is maintained at a location different from the Firefox program files. So, if you are interested in knowing the way to find your profile without opening the Firefox browser, read this tutorial.
Find Firefox Profile
The normal way of finding or locating your profile is to click the 'Open menu' button visible as 3 horizontal bars and choose the Help option.
Then, click the side-arrow to locate 'Troubleshooting Information' option under 'Help' section.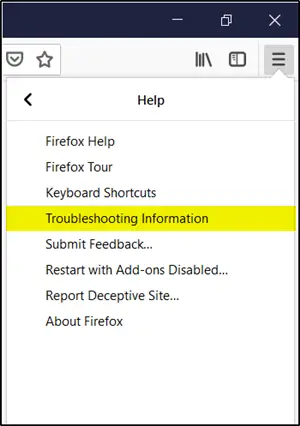 Click the 'Troubleshooting Information' tab to open it. The page contains technical information that might be useful when you're trying to solve a problem.
Then, under the Application Basics section, click on Open Folder. Your profile folder will open.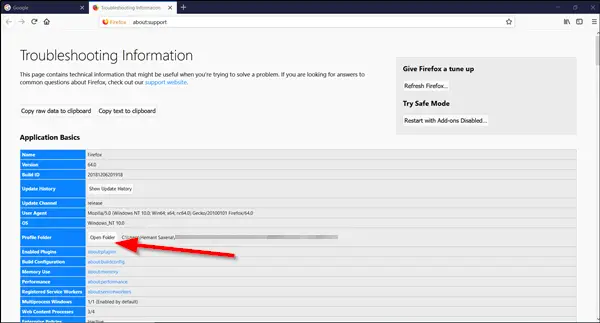 If you are unable to open or use Firefox, then, you will need to open your profile without opening Firefox. There's a way of doing it. Here's how!
Locate Your profile without opening Firefox browser
Firefox browser, by default, stores your profile folder at this location on your computer –
C:\Users\<username>\AppData\Roaming\Mozilla\Firefox\Profiles
However, Windows hides the AppData folder from direct view. You can locate your profile folder as follows:
Press Windows Key +R on the keyboard. A Run dialog will appear on your computer screen.
Type the following text in the empty field of the 'Run' dialog box –
%APPDATA%\Mozilla\Firefox\Profiles\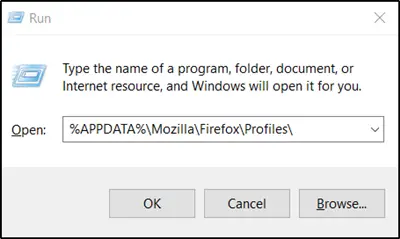 Click OK. If prompted for permission, click 'Yes'. Soon after that, a window will open containing profile folders.
Double-click the profile folder you wish to open. If you only have one profile, its folder would have "default" in the name. You can have multiple Firefox profiles, each containing a separate set of user information.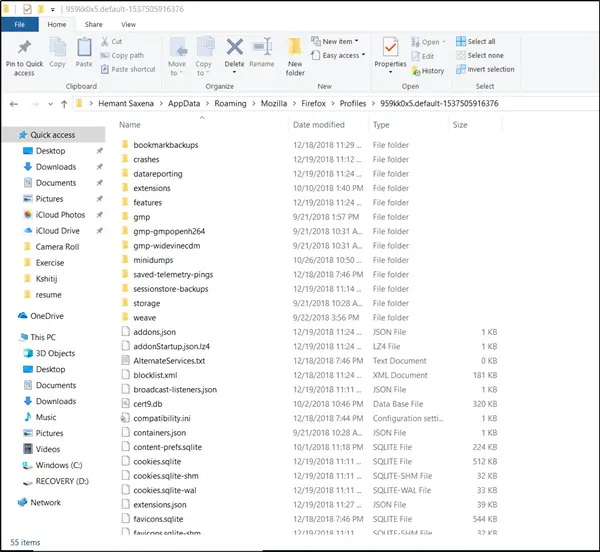 Alternatively, you can find your profile by pressing the Windows Key key and then start typing: %APPDATA%\Mozilla\Firefox\Profiles\
To set Windows to show the AppData folder and other hidden files and folders, you need to configure Windows to display hidden files and folders.