Dolby Atmos is an innovative surround sound technology that is created to enhance your audio listening experience on various devices including Windows 11/10 devices. If you notice that Dolby Atmos for one reason or the other is not working on your PC, you can try the solutions in this post to resolve the issue.
Dolby Atmos not working on Windows 11/10
If you're faced with this issue, you can try our recommended solutions below in no particular order and see if that helps to resolve the issue.
Run Audio Troubleshooter
Update sound drivers
Rollback sound drivers
Reset Dolby app
Uninstall and reinstall Dolby app
Ensure Audio Services is running
Perform System Restore
Let's take a look at the description of the process involved concerning each of the listed solutions.
Before you try the solutions below, check for updates and install any available bits on your Windows device and see if Dolby Atmos now works as normal.
Fix Dolby Atmos in Windows 11/10
1] Run Audio Troubleshooter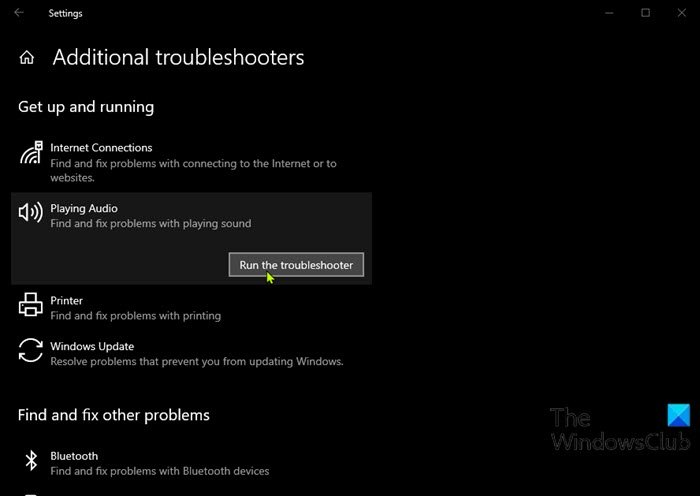 You begin troubleshooting Dolby Atmos not working issue by running the Windows 10 in-built Audio Troubleshooter. If this doesn't help, try the next solution.
2] Update sound drivers
Updating the sound drivers installed on your Windows 11/10 PC is one of the most effective solutions to fix Dolby Atmos issue.
You can either update your drivers manually via the Device Manager, or you can get the driver updates on the Optional Updates section under Windows Update. You can also download the latest version of the driver from the sound card manufacturer's website.
3] Rollback sound drivers
If updating the sound drivers didn't resolve the issue, you can roll back the driver to an earlier version that was working.
4] Reset Dolby app
You can reset the Dolby app and see if that helps.
5] Uninstall and reinstall Dolby app
If resetting the app fails to resolve the issue at hand, you can uninstall the Dolby app and then head over to Microsoft Store and search, download and install the app on your device.
You can download the Dolby Access app to start your free trial of Dolby Atmos for Headphones or set up a Dolby Atmos device from the Microsoft Store.
6] Ensure Audio Service is running
If the Audio Service is not running on your Windows 10 device, you may encounter this issue. So check if the service is running and start the service if it's not running.
7] Perform System Restore
If you noticed that this issue started to occur recently, it's entirely possible that the issue was facilitated by a change that your system has gone through recently which you cannot pinpoint. In this case, you can restore your system to an earlier point. This will restore your system to an earlier point when the system was working correctly.
Hope this helps!
Related post: Dolby Home Theater not working.