The Device Manager is an important component in Windows 11/10. It does not only allow us to view all the connected devices, but it also performs several functions on our computer. But sometimes the Device Manager starts flickering. It could happen due to improper connection, corrupted system files, malfunctioning devices, or outdated drivers. Here we have talked about some suggestions which will resolve this problem.
Device Manager Blinking or Flickering on Windows PC
Read the following section to find out what you can do if the Device Manager keeps flickering, flashing or blinking in Windows 11/10. You can try the following suggestions:
Restart your Display Driver
Check your USB connection
Update the Display Driver
Run sfc /scannow command
Uninstall Conflicting Application
Change Device installation settings
Identify & disable the problematic driver
Perform a System Restore.
Let us see this in detail.
1] Restart your Display Driver
Press Win+Ctrl+Shift+B to restart your Display Driver and see if that helps.
2] Check the USB connection
As we have studied above, an improper connection can be the reason for Device Manager flickering. In this case, unplug all the USB devices one by one and then plug them again properly. Check which USB device is causing the problem. You may switch the port off, for that device to fix the issue.
Read: Windows Screen keeps refreshing itself automatically
3] Update the Display Driver
One of the reasons for your Device Manager flickering could also be the driver you are currently using. It may have become outdated, in which case you need to update your Display Driver. In this case, the Device Manager will find and install the new display driver on your computer. Due to this, the problem of your Device Manager flickering will be reduced to a great extent.
You may visit your computer manufacturer's website, to download the latest driver. Some of you may want to use free Driver Update software or tools like AMD Driver Autodetect, Intel Driver Update Utility or Dell Update utility to update your device drivers. NV Updater will keep NVIDIA Graphic Card Driver updated.
4] Identify & disable the problematic driver
A dodgy driver can cause this issue to occur. Some Realtek drivers, as well as some UDB drivers, were know to cause this issue at one time. So if updating your drivers has not helped, you might have to identify the offending device driver and disable it.
The best way to do so would be to perform a Clean Boot and troubleshoot and identify the offender manually. having done that, disable the driver and see.
5] Uninstall Conflicting Application
Some of the applications that you currently installed on your PC may be causing the flicker of the Device Manager. If you are using an application that might be a conflict with the Device Manager.
To identify the problematic program, it is best that you perform Clean Boot and then manually try to troubleshoot. To perform clean-boot troubleshooting, you must take a number of actions, and then restart the computer after each action. You may need to manually disable one item after another to try and pinpoint the one that is causing the problem.
Once you have identified the offender, please disable or uninstall it completely to fix the flickering issue. Follow the below steps to uninstall the conflict application.
Press Window + R to open Run
Type appwiz.cpl and click OK
A list of all applications that you are using will open
Now, select the conflicting application
And then click on Uninstall
Click Yes in the confirmation prompt
Once done, restart the computer and check if the Device Manager flicker on windows 11/10 is fixed. if yes, go to the next method.
6] Run sfc /scannow command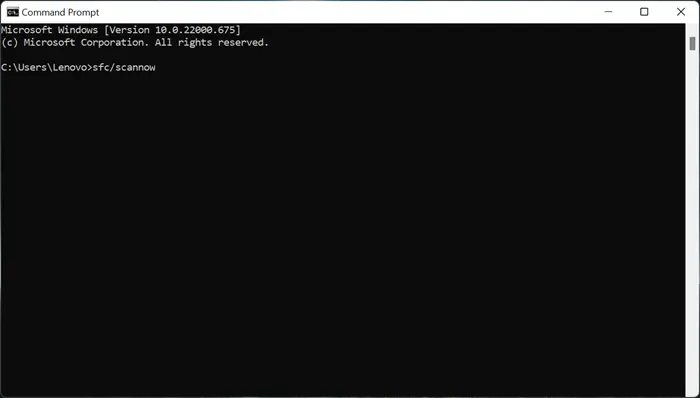 Sometimes, the computer system files got corrupted due to many reasons. To fix this issue, we recommend you run the sfc /scannow command in the command prompt. It will find the system files corruption issue and fix them by itself automatically.
Follow the below steps to fix the issue.
Open Command Prompt
Type the following command: sfc /scannow
Press the Enter button
It will begin scanning the computer and then replace corrupted system files automatically.
7] Change Device installation settings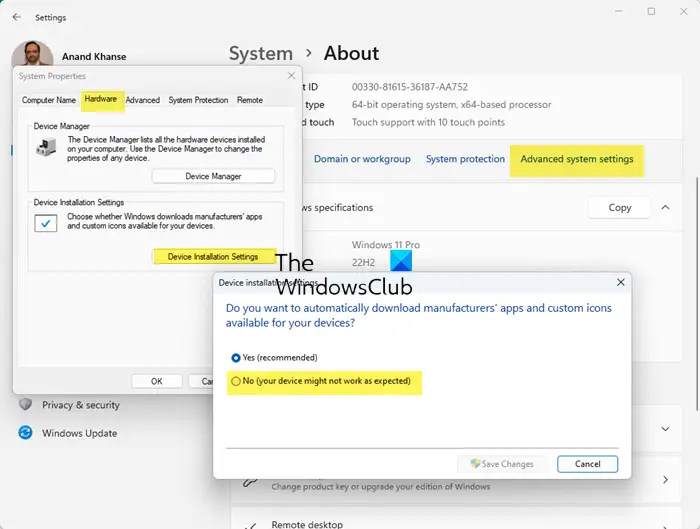 Open Windows Settings > System > About.
You will see a link to open Advanced System settings.
Click on it to open System Proterties.
Select the Hardware tab and click on Device Installation Settings button.
Next, select No and save changes.
This will stop Device Manager from updating.7
8] Perform System Restore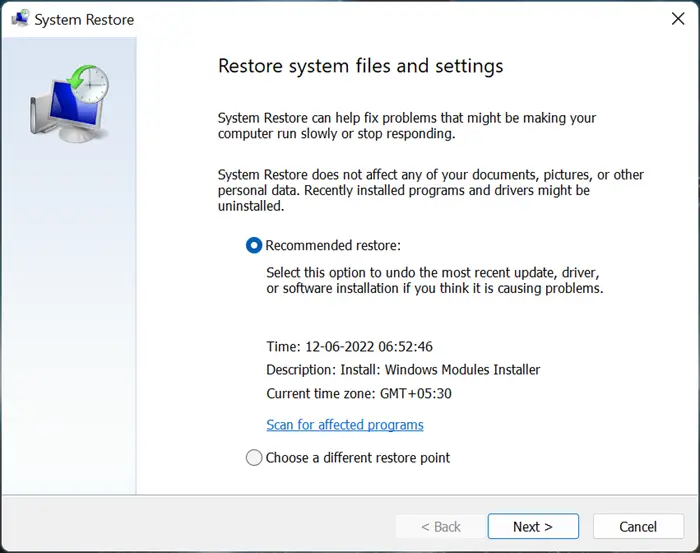 If you install a device driver that makes your computer unstable, you'll want to uninstall that driver. However, in some cases, the driver may not uninstall properly, or it may damage system files when you uninstall it. If you use System Restore and select a restore point that was created before you installed the driver, this can restore your system files to the previous state before any problem occurred.
I hope the above steps will help you resolve the flickering issue of the Device Manager.
Related: Device Manager keeps refreshing constantly in Windows 11
Why is my screen flickering?
An outdated display driver can be a cause of screen flickering. And if you update it then you can get rid of this problem. You can follow the given steps below to update it.
Click on start
Type Device Manager and open it
Expand the Display adapter section.
Right-click on Intel(R) UHD Graphics
Click on Update driver
Select Search automatically for drivers in Update driver Windows
Read: Fix Google Chrome screen flickering issue.
How do I Roll Back Drivers in Windows 11?
To Roll back your Graphics Drive, follow the below steps:
Press the Window + X to open Device Manager
Expand the Display Driver section
Double-tap on Intel(R) UHD Graphics
Select the Driver tab
Click on the Roll Back Driver to restore
How do I go to Safe Mode?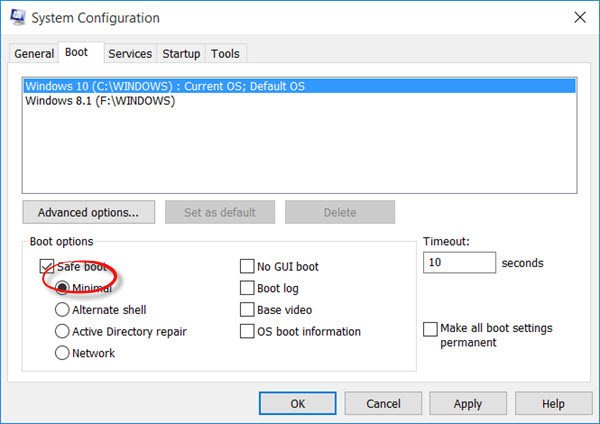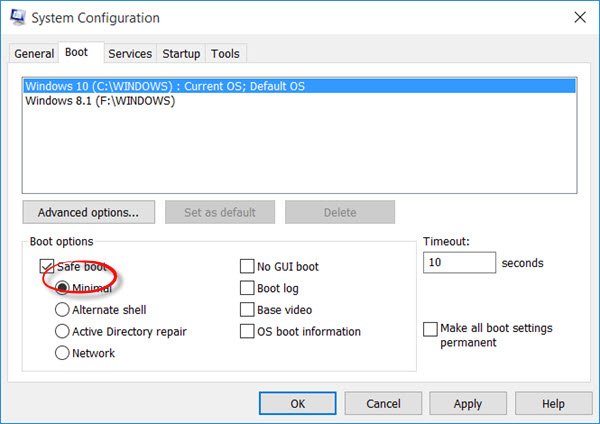 Follow the below steps to go to the Safe Mode.
From the Win+X Menu, open Run box

Type

msconfig

and hit Enter.
Under the Boot tab, check the Safe boot and Minimal options.
Click Apply/OK and exit.
On a restart, your computer will enter Safe Mode directly.
You can now work in the Safe Mode.
Read: Screen goes Black issue when scrolling with the mouse.