While Windows 11/10 can recover the graphics driver on its own, you can always reset or restart the Graphics or Display Driver in Windows manually – in case the Video driver crashes. Let's see how to do this.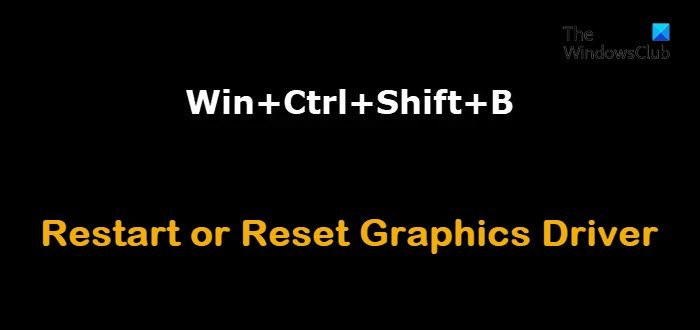 If you work on your Windows PC for a very long time, I am sure you must have faced a situation where your display doesn't work as expected. Scenarios can be different, which include a black screen, a screen frozen, or keyboard and mouse inputs don't respond at all. This points out one thing–the display or the graphics driver has some problem.
How to Restart or Reset Graphics Driver in Windows 11/10
In this guide, we will talk about multiple methods to help you restart and recover your graphics password. Rest assured that your work will not be lost – the screen may only flicker for a second or two.
1] Restart Graphics Driver using Win+Ctrl+Shift+B Shortcut
To Restart or Reset the Graphics Driver in Windows 11/10, use the key combination Win+Ctrl+Shift+B on your keyboard. The screen flickers and goes black for a second, and it will be back in less than a second.
In case it is not working for you, make sure to check if your Windows Key is not disabled. In many gaming PCs, the onboard software disables the windows key as it can accidentally shift the focus.
This is the easiest method to restart your driver without the need of an admin account.
2] Remove & Update corrupt Display or Graphics Driver
If the graphics driver is misbehaving a lot, chances are that your driver has gone corrupt. You must either re-install the driver or update to the latest version. Many a time old drivers are not compatible with the latest Windows Update, as a result of which Display drivers stop responding.
There are two ways to fix this. You can remove it manually using Device Manager or from the Control Panel. You may need administrative privileges to complete this.
A] Uninstall the drivers using Device Manager
Open Device Manager by either searching in Start Menu or type devmgmt.msc and press Enter in the run prompt.
Find Display Adapters and expand it.
Right click on the adapter select Uninstall.
Restart the computer.
Post this, Windows should install the required driver using the Windows Update system automatically. In case it doesn't, you can always install the driver manually using the Update Driver option.
B] Uninstall the drivers from Control Panel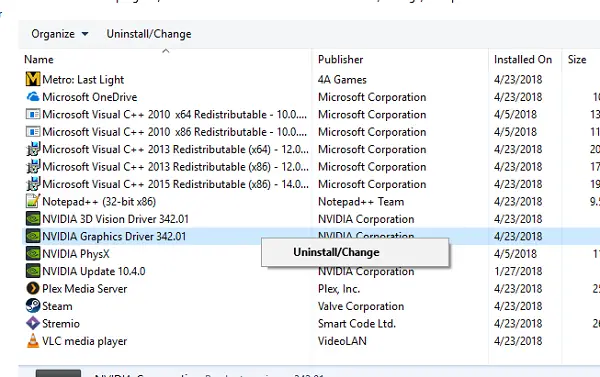 Many OEMs develop software that could give users more control over features that run on top of the driver. Nvidia offers a control panel which can help you optimize few display settings. After removing the driver from the device manager, it's a good idea to remove OEM software as well.
In the search box, type Control Panel, and when the program shows up, click to open it.
Type Programs & Features > Add or Remove Programs.
Find the Driver program, select and uninstall it.
You may want to install the software & driver again, post these two steps to make sure your graphics card is completely utilized, and not using the basic driver.
Read: Intel Graphics Driver keeps crashing.
Should I restart my graphics driver?
You may consider restarting your graphics driver if your display freezes, flickers, crashes, or display poor graphics frequently. Resetting your graphics drivers may resolve such issues.
How do I restart GPU graphics?
To restart your restart GPU graphics, press WinKey + Ctrl + Shift + B keys simultaneously. This will restart your graphics card driver. The screen will flicker, but the open programs or games will not be closed.