Some PC users have reported noticing an empty window named DesktopWindowXamlSource on the Windows 11/10 taskbar and wondering what it is and how they can remove it. This post explains and offers suggestions on what affected PC users can do to rectify this somewhat irksome anomaly on their system.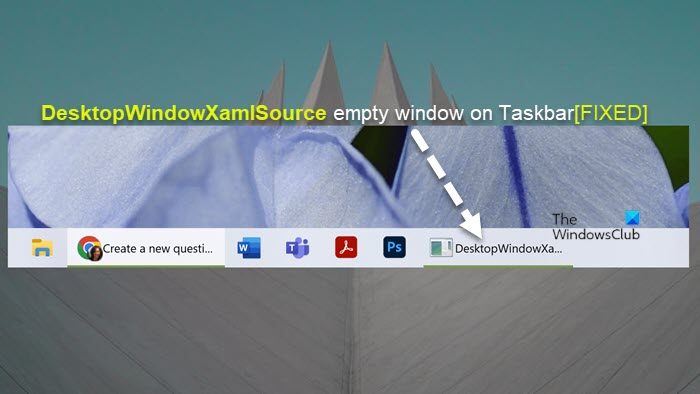 What is DesktopWindowXamlSource?
DesktopWindowXamlSource is the main class in the UWP XAML hosting API that enables non-UWP desktop applications to host any control that derives from Windows. In other words, this is a Windows API that allows an app to host XAML controls within a desktop (Win32) window. So, if you see an empty window as it's with the issue been addressed, then it's likely the API is being misused or there is an error in the implementation.
Upon investigation, it was discovered that this empty window on the taskbar is related to OneDrive. Reportedly, when affected PC users try to close the DesktopWindowXamlSource empty window, it closes OneDrive as well. Currently, it is unknown what exactly causes this bug or abnormal system behavior. However, if you're looking for how to remove the empty window from the taskbar, then you can continue with the rest of this post!
DesktopWindowXamlSource empty window on Taskbar
On your Windows 11/10 PC, if you see the DesktopWindowXamlSource empty window on the taskbar which has been attributed to a bug that according to Microsoft, the bug was supposedly fixed, then you can go through the suggestions presented below and see what helps you resolve the issue. But before you begin, update your Windows and Microsoft Store apps.
Run the SFC /scannow command
Update/Reset/Reinstall OneDrive
Reset the Taskbar
Uninstall problematic Windows Update
Restore your system to an earlier point.
Let's see these suggestions in detail.
1] Run the SFC /scannow command
The DesktopWindowXamlSource empty window on the taskbar might be a case of system file corruption. So, we suggest you run the SFC /scannow command and see if that helps resolve the issue on your Windows 11/10 device. If SFC throws an error indicating system file corruption and is unable to repair, then you can run the DISM scan – on completion, rerun the SFC scan.
Read: Application stays minimized on the Taskbar
2] Update/Reset/Reinstall OneDrive
As this issue is inherently OneDrive-related, we suggest you make sure that OneDrive is updated on your system. To update OneDrive, press the Windows key + R to invoke the Run dialog, copy/paste the environment variable below and hit Enter.
%localappdata%\Microsoft\OneDrive\update
If already updated it but the issue persists, you can reset OneDrive. If that too didn't help, you can thoroughly uninstall OneDrive, then download and reinstall and see if that helps. Otherwise, proceed with the next suggestion.
Read: Fix OneDrive Sync Pending errors
3] Reset the Taskbar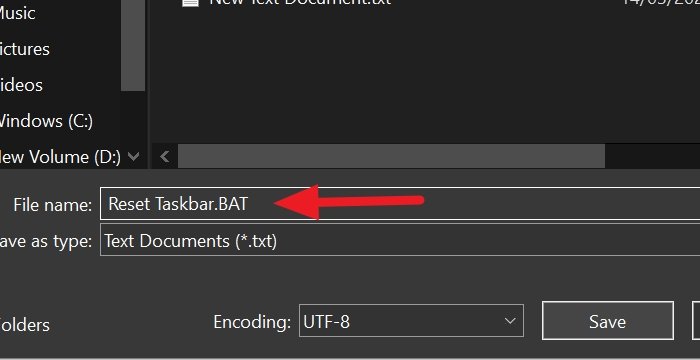 On occasion, and at random, the taskbar on your Windows 11/10 PC might stop responding, freeze, hangs or it might stop showing certain icons that you need to interact with. If the taskbar isn't functioning correctly, in this case, the taskbar is displaying an empty window which isn't normal behavior, you'll want to get it working again. In any case, you will want to double-check the taskbar settings and you can reset the Taskbar to get it working the way it should and how you want it.
4] Uninstall the Windows update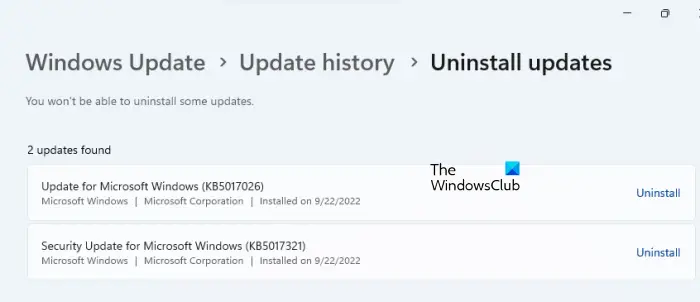 Affected PC users reported they noticed the issue after a recent Windows update was installed on their device. So, it's likely the system update introduced the bug that is causing the issue. In this case, uninstalling the recent update might help.
5] Restore your system to an earlier point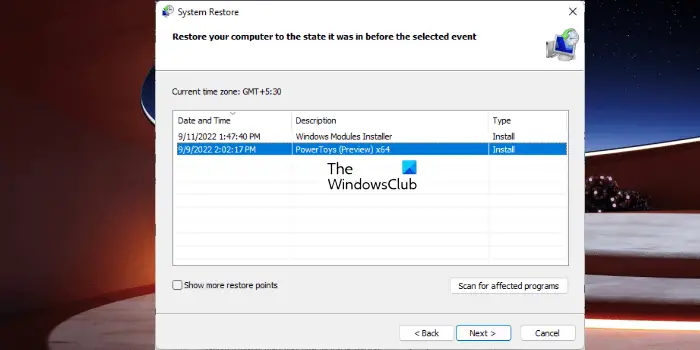 This is an alternative to uninstalling a new system update that might be the culprit to the issue. This fix is also applicable if you started noticing the issue recently and you're not aware of any system changes which might have given rise to the issue — in this case, you can perform System Restore to revert your system to an earlier point in time before you started noticing the empty window on the taskbar.
Hopefully, this post helps you! If not, then you will have to wait for Microsoft to release an update that gets rid of the bug.
Read next: Taskbar icons not showing, missing, invisible, or blank
Why did my taskbar and background disappear?
If your taskbar has disappeared, it could be that your taskbar is hidden. You can move your mouse to the bottom of the screen and see if the taskbar reappears. If the desktop background or wallpaper is not showing or has disappeared on your Windows 11/10 PC, the following suggestions can help you resolve it.
Change Background Type
Check the background image
Disable Remove background images
Tweak Power Settings
Activate Windows
Read: How to reset Taskbar Corner Overflow Icons in Windows 11.