The Taskbar is an integral part of the Windows desktop. It has been there since the release of Windows 1.0. Microsoft has been modifying it with a new design and making it a home for new features like Task View, Windows Search, and more. At times, however, you may find that the Taskbar disappears or stops responding. Today, in this post, we will be discussing how to fix the case of the missing Taskbar on Windows 11/10.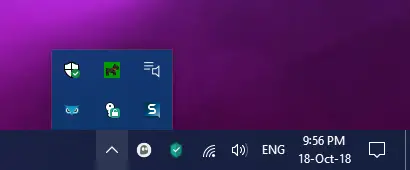 Taskbar has disappeared on Windows 11/10
We will be taking a look at four methods that will help us fix the missing or disappearing Taskbar from the Windows desktop:
Restarting the Windows File Explorer process.
Unhide it using the Settings App.
Disabling Tablet Mode.
Checking Projection Settings.
Before you begin, I recommend that you create a System Restore Point.
Restore missing Taskbar in Windows
1] Restart Explorer process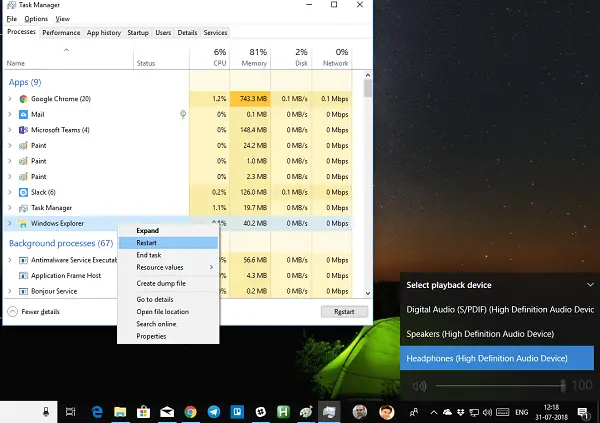 While it sounds really basic, it has proven to be working for many. If anything gets stuck on the taskbar or system tray, this is the best way to restart explorer.exe.
Right-click on the taskbar, and select Task Manager.
Under Processes, look for Windows Explorer
Right-click and select to Restart.
You should see Taskbar appearing as this will reload the whole Windows Shell.
2] Unhiding it using the Settings App

Launch the Windows 10 Settings app (using Win+I) and navigate to Personalization > Taskbar.
Under the main section, make sure that the option labeled as Automatically hide the taskbar in desktop mode is toggled to the Off position.
If it is already off and you are not able to see your Taskbar, just try another method.
3] Disable Tablet Mode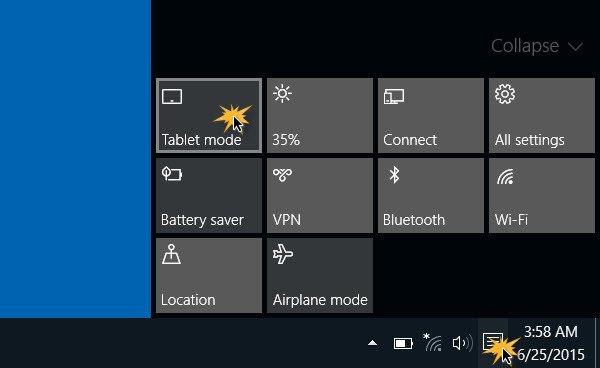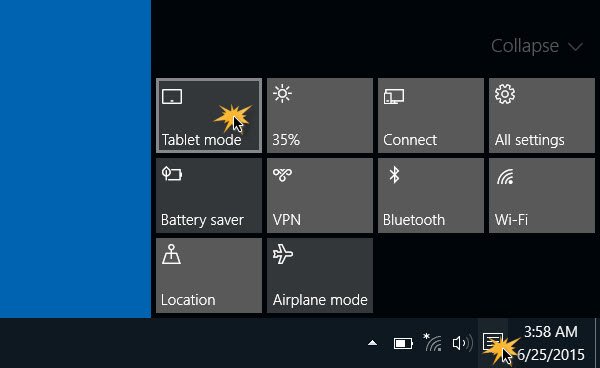 If the Tablet Mode is activated on your computer, the Taskbar might get hidden due to the System settings. You can try to Turn the Tablet Mode off and check if that fixes your issue.
4] Checking Projection Settings
Hit the WINKEY + P button combination on your keyboard.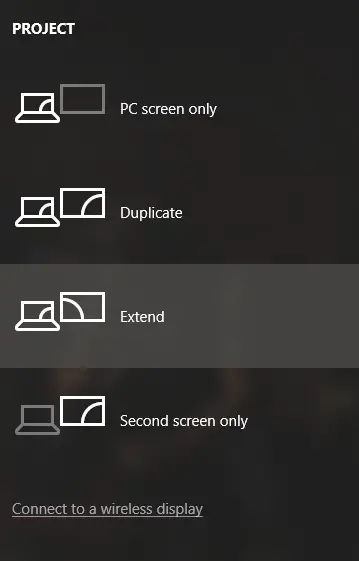 Windows Projection settings will pop up.
Make sure that you select PC Screen Only option and then check if your Taskbar has appeared and is working properly or not.
Taskbar keeps disappearing randomly
If your Taskbar keeps disappearing at times, you may want to check the Auto Hide Taskbar settings.
How do I fix Taskbar not visible in Remote Desktop?
If the Taskbar not visible in Remote Desktop, here are some suggestions you can try to fix the issue. They should be carried on the remote computer.
Restart Explorer process.
Clear cache for multiple processes.
Reinstall the Shell Experience components.
Update, Uninstall, or Rollback, the Display driver.
I hope something here helped you.

Related read: Taskbar is not hiding.