Multi-monitor setup is bliss. It helps professionals with their work and be more productive. Over the past several years, Windows has managed to offer one of the best multi-monitor features. Users can plug in an additional monitor and seamlessly access their work on both displays. This is particularly useful for graphic designers, gamers, and other professionals who require a larger screen real estate.
Move Taskbar to the second monitor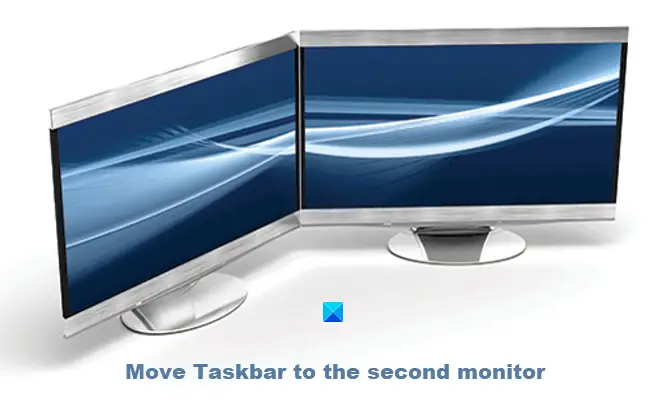 The biggest annoyance for most of us is that the taskbar is switched on by default on both displays. This default arrangement is likely to cause clutter on the secondary display. In this article, we explain how you can move the taskbar (not copy) on a Second Monitor in Windows 10. Please follow the steps detailed below:
Right-click on the Taskbar. Uncheck Lock the taskbar.
Click and hold the taskbar. Drag it to the second monitor and voila there you go!
Click the mouse button on the place where you want to place the taskbar
Lock the taskbar by right-clicking on "Lock the Task Bar."
Related: How to disable Windows taskbar on the second display.
Advanced Options
Thankfully, Windows 10 also offers an array of advanced options to fine-tune your multi-monitor experience. For example, you can choose to show the taskbar only on the active screen or combine buttons on other taskbars. I would advise you to try out different variations and stick with the best one. Additionally, you can also move the Taskbar from one display to another.
Related: How to show Taskbar across multiple monitors in Windows 11.
The taskbar is a very important part of Windows 10 UI. It is here that you can pin your favorite apps, manage your calendar, and group taskbar buttons. Windows 10 also lets you lock the taskbar, hide the taskbar in desktop/tablet mode, and use Peek feature.
Read next: Smart Taskbar is a free Dual or Multi-monitor software to manage multiple displays.