If you want to turn off the laptop screen when using an external monitor, you can follow this guide. It is possible to switch off the laptop screen and keep using the external monitor – no matter how many you have connected to the laptop.
It is relatively easy to set up a dual monitor system with Windows 10 – no matter whether you are using a laptop of a desktop computer. Many people often opt for a laptop because of portability. If you have already connected an external monitor, but you found the laptop screen not mandatory for your work, it is possible to turn it off. In simple terms, you can change from dual monitor to single.
Turn off Laptop Screen when using External Monitor
To turn off the laptop screen when using an external monitor, follow this guide.
1] Use the Project option from the Action Center
Action Center in Windows 10, offers some one-click options to make various changes within moments. From changing the laptop screen brightness to opt for a single monitor, you can do everything from here. To get started, do follow these steps.
Click on the tiny notification icon visible on the bottom-right corner of your screen to open Action Center in Windows 10. If you cannot find all the options, click on the Expand button.
Now, you should see an option called Project. After clicking the Project icon, select the Second screen only from the list.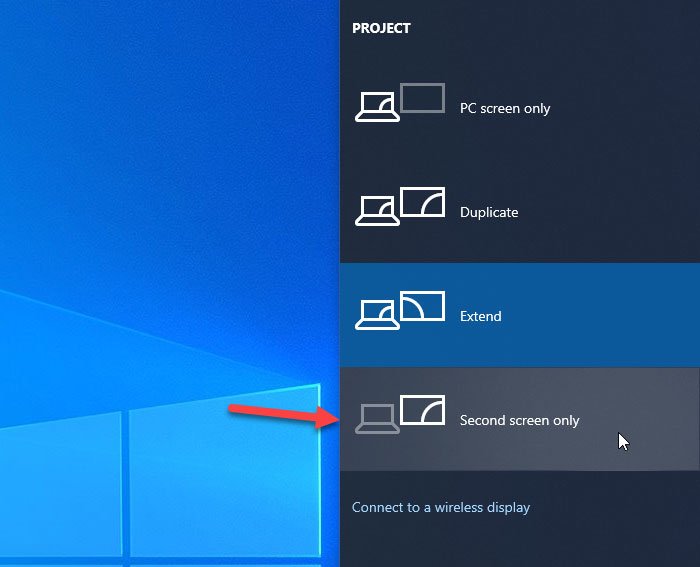 Now, you should see that the external monitor is turned on whereas the laptop's screen is switched off.
2] Change from Windows Settings
The Windows Settings panel includes the same option as earlier. For that, you need to press Win+I to open the Windows Settings first. After that, go to System > Display. After scrolling a bit, you can find a heading called Multiple displays. Here, you need to expand the drop-down list, and select Show only on 2 option.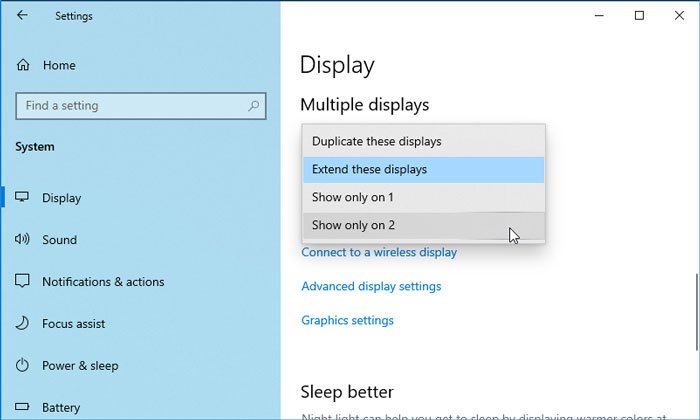 That's all! From now onward, you can find only the external monitor showing your data. If you want to revert the change, you need to open the same panel and select the option as before.
Hope it helps!