If you are using a dual monitor setup and you want to disable one monitor, here are two ways to do it. The first method is applicable for all the multi-monitor users, whereas you can use the second method only when you are an NVIDIA GPU user.
Many people use a dual monitor setup to increase productivity while editing videos, images, etc. If you are one of them but need to turn off one of the monitors to check a specific setting, you can do so with the help of this guide, whether you are using a dual monitor with VMware virtual machine or VirtualBox virtual machine.
How to change from Dual monitor to Single monitor
Now let us see how to disable one monitor in a dual monitor setup & change from dual monitor to single monitor setup in Windows 10. You have two ways to do it:
Using Windows Settings.
Using the NVIDIA Control Panel.
1] Disable one monitor in a dual monitor setup using Windows Settings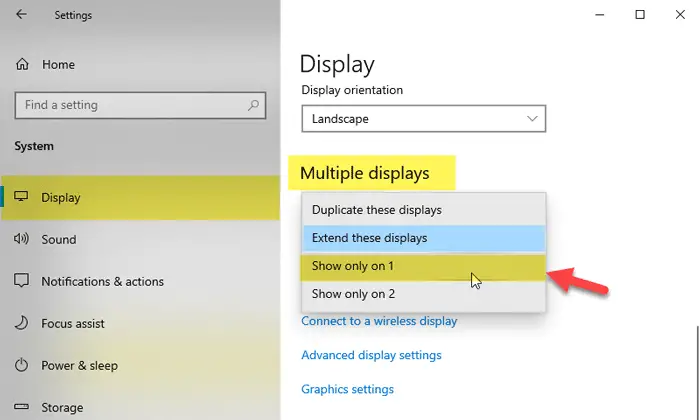 Open Windows Settings first. Although there are several ways to do that, you can press Win+I button together to open it.
After opening Windows Settings, go to System > Display. Here you can find all your monitors on the right side.
Choose the number of monitors you want to disable or turn off temporarily and find out Multiple displays drop-down list.
From here, you need to select Show only on [display-number] option.
If you want to disable monitor number 2, you need to choose Show only on 1. Similarly, you need to select Show only on 2, if you're going to disable monitor number 1.
After selecting either option, your monitor should be turned off immediately.
Read: Dual Monitor Tools lets you manage multiple monitors.
2] Disable monitor using NVIDIA Control Panel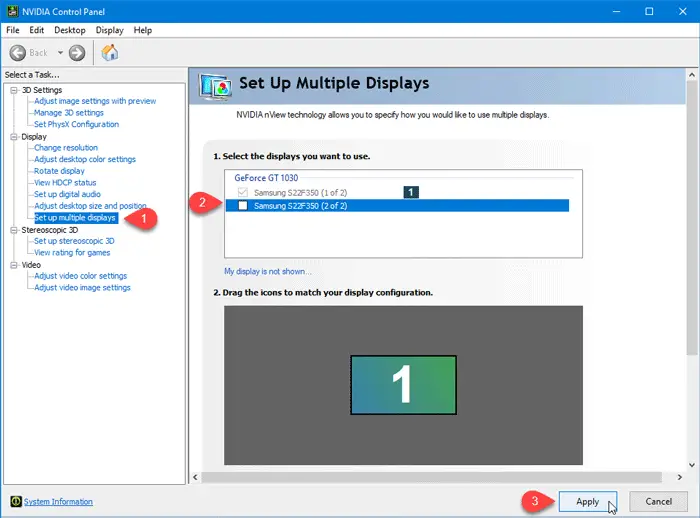 If you are using NVIDIA GPU, you already have the driver installed. The best thing is that it comes with the NVIDIA Control Panel that allows users to manage all the graphics related settings from one place.
Therefore, open the NVIDIA Control Panel on your computer and navigate to Display > Setup multiple displays from the left sidebar.
Here you can see your monitor names. You need to remove the mark from the checkbox that you want to disable or turn off and click the Apply button to save the change.
After that, you will not find anything on the selected monitor. To turn it on, you need to make a mark in the same checkbox and save your change.
That's all!