Task View is a new desktop feature in Windows 10 that allows users to create multiple desktops on the same Windows PC. This something similar to the Expose in OSX. This button on the taskbar, also allows for quick switching between open files and quick access to any desktops you create. You can create additional desktops, and switch between them easily.
This post shows how to use Virtual Desktops in Windows 10.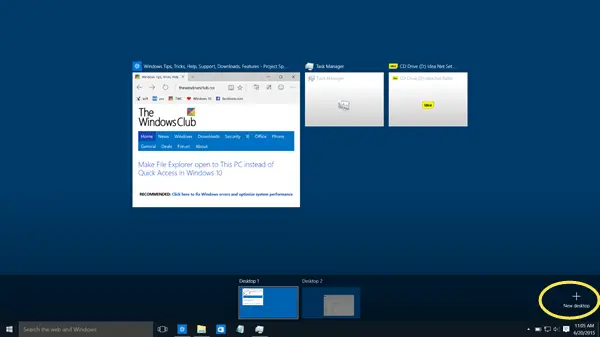 Task View is an virtual desktop manager for Windows 10, and is launched, when you click on its button, next to the Search bar on the taskbar. Using this feature, you can create different arrangements of your running apps and open programs. Create new Desktops, open different apps in each, work in each or any of them whenever you want, close the opened desktops when you finish work, etc. You can switch between applications, and you can also move an application from one desktop to another. This feature augments a snapping feature called Snap Assist, which can help you snap different windows in any arrangement, a little more easily.
Read: Task View or Virtual Desktop features.
Remove Task View button from Windows 10 Taskbar
If you have no use for this feature, you can easily disable and remove the Task View icon or button from the taskbar.
Simply right-click anywhere on the taskbar and uncheck the Show Task View button. It's so simple!
No need to touch the registry. Do this and you will find the Quick View icon disappear.
Disable the Cortana & Search Box too, if you do not use it.